While the car market isn't quite as red-hot as it was during the height of the pandemic, a combination of strong demand, short supply, and inflation has kept prices buoyant over the last couple years. According to Kelley Blue Book (KBB) data, the average new car price for March 2023 was just over $48,000, a slight decline over the previous month but only by a single percentage point. The market is tipping slightly more in favor of buyers, but the most popular new models continue to see long waiting lists and potentially high dealer markups for existing inventory.
The used market, however, looks a little brighter, at least for buyers looking for luxury cars. In particular, certain models at the more affordable end of the luxury market can be picked up for significant discounts off their original MSRP, making them within reach of those who can't justify splashing out on a new luxury vehicle. We've scoured the classifieds to whittle down 11 top picks that offer great value at the moment, from crossovers to convertibles. Our road tests for each car proved them to be strong contenders when they were new, and a few years on, they're arguably even more appealing.
We've also covered how much buyers should expect to pay for each, using data from KBB's fair market valuation tool. Each one of these 11 cars can be picked up for less than the price of an average new car, but each offers luxury well above what most new cars offer.
2020 Mercedes-Benz GLB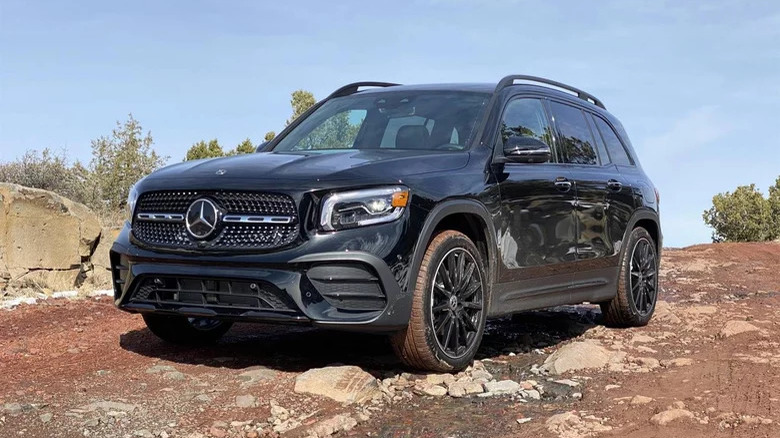 Vincent Nguyen/SlashGear
Mercedes' second smallest SUV borrows its upright exterior styling from the G-Class, although its pricing is a far cry from its larger brother. Inside, the 2020 Mercedes-Benz GLB is a little less like a G-Wagon, since most of the cabin switchgear is shared with the brand's other entry-level models, but that's no bad thing. In fact, Mercedes has gained a reputation for making some of the most attractive cabins in its segment for years now, and the GLB is no different.
SlashGear tested the GLB in 2020 and found it to be one of the better cars in its class to drive, but we were most impressed by its first and second row roominess. In fact, the SUV boasts some of the most generous headroom and legroom of any car of its size on the market, making it an excellent choice for taller drivers. A third row is offered, although predictably for a car of this size, it's a lot less spacious and only really suitable for small children. 
Even for drivers without a family to consider, though, it makes a compelling case for itself in what's become an incredibly competitive segment. KBB estimates the fair purchase price for a 2020 GLB to be $28,734 at the time of writing.
2017 Infiniti Q60 Red Sport 400
It might have been around for several decades now, but Nissan's luxury arm Infiniti has always struggled to make its mark on the American market. In its early years, it could have been argued that the brand's unremarkable styling didn't help matters, but the same cannot be said of the 2017 Q60. It's definitely one of Infiniti's best-looking cars to date, although it was axed after the 2022 model year as the marque shifted its focus to more lucrative SUVs and crossovers.
As a used buy, however, it's an appealing alternative to the usual raft of German coupes, especially in top-spec Red Sport 400 trim. It originally retailed for more than $50,000 in 2017, but today KBB estimates a more wallet-friendly fair used price of $29,147. For their cash, buyers get a twin-turbo V6 under the hood making 400 horsepower, all of which is sent to the ground through a seven-speed automatic gearbox. The car's handling isn't quite as athletic as its looks and spec sheet might suggest, feeling more suited to cruising than carving up backroads, but it's still plenty fast enough in a straight line. 
It's by no means the perfect luxury coupe, then, but there's a lot to like, especially at its current used price.
2022 Genesis G70
The 2022 model year redesign of the Genesis G70 took what was already a great entry-level luxury car and made it even better, revamping the interior and adding extra tech as standard. The car's exterior was also given an entirely new look, with split headlights and taillights that bring the G70's design closer in line with the rest of the brand's lineup. It might look great inside and out, but a luxury sedan is no good if its ride isn't up to par. Still, the G70 doesn't disappoint there either — it's smooth and refined when cruising, but put your foot down and it does a convincing impression of a German sports sedan.
At least, it does with the 3.3T V6 equipped, as the 2.0T doesn't quite deliver the same grunt. We thought it was well worth coughing up the cash for the larger engine and also the active rear differential, although even with both options, the G70 shouldn't break the bank. KBB estimates a fair used price for the 2022 model at $42,967 at the time of writing, although it's worth noting that a brand new G70 is only a few thousand more.
2017 Audi A4
During SlashGear's drive of the 2017 Audi A4, we praised its sharp styling, predicting that in "five to six years from now the A4 will still look great." 
That prediction wasn't wrong –- the car's exterior has been given only minor facelifts since then, meaning the 2017 model still looks modern even seven years after its debut. Like any luxury car of its age, the 2017 A4 has been subject to some serious depreciation, which makes it temptingly affordable today. KBB puts its fair market price at just $19,590, making it one of the cheapest cars here, but by no means a compromise.
Inside, the A4's cabin is simple but elegant, and there's no sign of the scratchy plastics that plague some other entry-level luxury models. Audi's tech-forward approach means that a well-equipped 2017 model sports as many safety assistance features as some new luxury cars, while the cabin's impressive sound insulation makes cruising and commuting a more relaxing affair than the competition. Take the Audi off the highway and onto the twisties and it'll deliver in that regard, too, even if it's a little short of BMW's best sedans.
2020 Land Rover Range Rover Evoque
Like many of the best entry-level luxury models, the Range Rover Evoque takes plenty of inspiration from its larger siblings, but its exterior styling remains strikingly different from the rest of the brand's lineup. The similarities are found mainly in the car's cabin and its capabilities. The interior is plush and comfortable no matter the trim and features a host of useful Land Rover all-terrain tech to comfortably eclipse its rivals off-road. Not that it's a trail-crushing 4×4 by any stretch of the imagination -– this is still a luxury crossover, albeit with a nod to its maker's off-road heritage.
It'll deal better with unpaved roads or muddy fields than almost any other crossover out there, even if the vast majority of Evoque buyers won't ever need to use those talents. Thankfully, it makes for an equally comfortable on-road cruiser, with generous standard tech and a decent amount of cabin space for the segment. Expect to pay around $38,585 for a 2020 Evoque, according to KBB.
2021 BMW 430i Convertible
Consumer interest in convertibles has been on the decline for years now, and several brands have axed their drop-top cars in the face of low sales. However, for buyers who still want to live the roofless life, the 2021 BMW 430i Convertible is a great way to do just that. It's not for everyone -– primarily because of the huge and very polarizing front grille –- but for those sold on its looks, it's a tempting used pick. KBB reports a fair purchase price of $42,664, which is more than $10,000 less than the car cost when new.
The main charm of the 4 Series is undoubtedly how it drives. It strikes the right balance of being docile at everyday speeds while being equally enjoyable during more spirited driving. However, it's also both very comfortable and very roomy, at least in the front seats –- although anyone seriously considering the ergonomics of the second row probably shouldn't be looking at a convertible in the first place. A relatively niche car, it might be, but it's an appealing one nonetheless.
2021 Mercedes-Benz GLA
The GLA offers exactly what most buyers will be hoping for when looking for an entry-level Mercedes. The cabin is inviting and comes loaded with decent amounts of tech, borrowing many of its styling cues from pricier models in the brand's range. The engine offers plenty of poke for everyday driving, but it's still quite economical for its segment. The exterior is taller and more SUV-like than the previous iteration, which was retired in time for the 2021 model year.
There's a lot to like, and really the largest downside to the GLA is that it has so many crossover rivals, many of which are equally appealing. Our review of the 2021 GLA 250 4MATIC also highlighted the large price difference between base-spec and top-spec examples, with many of the most desirable options adding a hefty premium to the car's asking price. That matters less in the used market, especially for savvy buyers who should be able to score a decent discount off the original asking price. According to KBB, the 2021 model year should cost around $31,097, although the best value examples can be found for less than $30,000 with average mileage.
2019 Audi Q3
During our first drive of the latest generation Audi Q3, we were left surprised at just how luxurious it was compared to larger, more expensive Audi models. The current generation, which debuted for the 2019 model year, was both fun to drive and very well equipped, yet its asking price didn't reflect that. Today, it's even better value, with KBB estimating a fair used price for a 2019 model to be $24,197.
It packs many of the innovative safety and infotainment features that are also found on pricier models, and despite being one of the older cars here, its exterior styling still looks fresh and unique. Like many entry-level luxury cars, the Q3's options list was both long and potentially very costly, so it's worth seeking out a used example with as many added extras as possible for the best value. That said, even base models boast upscale, refined cabins that feel a cut above what else is on offer at this price point.
2018 Jaguar E-PACE
Jaguar might lack the brand cachet of its German rivals, but the E-PACE is a solid alternative to the segment leaders and a good-looking one at that. Debuting for the 2018 model year, the Jaguar E-PACE is a cheaper version of Jaguar's flagship F-PACE SUV. The "pace" in its name is most apparent in the R-Design version, which sports a 2.0L turbo-four making 296 horsepower. Still a way off the most potent crossovers in the segment, but enough to live up to the moniker.
While the E-PACE's cabin looks just as good as the exterior, our reviewer noted that a few of the interior materials weren't up to par and felt a little cheap in places. Higher-spec versions of the car also climbed in price quite significantly over their base-spec counterparts, but thanks to the model's high depreciation, that's not an issue for used buyers. A 2018 E-PACE R-Design should cost around $24,903, according to KBB, which is less than half of its original asking price.
2021 Genesis G80
The 2021 Genesis G80 is a significant improvement over its predecessor, with open-pore wood trim and Nappa leather in the interior that helps provide a silky smooth ride that our reviewer thought was comparable to a Bentley. It also packs a 3.5L turbo V6 engine, which transfers its 375 horses to the tarmac at a pace that can be brisk but never harsh.
Then there's the attention to detail, with metal switches, uniquely designed wheels, and the roomy cabin all adding to the air of refinement. However, the car is not as expensive as its upscale features might suggest. A 2021 G80 can be picked up for $41,469, according to KBB. That's still not an insignificant amount of money, and there are a lot of BMWs, Audis, and Mercedes that can be found for cheaper. 
However, Genesis is still an emerging brand, which is one of the key reasons it offers high-level luxury features for reduced prices – it has to prove itself to buyers. The brand is still in the process of forging an identity for itself, but cars like the G80 prove that it can compete with the big players when it comes to both value and luxury.
2021 Jaguar XF
For those who prefer their obscure sedans to be British rather than Korean, the Jaguar XF is a rare but appealing option. It was revamped for 2021, with some revisions made to the exterior and a full overhaul of the interior, which gained a large touchscreen and lost most of the clutter from the old model. In top-spec R-Dynamic form, it packs 296 horsepower and tops out at 155 mph.
Buying a Jaguar — or indeed any JLR product — does come with caveats. Build quality is, to put it nicely, not the brand's strong suit and even our test car had some issues with the infotainment system. However, when everything does work, it works extremely well and makes the XF feel just as upscale as the best in its class. 
Actually finding an XF for sale might not be an easy task, as a mere 1,183 examples were sold in the United States in 2021. However, for the few examples that do crop up, KBB says $41,696 is a fair purchase price at the time of writing.