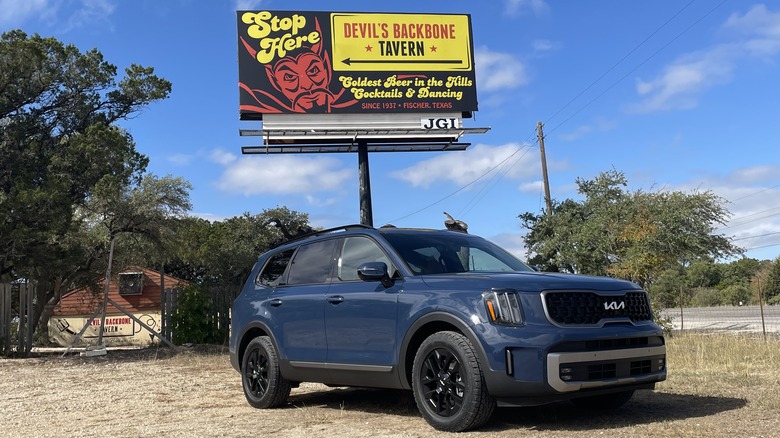 Cherise Threewitt/SlashGear
Ah, the Kia Telluride, a midsize three-row crossover released for the 2020 model year alongside the Hyundai Palisade, which is so similar that they're each other's biggest competition: almost identical body, same powertrain, and a pricing structure that's just different enough because the brands keep the trims and features shuffled just enough to keep them from being identical. Not that it matters to shoppers in the year 2022, amid unprecedented product shortages and bonkers dealer "market adjustment" markups designed to take advantage of desperate shoppers who have two kids and a third on the way, or whatever other crisis occurred in the years since we last knew "normal."
Well, now those families have a few more options.
Did the Telluride need to be refreshed for the fourth year of its lifecycle, when it was really only somewhat readily available for the first two years or so of that? Probably not, but good on them: there's some nice stuff here, like the option for a digital key that can replace the key fob with certain Apple or Samsung Galaxy devices.
The bigger question, perhaps, is why Kia and Hyundai, who developed the Telluride and Palisade together, don't even acknowledge each other's existence in terms of these two vehicles. Like, we get it. Blood is thicker than water. But in Kia's case, the sights are set directly on the bigger fish in a bigger pond. 
The Telluride's second act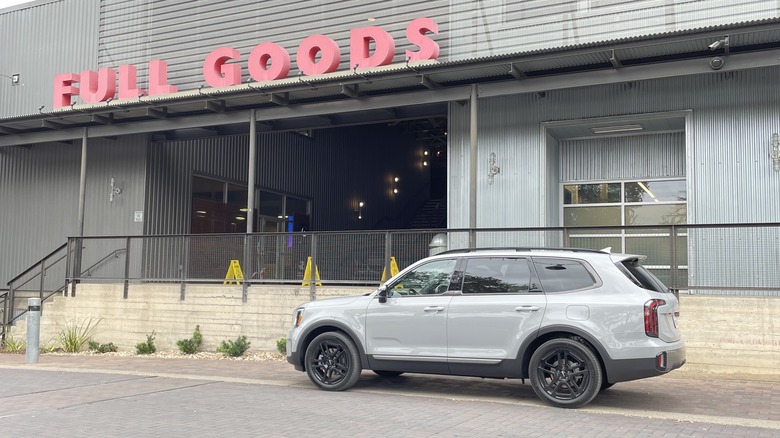 Cherise Threewitt/SlashGear
"We call them 'Selluride' and that's because we just can't build them fast enough," quipped Steven Center, Chief Operations Officer at Kia.
Note here that we're also quoting Kia when we describe the 2023 Telluride's overhaul as a second act. It's a fitting description of this mid-cycle refresh: more of the same story, but it's moving along smoothly, the audience seems satisfied, and there may be plot twists ahead.
All 2023 Tellurides get a mild exterior update in the form of a new grille, front fascia, and trim. The front and rear lighting have been revised, and there's an updated list of available 18- and 20-inch wheel designs. The standard LED headlights look elegant and upscale — exactly why Kia is going for — but because the front end is comprised of blocky shapes, both including the lights themselves and the other elements that frame them in, the vehicle looks rugged. Again, exactly what Kia had in mind. There's a unique front fascia for X-Line and X-Pro models.
The taillights, too, are fun to look at, with an upright light pattern on the lower half that angles inward on the upper section. It's an energetic lighting design, whether your eye follows the vertical swoops up or down. In traffic, they look great — and expensive. The X twins get lighting with distinctive black bezels. 
The Telluride features three new exterior colors and three new upholstery colors, and its body lines look really nice, too. Where most crossovers would have simple creases, Kia sculpts them into a smooth bevel, with the effect of maintaining the blocky structures while also softening them up. The effect is wholly satisfying, like watching cake frosting get applied with a spatula, or running your fingers along the edge of a nice new kitchen countertop.
We all love a good conquest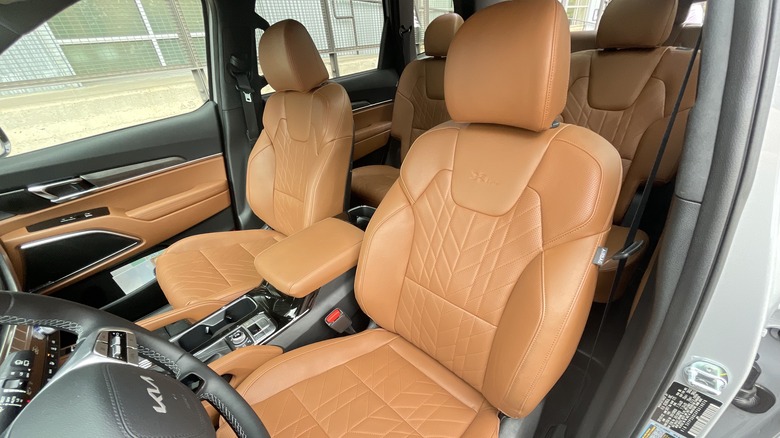 Cherise Threewitt/SlashGear
So, who's buying all those Tellurides? According to Kia, they're young and wealthy. Kia noted that they've captured a number of luxury conquest buyers — that is, owners who bought a Telluride after owning a vehicle from a luxury brand — though as of press time, Kia hadn't provided numbers of those conquest buyers as part of overall Telluride sales, or on what brands Kia considers luxury for these purposes.
Why is this relevant? Because it's undeniably a factor in how and why the Telluride is so nice.
According to Steve Hirashiki, Kia's National Manager of Product Planning, the company is listening to feedback from their "more affluent, younger, demanding customers," particularly in the areas of interior technology, colors, and materials. That leads to changes like newly upgraded upholstery, nicer than what you'll see in most competing crossovers. Consider the new lumbar stabilization driver's seat — the first in the Kia lineup — that automatically gently adjusts lumbar support after a certain amount of time to combat the effects of gradual slumping or slouching, in the hope of perking up the driver and improving alertness. The Telluride also features available heated and ventilated second-row captain's chairs, which drops total seating from eight passengers to seven.
The Telluride now has twin 12.3-inch displays: last year's customizable information display remains but the old 10-2-inch touchscreen is upgraded to a 12.3-inch model. They're very crisp, they're elegantly integrated in the cabin, and they're tilted gently toward the driver. A larger wireless charging pad accommodates a wider range of devices and also helps reduce overheating. The available full view mirror, which can switch to an unobstructed camera view with a wider field of view, is another first for Kia and a nice way to help keep those conquests from regretting their decision.
Power and specs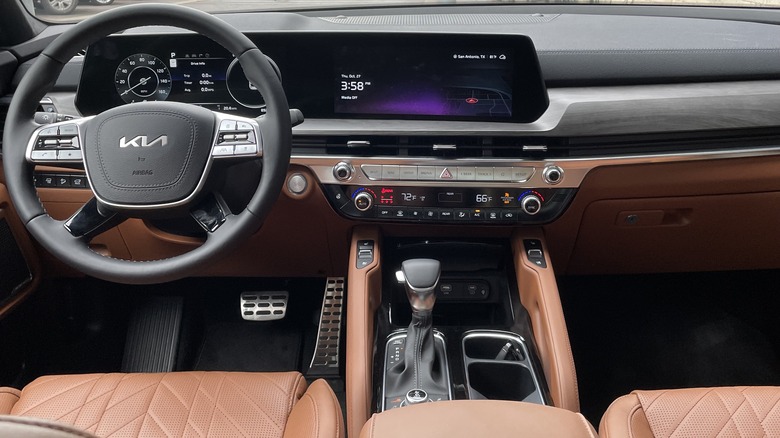 Cherise Threewitt/SlashGear
Every Telluride across the lineup comes powered by a 3.8-liter V6 engine, good for 261 hp and 262 lb-ft of torque. It's unchanged from previous Telluride model years, but that's fine — it's smooth, pleasant, and fairly efficient. It's also the same engine under the hood of the Hyundai Palisade, so it's clearly a people-pleaser. Furthermore, maintaining this simplicity across both brands' models helps the consistency of both pricing and production.
This V6 comes paired only with a smooth 8-speed automatic transmission. It's a good match; the Telluride doesn't need any more or any less. All trims come with the choice of front- or all-wheel drive, except for the X-Line and X-Pro models, for which all-wheel drive is standard.
Front-wheel drive Tellurides have EPA fuel economy ratings of 20 mpg city, 26 mpg highway, and 23 mpg highway. With all-wheel drive, ratings drop to 18/24/21. In either configuration, the Telluride's a little more thirsty than competitors such as the Toyota Highlander and Honda Pilot.
Good manners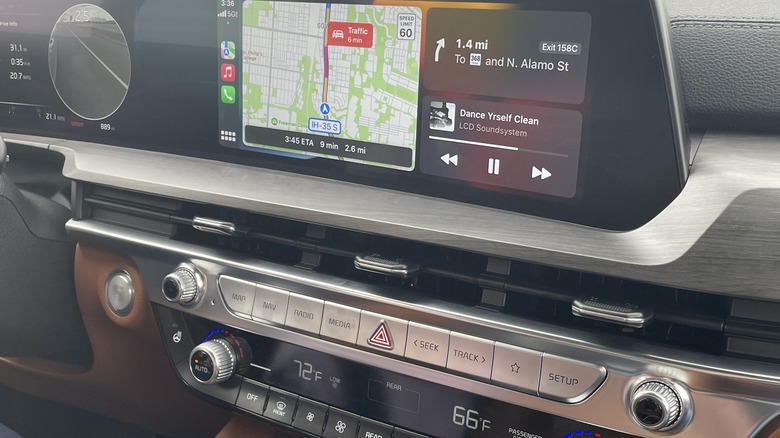 Cherise Threewitt/SlashGear
In both X-Line and X-Pro dress, the Kia Telluride makes a pleasant road companion. It's smooth and generally quiet, though the X-Line's 20-inch wheels and the X-Pro's 18-inchers fitted with all-terrain tires tend to add their own mild texture to the ride. That said, the X-Line with 20s feels noticeably lighter on its feet in city and highway driving. The turn radius is great — not many vehicles we've driven at this size can maneuver as easily through parking lots.
Unless you're in Eco drive mode, acceleration is smooth; in Sport mode, it's genuinely peppy (and Sport mode also switches the digital driver display to racy analog-style gauges).
Nearly everything about the Telluride is easy. The angled touchscreen makes information and controls comfortable to access. Features like the camera mirror, which can switch between the regular rearview and a wide camera view, will make you wonder why it's not available on more cars. Same for the turn signal cameras, which show a view of the blind spot in the driver information display when the blinker is activated.
While most of the Telluride's cool tech features integrate into the driving experience almost without notice, the driver assist features are a notable exception as they tend to be on the aggressive side. "They really want you to behave," noted a fellow test driver.
Going pro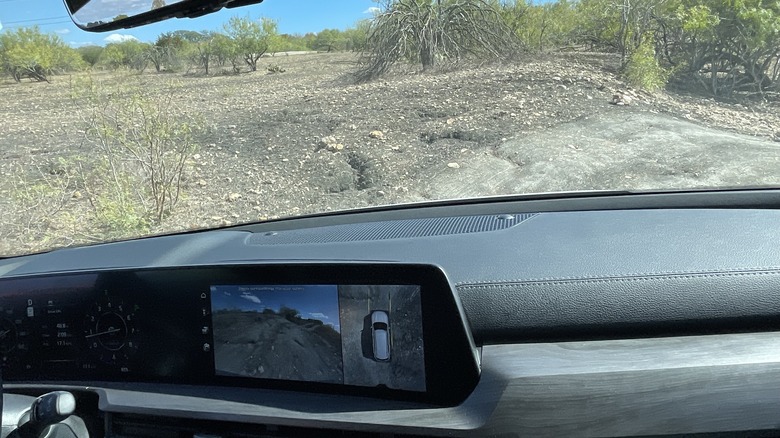 Cherise Threewitt/SlashGear
The highlight of the 2023 Kia Telluride refresh is the all-new X-Pro model — and the X-Line, too, to a lesser extent. The X-Line picks up X-Pro styling without the same off-road capability.
The Telluride isn't Kia's first X-Pro model. That would be the smaller Sportage crossover. And there are more to come, from the sounds of it, as the Telluride X-Pro "sits atop our growing lineup of off-road-ready SUVs," said Kia's Steve Hirashiki.
Though the Telluride X-Pro doesn't come with any extra underbody protection, several Kia product reps indicated that with 8.4 inches of ground clearance, the components that would be most at risk of underbody scraping on the trail are high up enough. The X-Pro gets 18-inch wheels and all-terrain tires, and it has a 5,550-pound tow capacity rating: 500 pounds more than the max towing capacity of other Telluride models.
Most of the X-Pro's upgraded capability comes from software rather than hardware, and though it's a different off-road experience for sure, we were surprised by how well the X-Pro handled a somewhat challenging course.
Clean goes dirty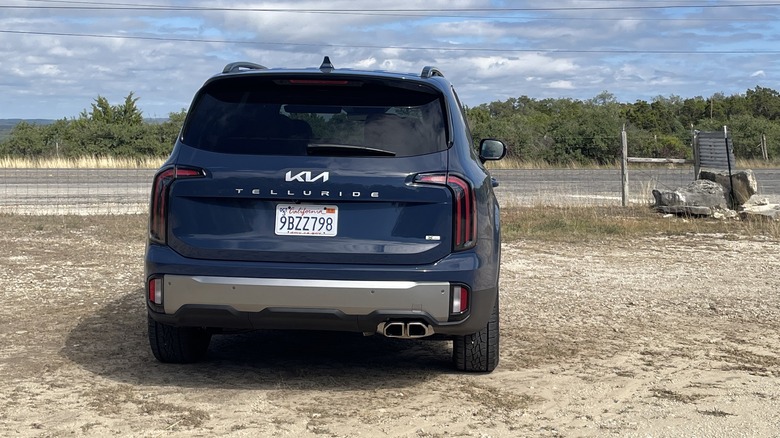 Cherise Threewitt/SlashGear
It's clear the X-Pro isn't designed for hard-core off-road driving — Kia's trail guide likened the experience to an enjoyable scenic trip to a remote camping spot. Consider that the locking differential, like other all-terrain features, is electronic rather than mechanical and our questions about its behavior during tough obstacles were explained as "the computer gets confused."
Not a point against Kia — this is par for the course with similar off-road trims of rival all-wheel-drive crossovers. And for the most part during our drive, these systems worked pretty well, and the ride was comfortable, to boot. Kia's off-road settings are easy to find, unlike some competitors' systems that are buried in layers of infotainment menus.
The hill brake control feature holds the Telluride in place briefly if you need to stop while ascending a hill — for example, adjusting yourself in your seat and taking a deep breath before cresting the summit and descending — and works so smoothly we weren't even sure if it was working at all. (The guide later assured us that it did.) That may take some getting used to, but well worth it for its usefulness.
The hill descent control, which guides the vehicle down a decline with a gentle calm that only computers can achieve, is the smoothest application of this type of feature we've ever used. Most others in recent memory cause the gut to crater like a drop on a roller coaster.
The surround-view camera is absolutely awesome. It's a little annoying that it needs to be turned on manually constantly, as it deactivates over a certain speed, but we were actually able to navigate some tough obstacles that we couldn't see over the hood using only the camera views. Trails are another situation in which the Telluride's tight turning radius shines.
Pricing and competition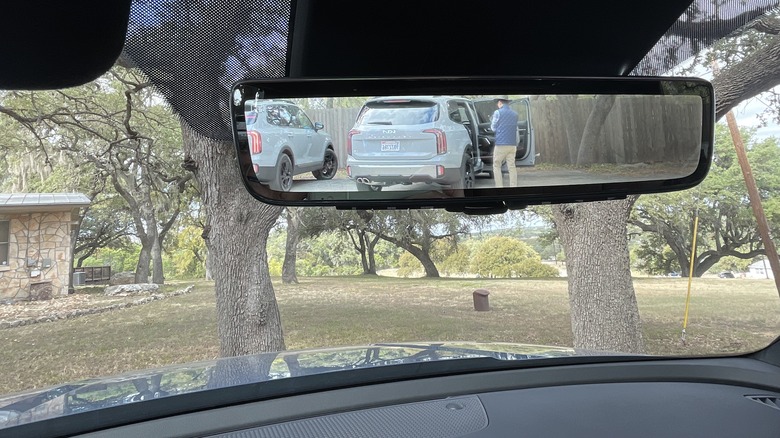 Cherise Threewitt/SlashGear
If there's a downside to these new models, it's that the Telluride pricing hierarchy is now pretty confusing. There are now 14 distinct configurations ranging in price from $35,690 to $52,785, yet the engine isn't even among the variables. Former luxury brand buyers should feel right at home.
The 2023 Kia Telluride lineup starts at the base LX trim with front-wheel drive. In the four model trims that come standard with front-wheel drive (LX, S, EX, and SX), all-wheel drive can be added for $2,000 more. The SX with all-wheel drive costs $47,490.
Then, we get to the new X-Line and X-Pro models, all of which come standard with all-wheel drive. The EX X-Line starts at $45,485, which makes the front-drive SX at $45,490 a hard sell. The SX X-Line is $48,885 and the SX X-Pro is just $1,000 more. Then comes the SXP, which was last year's top trim level (well, SX Prestige, anyway), which is neither X-Line or X-Pro, but is also available as an X-Line or X-Pro.
For what it's worth, the 2023 Hyundai Palisade ranges from $36,245 to $52,095, and the Palisade line now offers an XRT model comparable to the X-Pro.
There are countless rivals to the Telluride in the 3-row crossover category; midsize crossovers with comparable off-road capability include the Honda Passport TrailSport, at about $43,000, and the Nissan Pathfinder Rock Creek, about $45,000. The Passport has two rows, while the Pathfinder has three.
Kia has also announced that they're increasing Telluride production capacity to 120,000 units annually, so we hope you don't have to pay a crazy dealer markup to get one.
Bread and butter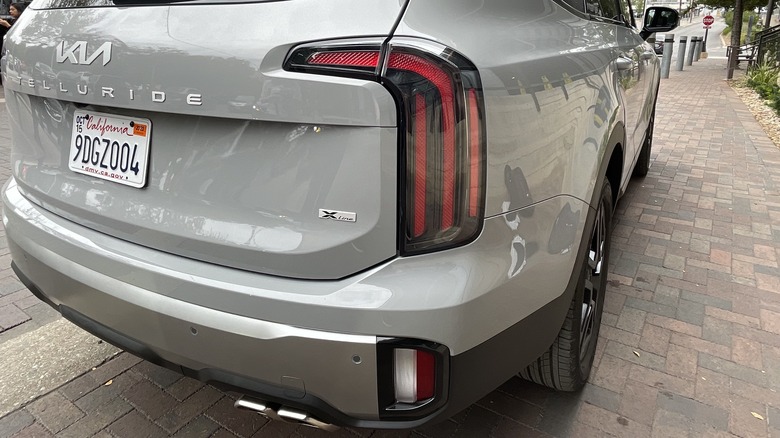 Cherise Threewitt/SlashGear
While the addition of the X-Pro model is by far the most interesting update to the Telluride line — it's certainly the most fun, anyway — we're curious to see exactly how Kia's going to market it, considering the growing numbers of these types of crossovers in recent years. It would obviously be goofy to make the investment in an off-road model and fail to appeal to buyers who will actually use that capability, yet the Telluride X-Pro is not as rugged-looking as, say, a Land Rover, one of the brands explicitly mentioned in an anecdote during Kia's presentation to illustrate how the Telluride captivates well-heeled customers. Whether or not that particular Land Rover ever actually roves land is kind of beside the point, here.
We'd argue that the Telluride X-Pro doesn't even look as rugged as a Kia Sportage X-Pro, and we're talking about one right off the dealer lot, not even the Sportage X-Pro that was dressed up for the Rebelle Rally. 
Maybe it's the fault of those "luxury conquests" who simply want to look like they might go off-road someday. It's hard to suggest that Kia should have gone a little harder, maybe some skid plates perhaps, if their bread and butter buyer won't really care.
That's fine. We know at least a few Telluride X-Pros got driven hard one day in Texas.