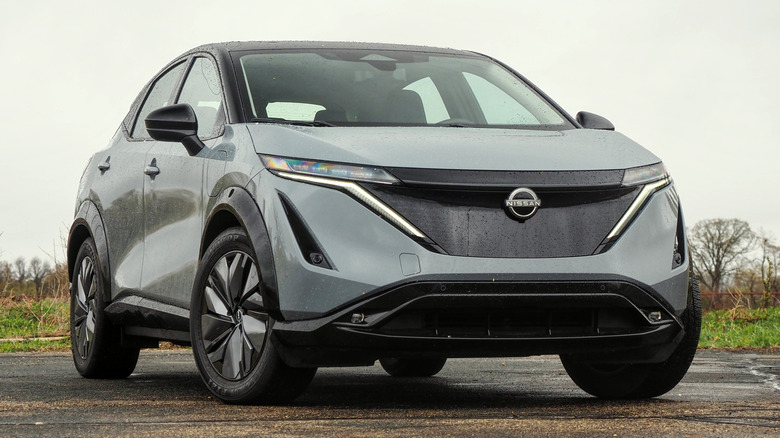 Chris Davies/SlashGear
EDITORS' RATING : 8 / 10
If the Leaf showed us electric cars could be affordable and kooky, the Nissan Ariya is all about taking the technology mainstream. No humble hatchback, this all-new EV is aimed straight at the meat of the U.S. car market: crossovers and SUVs. Problem is, Nissan isn't the first to be so bold, and the Ariya faces some significant competition.
As we've seen before from other EVs, Nissan has single-motor and dual-motor versions of the Ariya. This two-tone Boulder Gray Pearl example is a 2023 Ariya Evolve+ e-4ORCE — mustering 389 horsepower and 442 lb-ft of torque from its twin electric motors, and with an 87 kWh lithium-ion battery pack that's the larger of the two Nissan offers. In return, the automaker asks $56,125 (including $1,335 destination).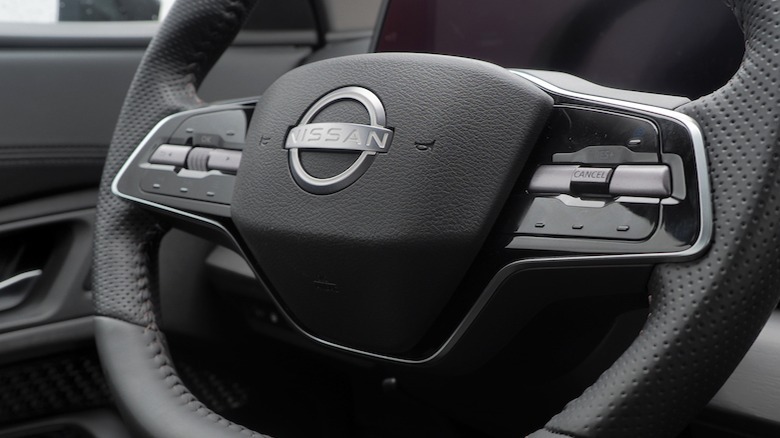 Chris Davies/SlashGear
Those on a stricter budget can save $4k by skipping the second motor. The cheapest Ariya is $43,190 (plus destination) for the Engage trim and Nissan's smaller 63 kWh battery. If your heart is set on all-wheel drive, the most affordable trim is the Ariya Engage+ e-4ORCE, from $51,190 (plus destination); that also gets you the larger battery.
No more weird Leaf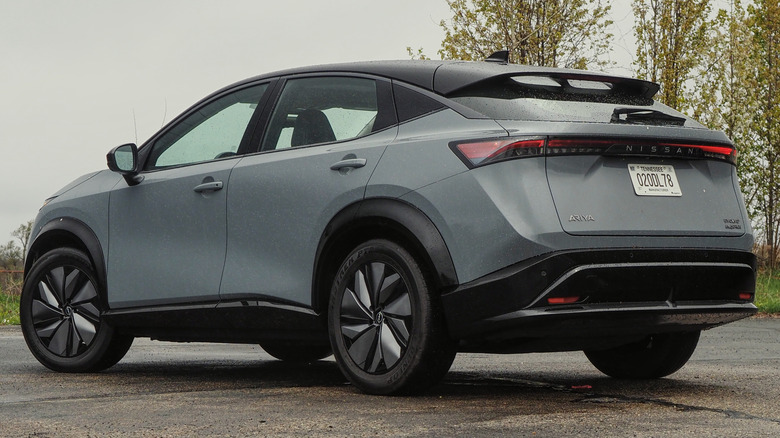 Chris Davies/SlashGear
Nissan's styling certainly looks the part. The Leaf was long maligned for its divisive appearance, making little effort to blend in with other cars. The Ariya, though, feels modern without being needlessly challenging. Clearly sketched out with aerodynamic slipperiness in mind, but no amorphous blob with it.
The front is dominated by an illuminated logo, broad black fascia, and squinting daytime running lights. It feels modern and fresh. From the side, it looks planted and solid, its wheels pushed all the way out to the far corners. Don't mistake this for an actual, go-anywhere SUV, though: with its 6.7 to 6.9 inch ride height, trim depending, the all-wheel drive Ariya is actually lower than the front-wheel drive version.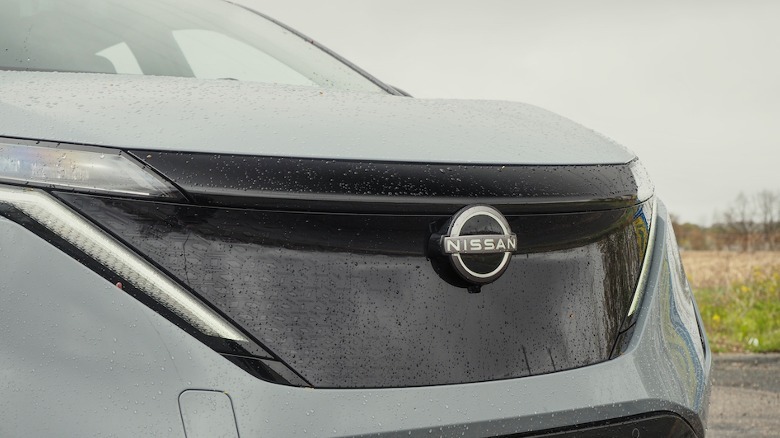 Chris Davies/SlashGear
It's also noticeably faster. In a straight line, the Ariya FWD will do zero to 60 mph in a quoted 7.2 seconds, versus 4.8 seconds for the AWD version. Nineteen-inch alloys — handsome, for all they're aero-blessed — are standard. Nissan will swap them for 20-inch versions at no extra cost on the top-spec Platinum+ e-4ORCE trim, but you probably don't want them: they eat up 10 miles of overall range, the automaker estimates, and I don't think the Ariya's beefily-clad arches need the extra filling.
A quiet and refined cabin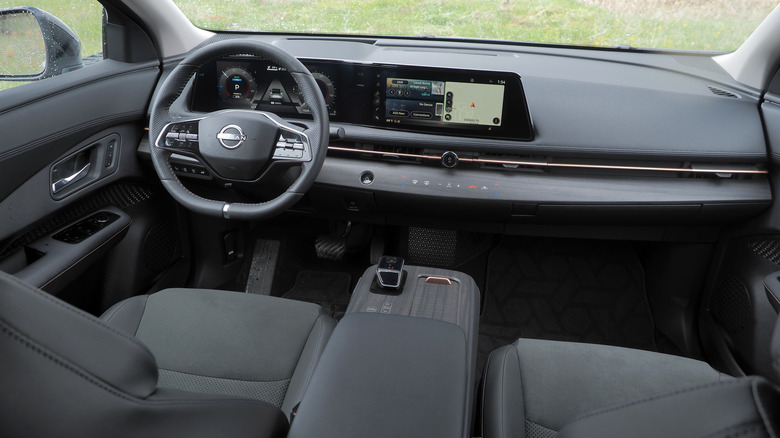 Chris Davies/SlashGear
No small part of the Ariya's charm is its hushed cabin. Electric cars are, unsurprisingly, at an early advantage here, with no internal combustion engine to muffle, nor exhaust system to isolate from driver and passengers. Still, that's not to say they have a free pass to peacefulness.
Road noise — the sound of tires, even low rolling resistance ones, on varying grades of asphalt — is a significant contributor regardless of drivetrain. Wind noise, too, plays a sonic role. And in an EV, the sounds of each can be more noticeable, ironically, simply because in gas cars the engine helps drown them out.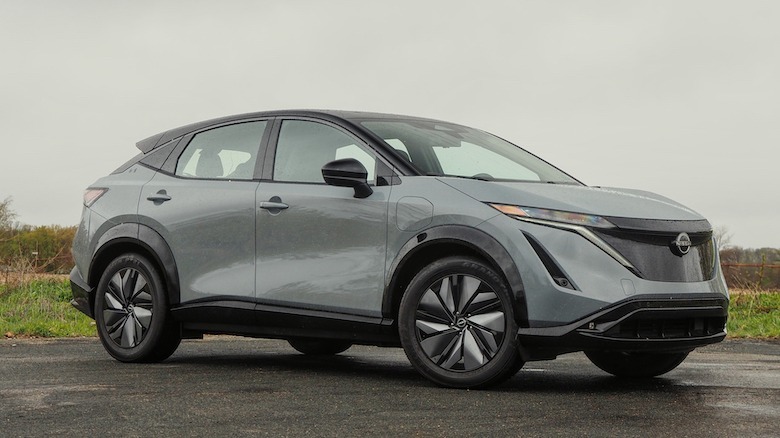 Chris Davies/SlashGear
Nissan has clearly done work to improve its sound isolation, and it pays off. Of near-equal satisfaction is the partial absence of an artificial propulsion sound, something some EV-makers have embraced with gormless eagerness. In Normal and Eco modes the Ariya murmurs along, and while particularly awful highways do intrude on the cabin's quiet, generally the environs are at a level you'd traditionally expect from high-end luxury cars. Sadly, switch to Sport mode and the Ariya turns on an annoyingly buzzy sound effect you can't deactivate.
Gadgets and gimmicks galore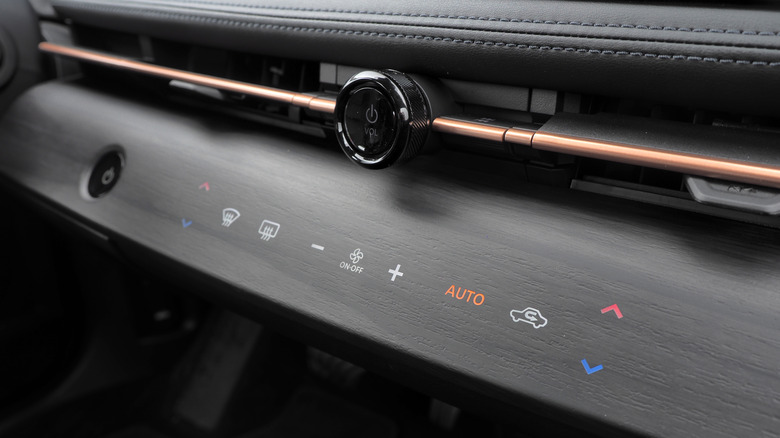 Chris Davies/SlashGear
The rest of the cabin experience is a mixed bag. At first glance, certainly, there's a whole lot to like about the Ariya's dashboard. Its broad sweep, wood and fabric-wrapped, is reminiscent of a curved sideboard. Illuminated meshes, modeled after traditional Japanese lanterns, add visual charm. Glowing HVAC controls promise touch-sensitive access to the key climate features — there's a more comprehensive menu accessed by a persistent shortcut on the dash-topping infotainment display — while a physical volume knob sits just above.
In between the driver and front passenger sits the first of Nissan's motorized whimsies: a center console, cubby, and armrest that powers back and forth. In its rearmost position, there's slightly easier access to the USB and power ports down by your feet, as well as a better view of the broad and almost flat footwell that spans door to door. Slide it forward, meanwhile, and whoever is relegated to the rear middle seat gets space for their feet.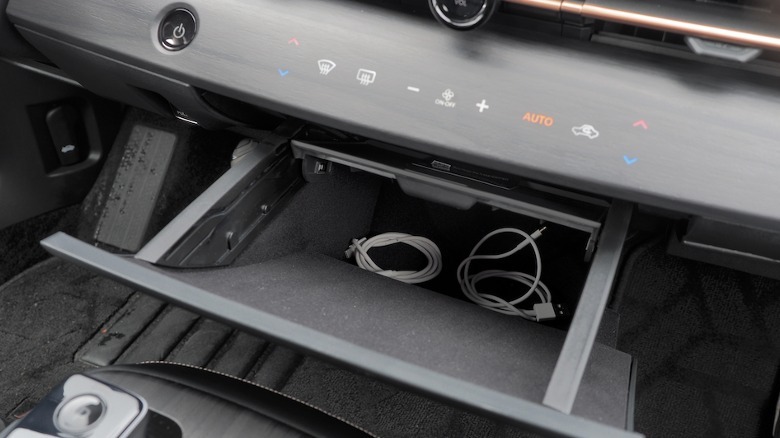 Chris Davies/SlashGear
Then there's the power-protruding drawer, which arches out from under the dashboard itself. It, too, serves a double purpose: storage but also an impromptu shelf for a phone or tablet. Not that you'd be so foolhardy as to use such a thing when driving, but an excellent distraction when waiting at a public charger.
Some works, some… not so much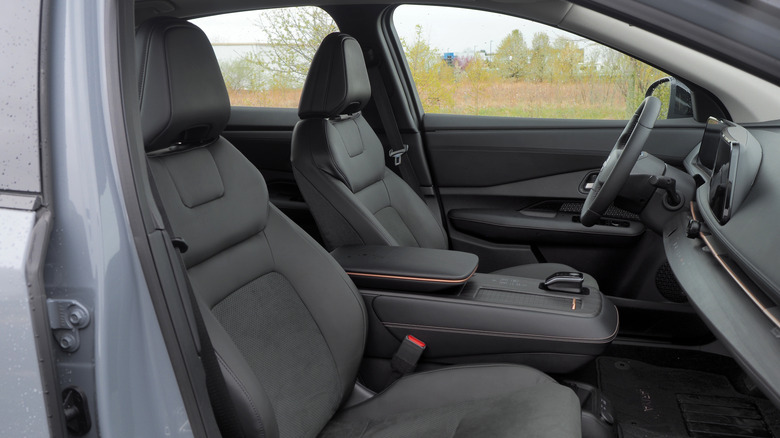 Chris Davies/SlashGear
I am as much a lover of gadgets and automotive gimmicks as the next "Transformers"-obsessed '80s kid, though I'm not sure the Ariya truly needs them. The center console is fun but markedly higher than the driver's door armrest; as a result, your elbows are canted at noticeably different angles. The motorized drawer is clever but slower to open and close than a manual drawer would be, and requires your finger to be pressed to the (touch-sensitive) button in order to operate it.
Nissan's zero-profile buttons themselves aren't my favorite, either. The HVAC keys require a degree of stabbing precision at odds with the reason we all secretly (or not so secretly) long for traditional dedicated controls. The same goes for the drive mode and e-Step one-pedal driving buttons atop the center console. Nissan bills their haptic buzz as the perfect rejoinder to those who like a physical switch, but the reality is that you need the haptics before you press: when you're trying to find the control without taking your eyes from the road, not after it.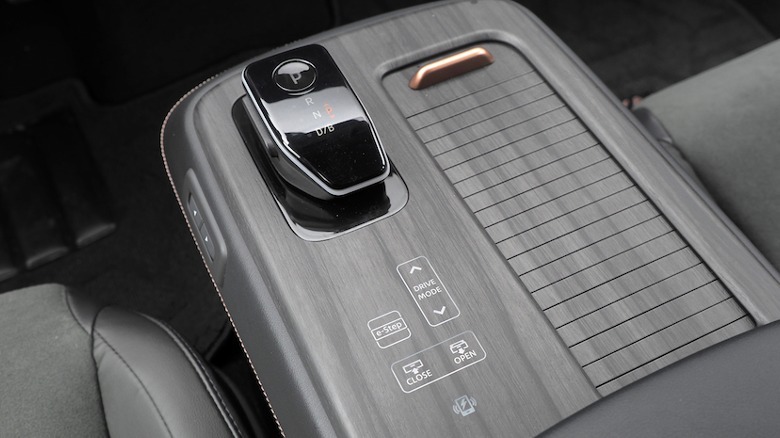 Chris Davies/SlashGear
At least the steering wheel is largely gimmick-free, with cleanly labeled and generously actioned buttons, toggles, and dials. Nissan eschews paddle shifters for regenerative braking settings, too, opting for the aforementioned e-Step key and a "B" mode accessed from the mouse-like drive selector. Sadly there's no true one-pedal mode capable of bringing the Ariya to a full halt. 
A big step forward for infotainment and ADAS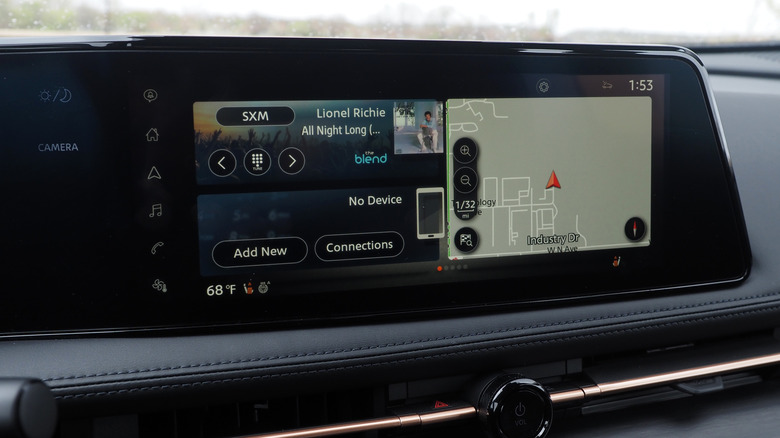 Chris Davies/SlashGear
As for the rest of the infotainment system, it's a marked improvement over what's in most of Nissan's other vehicles. Aesthetics are personal — I'll say the Ariya's graphics aren't my favorite, though I know plenty of others disagree — but the simple layout, persistent (and customizable) shortcuts, and not-too-big-not-too-small 12.3-inch touchscreen make for an easy time of it. If you'd rather, there's wireless Apple CarPlay and Android Auto to go with baked-in Amazon Alexa.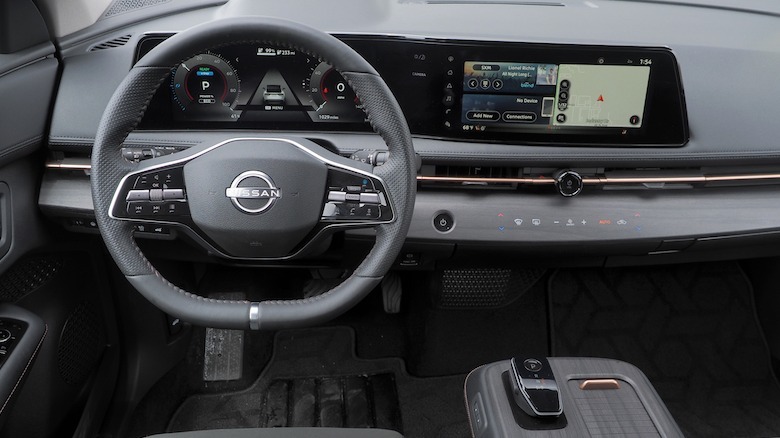 Chris Davies/SlashGear
The driver gets a digital gauge cluster, with a variety of views. It's here where Nissan's hands-free ProPilot Assist 2.0 graphics and automatic lane-change icons would live, were that system installed on my review car. Instead, I got the more familiar hands-on version, which isn't limited to pre-mapped highways but also feels a little more wiggly in the lane, and can be jerky when you move out from behind a slower vehicle.
Settling range anxiety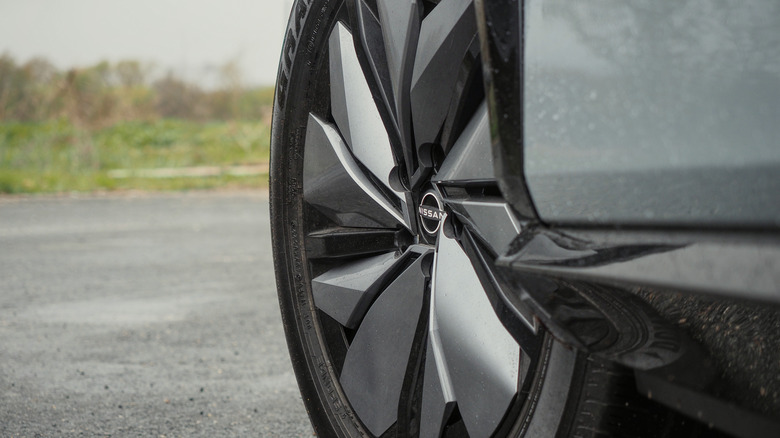 Chris Davies/SlashGear
Still, it chomped through a long highway jaunt with minimal fuss and helped demonstrate the Ariya's relative frugality. Range anxiety is, often, not so much a concern that an EV's potential on a single charge is insufficient, but that what's initially promised on the dashboard doesn't live up to the real world.
I started out with a 97% charge, good for an estimated 226 miles. That's not embarrassing at this point in EV land, but it's certainly not the greatest number. A dual-motor Polestar 2 with the large battery promises 250 miles; Tesla's Model 3 Performance claims 315 miles.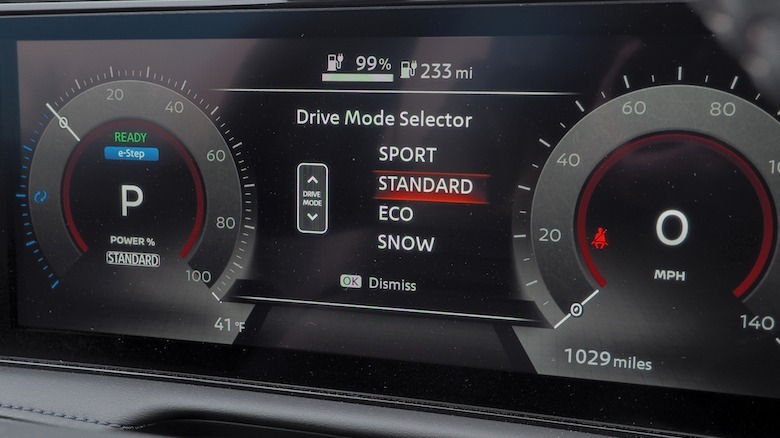 Chris Davies/SlashGear
After 129 miles of highway and urban driving — predominantly the former — in Eco mode, the Ariya's battery had dipped to 46% and the remaining range was 112 miles. That means a drop of 114 on the meter, markedly undercutting my actual journey. Had I been more aggressive in applying my right foot, or switched to Normal or Sport modes, the results would probably have been worse, but it's worth noting that I never felt the Ariya felt sluggish or (as is the case in some cars, electric or otherwise) artificially hamstrung in a way that bordered on uncomfortable when trying to pull out of junctions or make highway-speed lane changes. Only a slightly soft brake pedal feel left me wishing for a more aggressive tune.
Charging rates fall short of the competition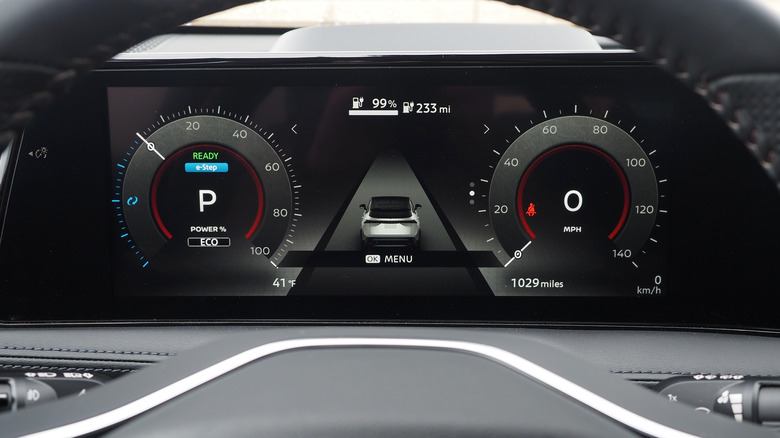 Chris Davies/SlashGear
As for charging, with a Level 2 setup at home — as most EV owners will find themselves wanting to equip their garage, carport, or driveway with — you're looking at a 10.5- to 14-hour wait for a full battery. Nissan's 7.2 kW onboard charger feels pedestrian, compared to the 9.6+ kW versions many rivals are equipping their electric cars with.
Locate a DC fast charger, meanwhile, and the Ariya will gobble up electrons at a maximum rate of 130 kW. That, frankly, feels on the low side — the aforementioned Polestar 2 can handle 205 kW — though just how fast you'll see it go in practice depends as much on what level of charge you're currently at (nearly-full batteries charge slower) and the station you're plugged into. If everything behaves, Nissan claims 35 to 40 minutes to go from 10% to 80%.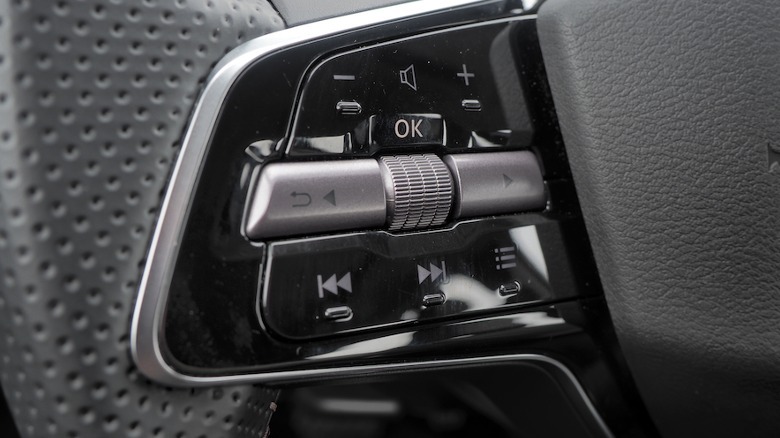 Chris Davies/SlashGear
Absent is any sort of vehicle-to-home (V2H) bidirectional charging support, at least for now. Nissan doesn't even give you 110V outlets, something increasingly common — and welcome — on other EVs.
2023 Nissan Ariya e-4ORCE Verdict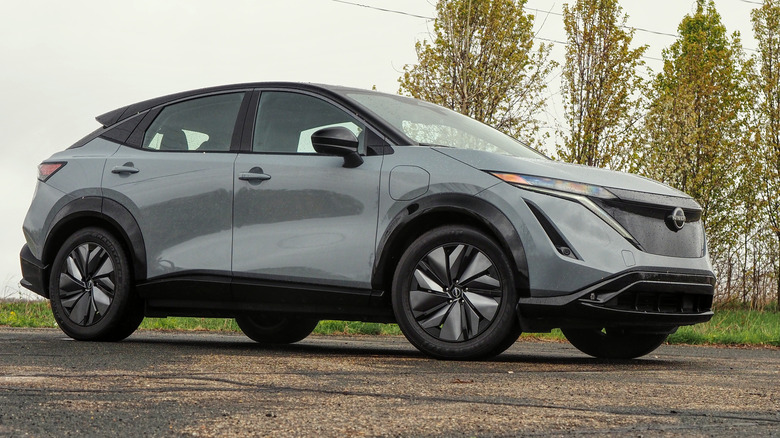 Chris Davies/SlashGear
Nissan's argument is that those features aren't priorities for the Ariya's target audience. I can see the logic there, but it does feel like a missed opportunity all the same. Part of the charm of electric cars is that they're not only capable alternatives to gas-powered vehicles but bring with them legitimate advantages — like, for instance, being a huge battery on wheels that can be tapped during emergencies or while out at a distant campground.
Will new EV buyers know enough to miss those omissions? Probably not, but there's an argument to be made that the Ariya is in the perfect position to teach such drivers exactly why their electric purchase is so much better than their old gasoline car. That would seem like a fitting goal, much in the way that the original Leaf was the first encounter with EV life for so many people.
Even without the extras, though, there's a lot to like about the 2023 Ariya. In all-wheel-drive form, at least, it's perky; the styling hits the mark; and it delivers decent driving range, especially if you can sacrifice e-4ORCE and go for one of the longer-running front-wheel drive configurations rated for up to 304 miles. Overall, it holds up well to Kia's EV6, Ford's Mustang Mach-E, the Polestar 2, and the big specter in the segment, Tesla's Model 3, and while the Ariya may not outshine any of those entirely, it's a solid all-rounder that seems well-tailored to give newbies their first taste of electrification.