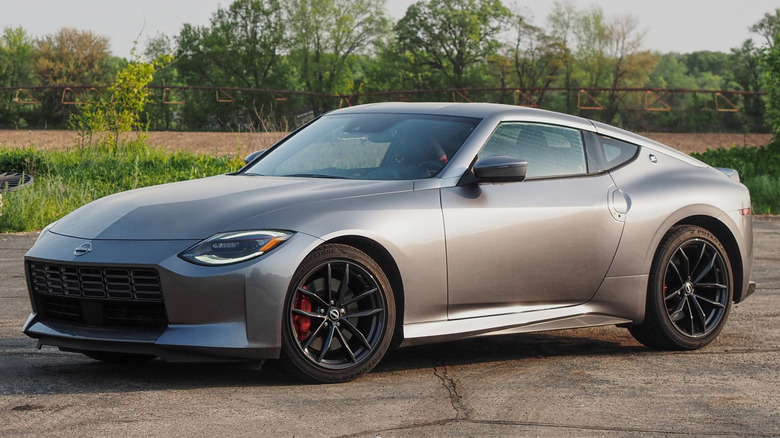 Chris Davies/SlashGear
EDITORS' RATING : 8 / 10
Car enthusiasts can be an automaker's strongest advocates but also its harshest critics. When the vehicle in question is the latest member of Nissan's Z series, both anticipation and skepticism are locked and loaded from day one. Get it right, and your legacy continues unscathed; screw up — which can itself be a case of simply moving too far from what loyalists were hoping for — and your core audience won't let you hear the end of it.
Problem is, these days success depends on more than just a small cohort of the most dedicated fans. For a new vehicle to be worth the cost of development, it can't only please existing drivers but win over new ones, too. Trying to do that, amid the budgetary reality that the days of gas-burning sports cars are effectively numbered, requires some tough choices to be made.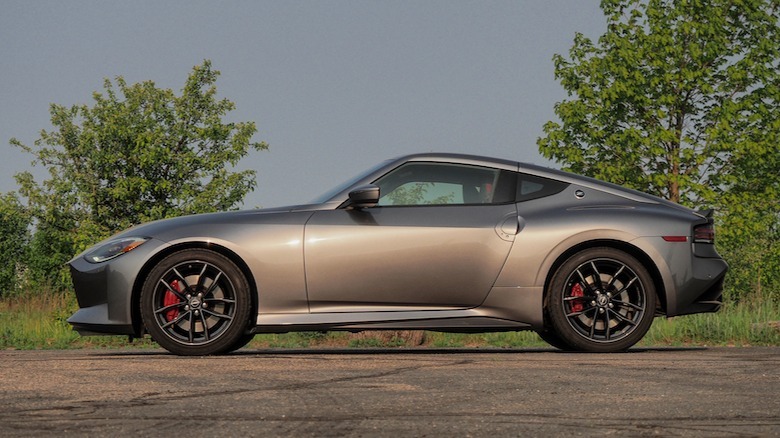 Chris Davies/SlashGear
Working strongly in the 2023 Z's favor is Nissan's pricing. Though no longer starting "under $40,000" as initially announced, the $40,990 (plus $1,095 destination) Z Sport trim remains competitive. The Z Performance trim — shown here — starts at $50,990 (plus destination), while a limited edition Z Proto Spec added $3k to that number.
Familiarity polished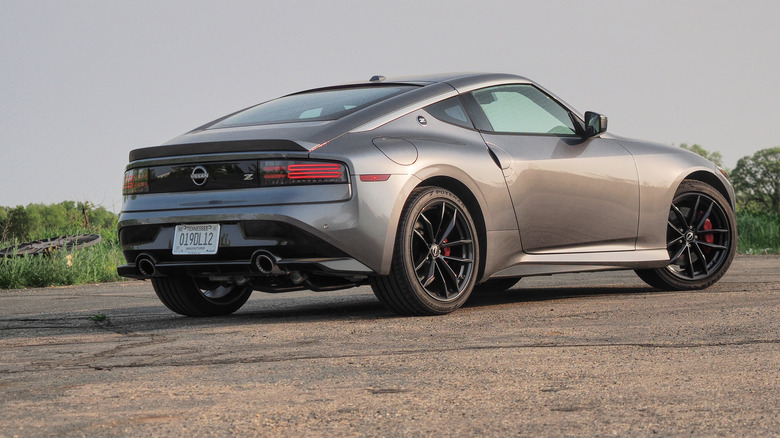 Chris Davies/SlashGear
The Z's silhouette may be familiar — long, low hood; cabin pushed back; and a sweeping roofline that flows into a stubby rear deck — but Nissan's designers have done grand things with it. The gaping square grille is, you may find yourself explaining to lots of people, a nod back to the shape used on some of the earliest Z cars. Nissan's eye-like daytime running lights are meant to be reminiscent of how older Z headlamps would glow with internal reflections.
The rear is my favorite angle, the new Z's lamp clusters falling on just the right side of retro. Overall, you're not going to mistake it for anything other than a Z car — and Nissan ensures that's the case with some extra Z-badging on the rear pillars — and there are some welcome bright options for paint, too. Bright red, yellow, and blue are each eye-catching, while the Rosewood Metallic — a sort of reddish-brown — is endearingly unusual.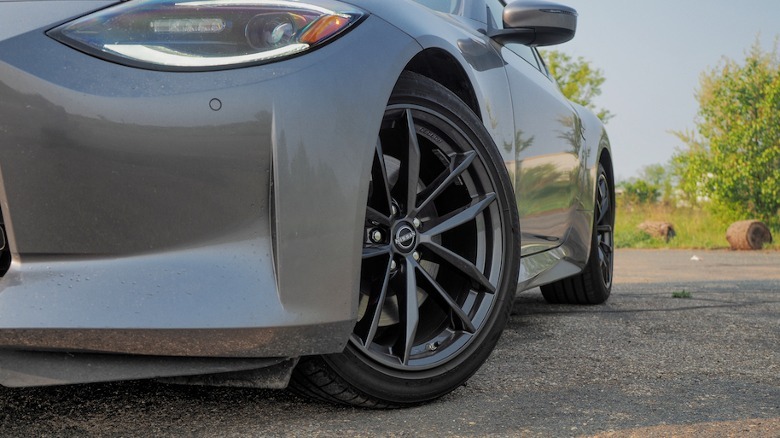 Chris Davies/SlashGear
Eighteen-inch aluminum alloy wheels come standard on the Sport trim, along with LED headlamps and taillamps, dual exhaust finishers, and the "Katana blade" roof finishers. The Performance trim swaps the wheels for 19-inch RAYS forged alloys, paired with Akebono brakes with four-piston front calipers and 14-inch rotors; it also adds front and rear spoilers.
The old and the new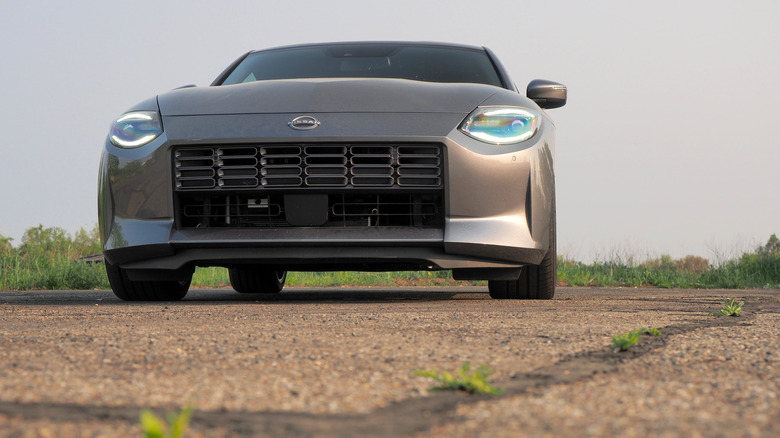 Chris Davies/SlashGear
Building a brand-new, from-scratch sports car is expensive. Really, really expensive. It's perhaps no surprise, then, that the newest Nissan Z still has a fair amount of the old Nissan Z to it, though a knee-jerk assumption that it means the coupe is underwhelming would be a mistake.
Instead, Nissan has taken a careful and circuitous route through development, keeping what works and refining (or replacing) what doesn't. A blank slate product may be exciting, but it's also inevitably expensive: far more so, indeed, than the $41,000 starting price of the 2023 Z. Needlessly tossing out previous decades of work, simply so that an "all-new" label can be slapped on the marketing, would've been counter-productive.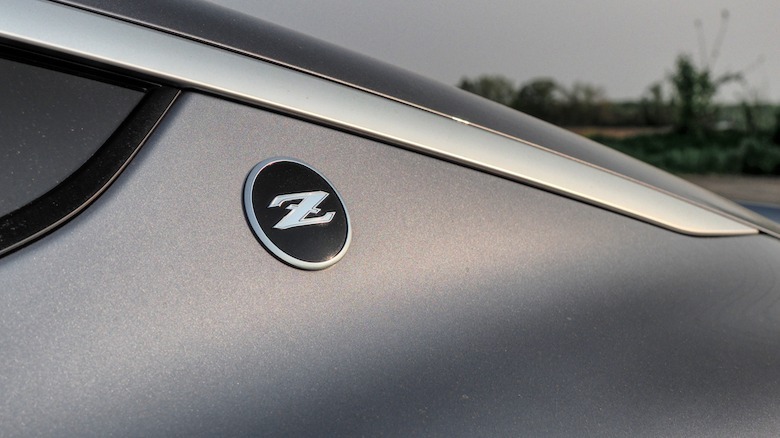 Chris Davies/SlashGear
So, this seventh-generation Z is about 80% new or changed, compared to the 370Z that came before it, though Nissan willingly concedes that some of those changes are smaller than others. That I can happily live with, given where the automaker has actually spent its budget.
A welcome engine upgrade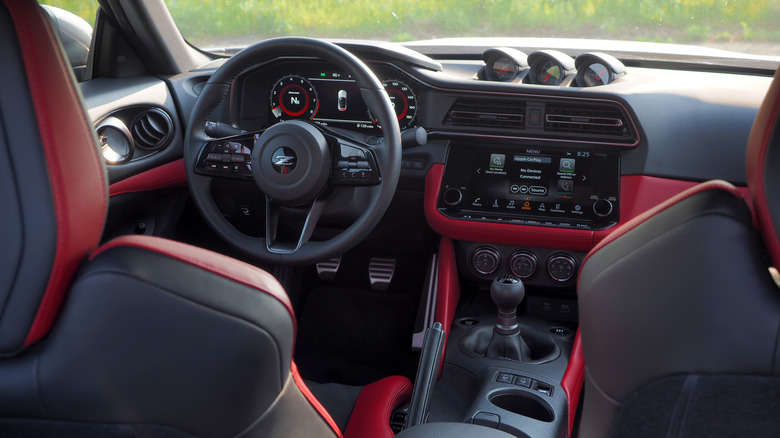 Chris Davies/SlashGear
Gone is the 370Z's naturally-aspirated six-cylinder engine, replaced with a 3.0-liter twin-turbo V6. That has previously done duty in Infiniti's Red Sport cars, and though I've had my complaints about that line-up, the engine itself was never one of them. Nor am I going to argue with 400 horsepower and 350 lb-ft of torque.
Nissan hasn't just dropped the V6 under the new Z's hood with no changes, mind. The turbochargers promise to spool up faster — and hold their speed for longer — while there have been tweaks for swifter throttle response. A rear clutch-type limited-slip differential has been added on Performance trim cars, too, and for those who want an automatic, the 2023 Z gets a 9-speed rather than the old 7-speed. Nissan says it's capable of faster and smoother changes than its predecessor.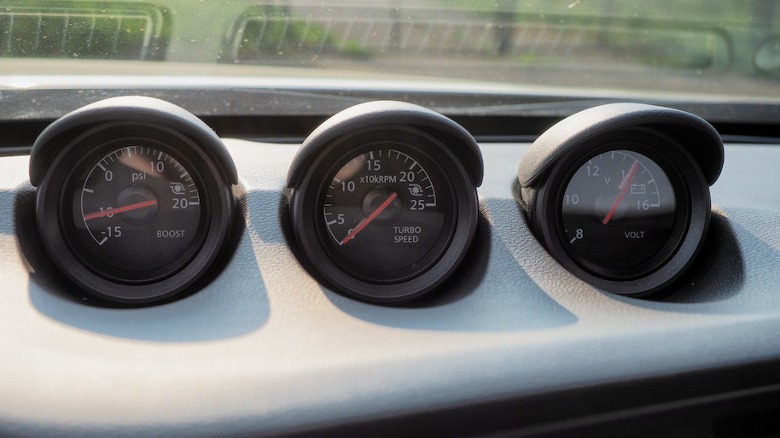 Chris Davies/SlashGear
As a no-cost option, though, you can swap that for a 6-speed manual transmission paired with an EXEDY high-performance clutch and SynchroRev Match with no-lift shift. Nissan deserves praise for continuing to offer a stick-shift Z — so many automakers have looked at dwindling manual sales and decided not to bother anymore — and you don't even need to give up on Launch Control in order to have it.
Powerful, yes, but fun is the main feature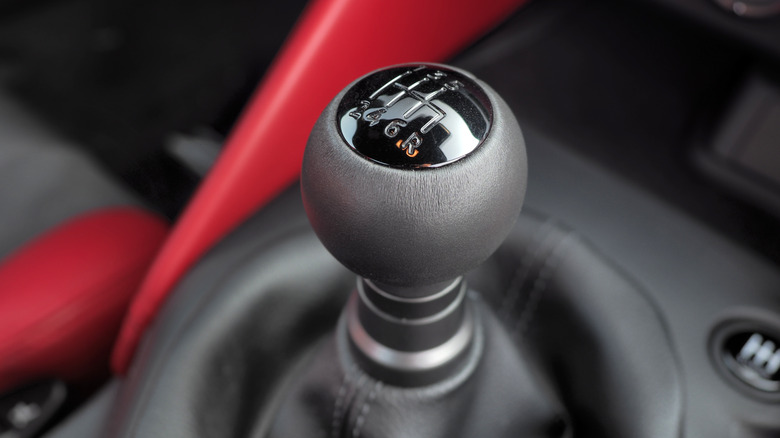 Chris Davies/SlashGear
On the road, the details of the Z's changes take a back seat (metaphorically: there's still only room in there for two) to the fact that it's just plain fun. The extra power is welcome, and though the 6-speed doesn't have the sinuous shift action of, say, an MX-5 Miata, there's a pleasure in figuring out how to muscle it through the gate with determined motions. The clutch is a little on the heavy side for commuting and can be tricky at times to modulate, and there's nothing so fancy as auto-hold.
The automatic will, undoubtedly, be swifter at the zero to 60 mph run than the stick is, but I don't think that matters. Minimal torque lag and peak twist at 1,600 rpm mean you may not need to downshift quite as often as you think you do, too, with Z's powerband broad and fun to explore. At the top end, highway work in sixth gear is similarly relaxed, with linear power even as traffic ebbs between 50 and 80 mph.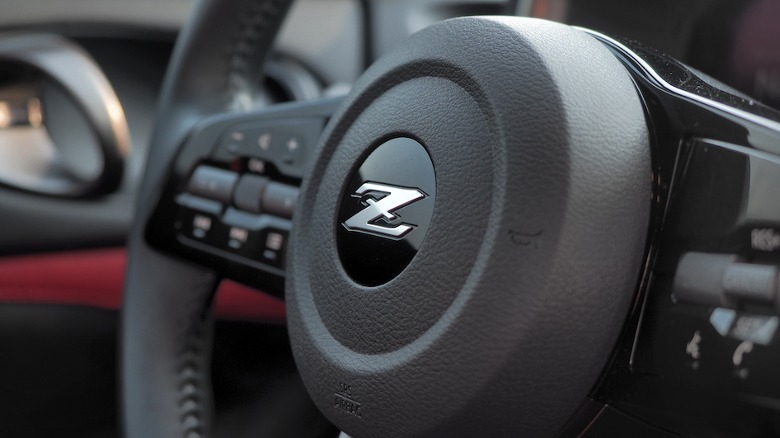 Chris Davies/SlashGear
Stray off the highway and onto more entertaining roads, meanwhile, and there's plenty to enjoy here. Stiffer and more communicative than the outgoing car, the new Z is a little heavier but wears its heft well. The steering is precise and there's both plenty of grip and clear indicators of when you might be reaching its limit. Toyota's Supra — co-developed with BMW — probably has an edge on nimbleness, but Nissan has dramatically narrowed the gap this time around.
Big changes inside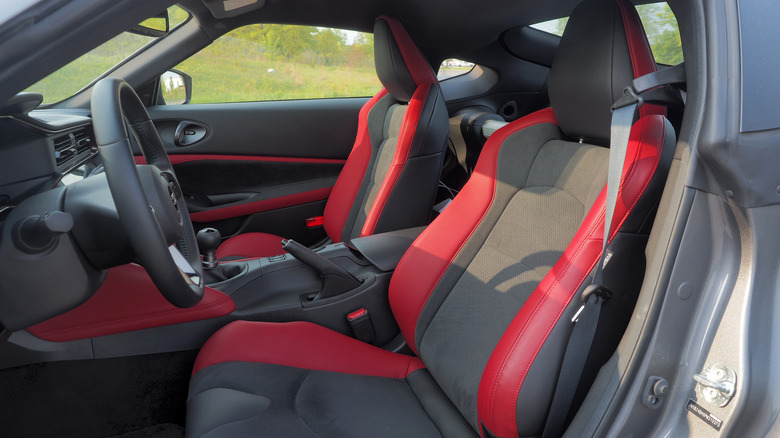 Chris Davies/SlashGear
Inside, the Supra has an advantage in spaciousness, but I think I'd take the 2023 Z's revamped interior over the Toyota's BMW-donated cabin. It's another case of making your changes count, and with the 370Z arguably feeling most dated from behind the wheel, Nissan has wisely spent time (and budget) addressing that perception.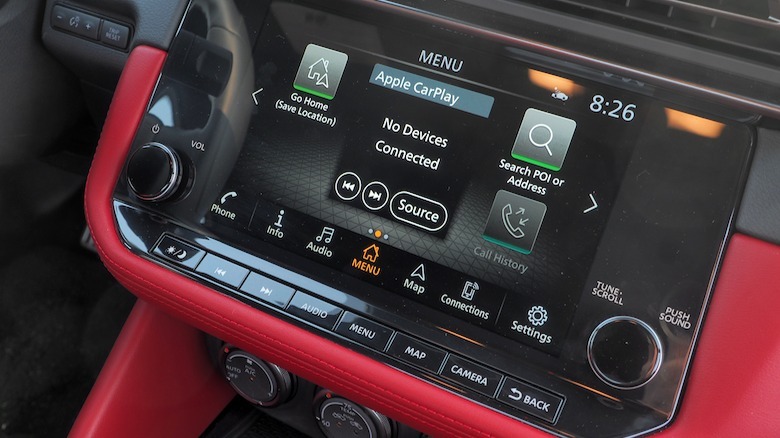 Chris Davies/SlashGear
The driver gets a 12.3-inch digital instrument cluster, replacing the old analog gauges with their dinky LCD inserts, and the clunky media system is ditched in favor of a sizable 8- or 9-inch touchscreen running NissanConnect+ with wireless Apple CarPlay and Android Auto. The trio of analog gauges atop the dashboard remain for things like turbo pressure, while knobs for the HVAC are at the bottom.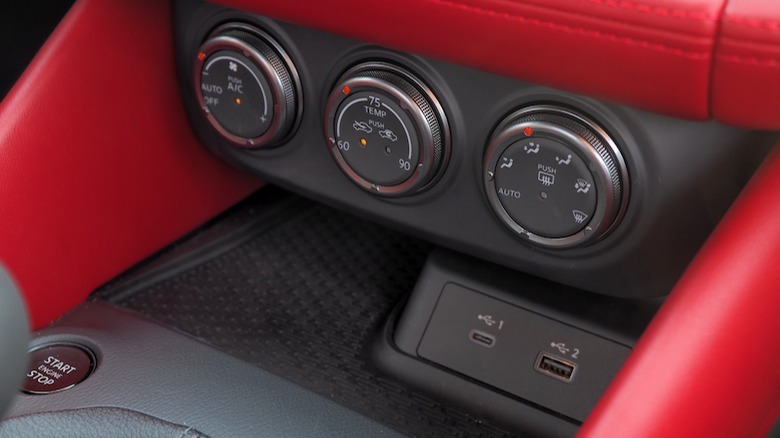 Chris Davies/SlashGear
Yes, there are still hard plastics to be found (and it's not a difficult hunt), and yes, Nissan's seat adjustment controls are arcane and the chair itself doesn't have enough up/down movement. Overall, though, immediacy and simplicity are the name of the game, here. The steering wheel buttons and knobs are large and cleanly labeled; being able to reach down and stab a switch for the heated seats, or twirl a dial to drop the cabin temperature, leaves your attention on the road ahead.
Almost practical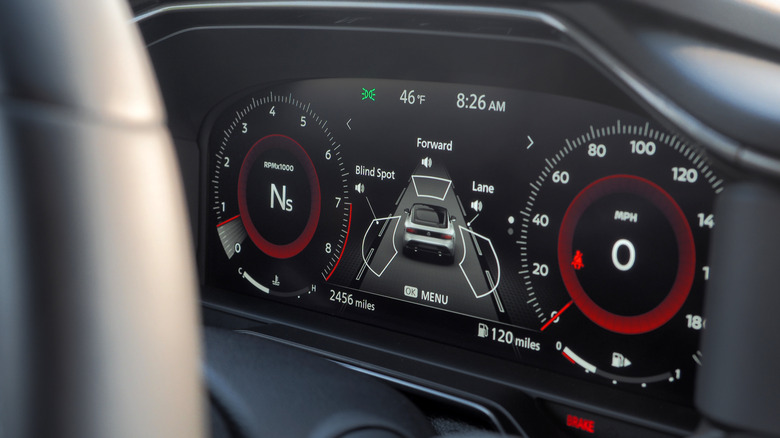 Chris Davies/SlashGear
The trunk is a long, flat 6.9 cu-ft that's easy to access thanks to the hatchback rear. It'll hold about three carry-on cases without them touching the back glass. Nooks and cubbies in the cabin itself are fairly limited, but you do at least get a second cup holder these days, hidden beneath the slide-back armrest. I wouldn't argue with the Bose eight-speaker audio system in this Performance trim car getting louder — or making better use of its active noise cancellation tech — since highway driving features plenty of road and wind noise.
Nissan's driver-assistance package is healthy across the board. All trims get adaptive cruise control, automatic emergency braking with pedestrian detection, lane departure and blind spot warnings, and rear cross-traffic alerts. Front and rear parking sensors are standard, too, which is welcome since visibility isn't great.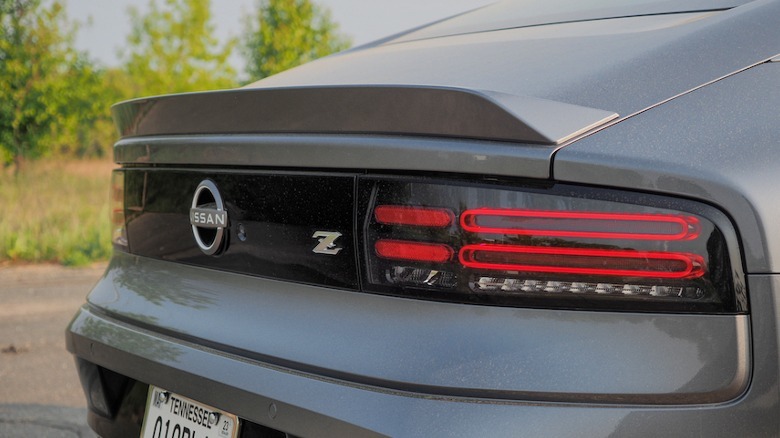 Chris Davies/SlashGear
As for fuel economy, Nissan quotes 18 mpg in the city, 24 mpg on the highway, and 20 mpg combined for the manual transmission. Opt for the auto, and that increases to 19 mpg city, 28 mpg highway, and 22 mpg combined. Reality is — unsurprisingly — that driving the Z with anything close to enthusiasm means you will struggle to get near to those numbers.
2023 Nissan Z Verdict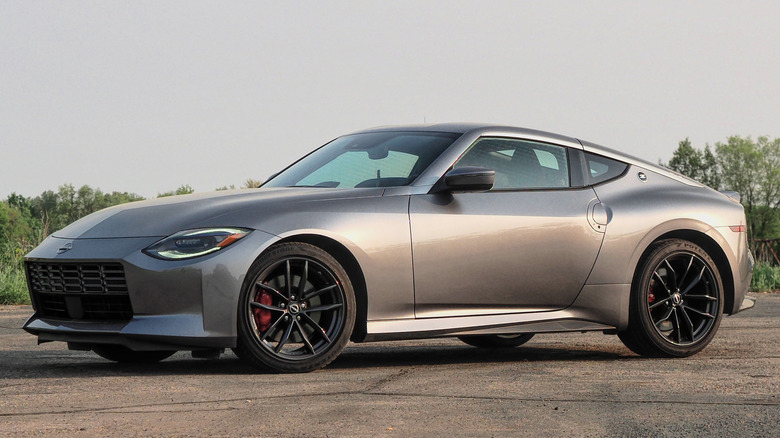 Chris Davies/SlashGear
Judging the 2023 Nissan Z by how economical it is, or how loud on the highway, feels like it's missing the point, though. While there's clearly plenty here for long-standing Z enthusiasts to get excited about, the reality is that Nissan's value argument means anybody looking for relatively affordable fun should be paying attention.
400 horsepower and a manual transmission from $42,000 (including destination) is a mighty strong offering. This 2023 Z Performance trim, at $10,000 more, still feels aggressive, and it gets you the limited-slip differential, nicer wheels, and more gadgets in the cabin. Even then, you're undercutting a comparatively-equipped Toyota Supra 3.0 manual by several thousand dollars, and membership in the Porsche 718 Cayman club is even further north.
With that in mind, though a Z NISMO is widely expected to be in the near future, it's the coupe's combination of retro style and a price tag that feels admirably old-school which gives the 2023 Z its charm. That holds true whether you're looking at it as out-of-the-box fun or a starting point for your own choice of modifications.