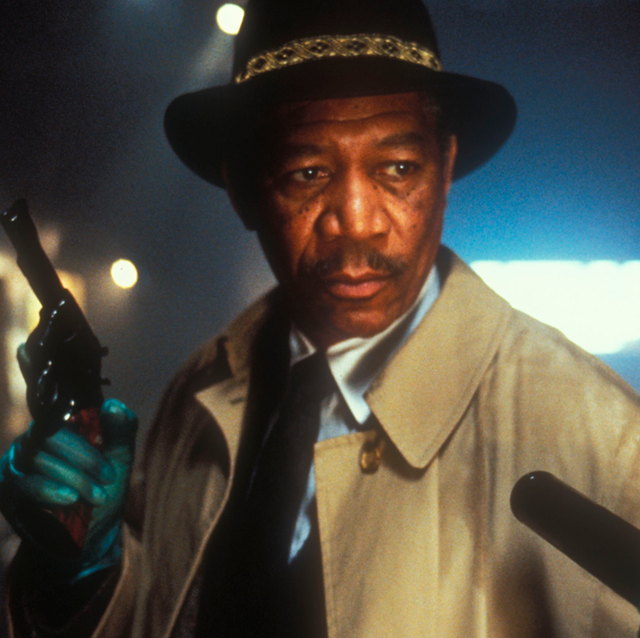 New Line Cinema/Orion Pictures/Universal
We love all kinds of horror movies. Some people might hear "horror" and think first about classic monsters of the genre—zombies, Frankenstein's monster, vampires, etc—and that's all good and dandy. Others might jump to the slasher pool—big, scary bad guys like Jason Voorhees and Michael Myers picking off unsuspecting victims and scream queens one by one—those are damn awesome too. But perhaps the most unheralded but deeply-loved subgenre of the horror world are the psychological horrors; movies that don't necessarily have a supernatural monster or happening at their core (though sometimes they also do!) but mostly focus on some sort of slow, methodical unraveling of a mind.
These stories can happen just about anywhere. Sometimes, it can be in the backdrop of a criminal investigation, a hunt for a killer or suspect. Other times, it can be in a city. It can be at home, or at a ballet recital, or in the midst of aging—these stories, really can happen to any and everyone. And, really, that's the whole point; not only are our characters feeling disconnected from reality, but so, too, are we the viewers. And at the end of the day, we're the ones really getting our brains fucked.
Some of the best movies you'll ever see fall into this genre. Can you imagine a world without Stanley Kubrick's The Shining? A masterpiece that basically shaped the landscape that made way for what's been the last 40 years of great horror movies (and included a quasi-sequel in Doctor Sleep from director Mike Flanagan). And there's more where that comes from. Blumhouse, the production company behind movies like Get Out and Happy Death Day almost exclusively makes movies that either explicitly or tangentially fit into this group.
But we digress—too much talk about the future when there's already a ton of great psychological horror films for you to watch right now. So without further ado, here's the best of the bunch.
The Silence of the Lambs (1991)
The Silence of the Lambs wasn't the first adaptation of writer Thomas Harris' work featuring Hannibal Lecter, but it's certainly the most notable. The movie is basically a perfect thriller from start to finish, but with enough truly depraved crime and violence to land a spot on this list. You know this, but Anthony Hopkins' take on Lecter is absolutely incredible—he won the Academy Award for Best Actor despite only about 15 minutes of screen time in the movie. Hopkins and Jodie Foster are the headliners, but its Ted Levine's Buffalo Bill who might scare you the very most. It puts the lotion on its skin…
Stream It Here
Based on Stephen King's legendary 1977 novel of the same name but with some key differences, Stanley Kubrick's The Shining is considered one of the greatest horror films of all time. Each shot is expertly crafted, and Jack Nicholson brilliantly plays one of the most compelling and terrifying lead characters in the history of the genre. Watching him slowly but surely lose his mind, and embrace his very worst tendencies, is a treat for anyone looking for terror.
Stream It Here
While Doctor Sleep is more a sequel to Stephen King's The Shining book than Stanley Kubrick's 1980 masterpiece (there are some major differences), it's nonetheless one of the biggest scale horror films we've seen in recent years. Ewan McGregor (!!) plays a grown-up version of Danny Torrance, who finds a young girl with similar powers to himself. A cult gets involved, and things get wild.
Mike Flanagan (The Haunting of Hill House, The Haunting of Bly Manor, Gerald's Game) is becoming a horror master in his own right, and HBO Max subscribers have the option of checking out the theatrical version of Doctor Sleep or the Director's Cut. Both are worth your time.
Stream It Here
Rebecca Hall stars in The Night House, which tells the story of a woman mourning her late husband—when mysterious things at the house he built begin to happen. This is one of those movies that's better if you know as little as possible—but know that the visuals are stunning, and you'll probably find your mind blown by any of the numerous twists in the story.
Stream It Here
The Power of the Dog (2021)
The Power of the Dog, which won Jane Campion the Oscar for Best Director at 2022's Academy Awards, is not a traditional "horror" movie in any way. But the movie, especially in its latter half, ups the tension in a major way—thanks significantly to Jonny Greenwood's score. You'll need to make sure you're at full attention, but the movie is one of the best versions of finding terror in ordinary people and situations.
Stream It Here
Maybe another unorthodox pick for the list, but Shiva Baby is the kind of horror that we can all relate with—that of unrelenting social anxiety and awkwardness. Rachel Sennott went on to also star in a more traditional horror film (2022's Bodies Bodies Bodies), but she proved her bonafides in Shiva Baby, which plays like Uncut Gems meets A Serious Man meets just pure unfiltered tension.
Stream It Here
Jordan Peele's latest is more along the lines of Jaws or Cloverfield than Us or Get Out, but it's still a thinking man's horror movie at its very best. From the moment this movie ends, you'll want to watch it again. And again. And again. Shall I go on?
Stream It Here
Director Guillermo Del Toro made a big-scale slow-burn epic with Nightmare Alley, which follows a scheming carny (Bradley Cooper) who works his way through society—until he meets his potential scheming match (Cate Blanchett). The production value is fantastic, and supporting turns from Toni Collette, Willem Dafoe and Richard Jenkins are great as usual.
Stream It Here
Honestly, this movie is so weird, and creepy, and disturbing…just know that it involves a car. And blood that resembles motor oil. And a lot more stuff along those lines. Not for those with an easily upset stomach!
Stream It Here
The Game, which stars Michael Douglas as a high-powered businessman who gets caught up in a confusing, scary, and disturbing game outside of his own control, is one of David Fincher's more underrated movies, but that doesn't make it not entertaining. If you're looking for a twisty and turny road that has a few twists and a couple scares along the way, look no further.
Stream It Here
Who says true crime can't be scary? Well, literally no one with a functioning brain would say that, and Zodiac—which tells the true story of the Zodiac Killer who terrorized the Bay Area in the '70s and the relentless hunt for his identity—is some prime proof that our scariest horrors are sometimes the real ones. This might just be David Fincher's masterpiece—though he's certainly got plenty of other contenders.
Stream It Here
David Fincher's Se7en, which stars Brad Pitt and Morgan Freeman, is one of the most grounded and terrifying horror movies you'll ever see. Pair this one with Silence of the Lambs for one fucked up double feature.
Stream It Here
Last Night In Soho (2021)
After dabbling with horror early on (with Shaun of the Dead), director Edgar Wright went full-speed ahead at the psychological horror subgenre with the creepy, moody Last Night In Soho. With dueling storylines that eventually intersect and a mystery at its core, Soho is an entertaining couple of hours with a great cast (including Anya Taylor-Joy, Thomasin McKenzie, and Matt Smith), memorable music, and stunning visuals.
Stream It Here

Mullholland Drive is the most David Lynch-y of David Lynch-y things—and if you're looking for a psychological horror, there's absolutely no better. Don't go into this movie expecting a coherent narrative, but rather just the feeling of a weird, untethered nightmare. You won't forget it.
Stream It Here
This movie is super low-budget, and probably doesn't have any actors you've ever heard of. And it doesn't matter. This is kind of a sci-fi leaning psychological horror that will blow your brains to smithereens, and leave you wondering if you have any idea how the world works—and if anything around you is even real, after all.
Stream It Here
Do you want to see Joe Keery from Stranger Things as a sort of hyper-age, social media-obsessed version of American Psycho's Patrick Bateman who is also a live-streaming Uber driver? Yes, you do. Of course you do.
Stream It Here
The Cabin in the Woods (2012)
Talk about psychological. The Cabin in the Woods kind of starts out like a typical slasher film, but believe us—it is truly anything but. Know as little as possible before you dive into this one, but it's a true treat for any horror fan. Featuring a young pre-Thor Chris Hemsworth and amazing supporting roles for Bradley Whitford and Richard Jenkins.
Stream It Here
You know this one. Get Out isn't just one of the best horror movies of the last few years, but one of the best movies of the 2010s overall—it made Jordan Peele into a household name and a force in Hollywood for good reason. Peele himself considers the movie a "social thriller," but there's more than enough here to give you goosebumps and make your skin crawl before blowing your mind all the way open at the end. Daniel Kaluuya obviously carries the movie as its lead, but Bradley Whitford, Allison Williams, Lil Rel Howery, Lakeith Stanfield, and Catherine Keener are all pitch perfect in their respective roles.
Stream It Here
Jordan Peele's second film, Us, didn't make quite the cultural impact that Get Out did, but its a masterpiece of the genre in its own right. Lupita Nyong'o (who was robbed of an Oscar nomination) carries the movie as a concerned mother with a mysterious past, doing the most as one of several cast members playing dual roles.
Stream It Here
Just gonna start here with this: lol. mother!, from director Darren Aronofsky, might be the most bonkers movie on this whole list, in that…you might not have any idea what in the world you're watching for the duration. And you might not have any idea what you just saw when it ends. But its a full movie of absolute insanity, and you might be able to pull a societal message out of here too if you tie the right strings together. But seriously? Just bonkers. Jennifer Lawrence, Javier Bardem, and Ed Harris star.
Stream It Here
Black Swan is also from Aronofsky. But where mother! is expansive and largely interpretive, Black Swan is relatively on the rails. Now, it's still Aronofsky, so he's going to blow your minds a decent bit by default, but the plot here is super tight. Natalie Portman won her Oscar playing the lead role, a spiraling ballerina (no pun intened), and Mila Kunis is great in support.
Stream It Here
CAM is on Netflix, which makes sense—because it almost feels like a feature-length version of a Black Mirror episode. This movie follows an online camgirl who makes her living through tips. Things seem to be going well—until she finds an exact double of herself living as her. The film, which marks the debut screenplay from Isa Mazzei, is based loosely on her real-life experiences as a camgirl.
Stream It Here
A team-up of TV stars (Girls and Get Out star Alison Williams and Dear White People's Logan Browning) as classical instrumentalists make for one of the most topsy-turvy movies on this list. Williams plays a former top music protegé, and Browning plays the phenom who, essentially, takes her place. The story only gets wilder and wilder from there.
Stream It Here
Full transparency: this one is not for everyone. The pace of A24's The Lighthouse is glacially slow, and the whole thing is in a bizarre aspect ratio, and filmed in black and white. If you know those things up front, it might give you a better chance at enjoying The Lighthouse, which is basically director Robert Eggers' take on an old monster movie. Robert Pattinson and Willem Dafoe are both incredible on screen as a pair of guys charged with taking care of a lighthouse during a strong storm season; the movie is gorgeous to look at, and these two acting titans play off and against each other marvelously. Additionally, and this should come as no surprise: Pattinson was out of his mind during the making of the movie.
Stream It Here
It Follows was one of the most inventive horrors of the 2010s by making a literal STM—a sexually transmitted monster. Starring Maika Monroe, a modern scream queen herself, this movie is dark, moody, and gritty in all the right ways. If you've ever felt like something is always watching you, or like you were finally out of the woods with whatever has been hanging over your head….oh honey, if this movie is any indicator, you certainly are not.
Stream It Here
The Invitation is a movie with a sense of dread that will stick with you from the first minute to the moment the end credits start to roll. Logan Marshall-Green (a great actor in movies like Overlord and Prometheus who also looks just like Tom Hardy) leads the cast as a guy who gets invited, out of the blue, to a dinner party with his ex and her new hubby. That's probably bringing a bit of dread on right then and there. The movie builds and builds and builds until eventually everything becomes clear—and it your mind will certainly be racing.
Stream It Here
Stephen King's epic novel It tells the story of a group of kids and their decades-long battle with a demented killer clown named Pennywise. It's a story so lengthy, and with so much detail that it simply cannot fit into one normal-length movie. Back in 1990 it was made into a two-part miniseries, but it was in 2017, when it got the big-screen adaptation with big-time production value that things really came to life. The casting was perfect, and the terrors—not only of the clown itself, but of real-life horrors like abuse, bullying, and racism—resonate in a way that should make anyone shiver. Part II, which came out in 2019, wasn't quite as strong as the first, but nonetheless gives the story a satisfying ending.
Stream It Here
Twin Peaks: Fire Walk With Me (1992)
Twin Peaks: Fire Walk With Me is in a weird spot; if you've never seen David Lynch's cult favorite mystery series Twin Peaks, you'll literally have no idea what's happening. But if you have seen Twin Peaks, you'll eat this prequel up. Most of the cast returned, and some parts were recast, making things a little odd. But everything is OK, because David Bowie has a role in this movie, and he's wearing a white suit. It's David Lynch. It's a trip.
Stream It Here
Mandy has a few things going for it in a major way: first, it's David Lynch-esque, slow-burn, almost psychedelic pacing and story. And second, an absolutely unhinged, golden performance from Nicolas Cage. Cage and Andrea Riseborough play a couple who get attacked by a cult, which leads into things that feel like a nightmare on several different hallucinogenic drugs.
Stream It Here
There are a lot of Alfred Hitchcock movies that could have made their way onto this list, but we're going to go with Psycho, a horror movie brilliant in building all kinds of psychological dread throughout. It's hard to funnel from one form of dread and fear to another as acts of a movie go on, but Psycho continually does just that. Anthony Perkins as Norman Bates is iconic, as is Janet Leigh's wonderfully-convincing woman on the run.
Stream It Here
Perhaps Christian Bale's most iconic role, American Psycho is ostensibly about a businessman with a rather dark side hobby, but the movie goes so much deeper than that. A dark satire in a lot of ways, the movie will scare you with its violence, yes, but also make you think even more about society and what society finds important.
Stream It Here
In the last decade, The Babadook has become a favorite among horror fans, and at 98% on Rotten Tomatoes, it's a favorite among critics as well. The movie tells a fairly simple horror story: a children's book, called "Mister Bababook" essentially comes to life in a family's home. It's very, very scary, and touches on themes like grief as well—the story follows a mother and a son after the death of their husband/father.
Stream It Here
Martin Scorsese is a big fan of director Ari Aster, who, with his two debut horror movies Hereditary and Midsommar has made a pair of the most stunning and disturbing films you'll ever see. We don't want to give too much away, but Toni Collette leads the movie as a matriarch of a family where…let's just say things go wrong, and characters spiral mentally in a very clear way. In an essay, Scorsese called scenes in Hereditary "disturbing to the point of being uncomfortably so," and once you see the movie you certainly won't disagree.
Stream It Here
Martin Scorsese also loved Midsommar, Aster's second feature film (and, actually, a little bit better even than Hereditary). Leads Florence Pugh and Jack Reynor are excellent in their very specific take on the sort of standard "young person in an unfamiliar situation" horror movie trope. Think Hostel meets an almost Return of the Jedi-esque commune community, but with a constant overwhelming sense of dread. When you finish, your brain will have approximately 7 more wrinkles than when you started.
Stream It Here

Perhaps the scariest thing about Misery, based on the Stephen King novel of the same name, is just how realistic it is. Everything in Misery could 100% happen today, a rarity for something based on King's writing. There's nothing supernatural happening here—just a very, very obsessed fan, and a very, very scared man. Kathy Bates plays a villain to perfection, and James Caan gives one of his best performances as an injured, trapped man whose only chance is to play along.
Stream It Here
Rosemary's Baby is one of the earliest psychological horror films, and its impact is deeply felt in just about every movie on this list. The movie was a star-making performance for Mia Farrow, who plays the titular Rosemary; pregnant, and fearing that the increasingly odd people in her orbit—including her opportunistic husband—want to steal her baby for use in an evil cult's rituals. Farrow plays the paranoia—whether justified or not—perfectly for one of the best horror movie performances in film history.
Stream It Here
The Killing of a Sacred Deer (2017)
Director Yorgos Lanthimos has only made a handful of movies in the English language, but they've basically all been bangers (including both The Lobster and the Academy Award-winning The Favourite). The Killing of a Sacred Deer, in turn with the rest of this list, is a movie that will mess with your mind in a major way. Leads Colin Farrell and Nicole Kidman do great work in this modern-day riff on the Greek tale of Agamemnon and Iphigenia, and Barry Keoghan plays a creepy, ominous kid all too well. The title is not meaningless. That's all we'll say for now.
Stream It Here
If you're excited for Dune (now, unfortunately, delayed until 2021), you can do a whole lot worse than watching Enemy, a smaller-scale psychological horror/thriller that director Denis Villeneuve made before he started getting major budgets and major projects. Jake Gyllenhaal should 100% have this movie listed high on his resumé, because he gives an incredible dual-role performance; one Jake, a professor, discovers his exact doppleganger. And things get more and more outrageous from there.
Stream It Here
This movie is one of the most warped movies you'll see—but then again, so is just about everything from director Gaspar Noé. Climax tells the story of a dance troupe, and a party that lasts very long—and goes very wrong. The movie is in about seven different languages, and is impressive in so many different ways, from a stunning opening dance sequence, to the drug-induced waking nightmare hangs over most of the movie. It really does feel like a trip that you've somehow found yourself on—and it gets trippier and trippier by the minute
Stream It Here
Synecdoche, New York (2008)
Synecdoche, New York is the first time film fans got to see Charlie Kaufman unfiltered; they'd gotten to know him previously as the beloved and acclaimed screenwriter of Being John Malkovich, Adaptation, and Eternal Sunshine of the Spotless Mind, but he didn't get to direct his own work until Synecdoche in 2008. The movie, which stars Philip Seymour Hoffman as a theater director struggling through work and life, started off in theory when Sony talked with Spike Jonze and Kaufman about a horror movie, and he realized the themes that truly scared him: mortality, illness, relationship struggles, and loneliness. And this movie has droves of all of that.
Stream It Here
i'm thinking of ending things (2020)
Another from Charlie Kaufman, i'm thinking of ending things is his most recent—and kind of a take on the existential horror of life, relationships, letting go, and moving on. A far more abstract take on the book of the same name, and with a stunning cast that includes Jesse Plemons, Jessie Buckley, David Thewlis, and the amazing Toni Collette, i'm thinking of ending things will have you confused one minute, frustrated the next, and truly concerned with what's happening on screen by the end.
Stream It Here
Director Luca Guadagnino (Call Me By Your Name, HBO's We Are Who We Are)decided to take his shot at horror back in 2018 with this remake of Dario Argento's 1977 classic. This movie is centered on a dance company, and has a cast led by the excellent Tilda Swinton and Dakota Johnson. Also be aware: it is absract as hell, and will probably confuse you. But like most of the movies on the list, it will definitely make you think—and isn't that the whole point?
Stream It Here
Oh, yes. You know this one. Gore Verbinski's film was a massive sensation upon release, grossing $128 million at the box office (against a $48 million budget), and building a great reputation in the process. Audiences used to seeing Naomi Watts in things like David Lynch movies might be a bit surprised to see her in a more mainstream, studio horror—but she's one of the best in the business for a reason. Seven days.
Stream It Here
Fans of Doctor Sleep or Netflix's The Haunting of Hill House or The Haunting of Bly Manor will appreciate this horror that comes from the same director, Mike Flanagan. Based on Stephen King's novel of the same name, Gerald's Game tells the story of a weekend trip, and some foreplay, gone very, very wrong.
Stream It Here
It Comes At Night is one of the most artfully-done horror movies on this list, and given its subject matter—a contagious plague wipes out humanity—feels especially scary right now. Joel Edgerton, Riley Keough, Carmen Ejogo, and Christopher Abbott lead the cast in this A24 film.
Stream It Here
This mockumentary-style psychological horror leaves audiences wondering for the entirety of the film whether a man (Mark Duplass) is deranged, or just disturbed. And you'll be on the edge of your seat the entire movie waiting for the answer. Don't miss the sequel, Creep 2, either,
Stream It Here
Evan Romano
Evan is the culture editor for Men's Health, with bylines in The New York Times, MTV News, Brooklyn Magazine, and VICE.