The world's flagship crypto, Bitcoin (BTC), is showing some signs of tension. While external events frequently steer its course, the latest headwinds arise from within its mining community, as recent data suggests mounting selling pressure from Bitcoin miners.
Miles Deutscher, a seasoned crypto analyst, has been vocal about this emerging trend, casting light on what might be a significant underlying issue in the Bitcoin realm. Given the innate mechanics of Bitcoin, miners play a pivotal role not just in transaction verification but also in the coin's overall market dynamics.
Selling Pressure Amplified By Miners
There's currently an escalating concern in the Bitcoin community. Miners, the entities ensuring Bitcoin's transactional integrity and security, appear to be offloading their holdings at an unprecedented rate.
Glassnode, renowned for its report on blockchain data analytics, has revealed that miner revenue sent to exchanges has skyrocketed, marking a new all-time high of 315%.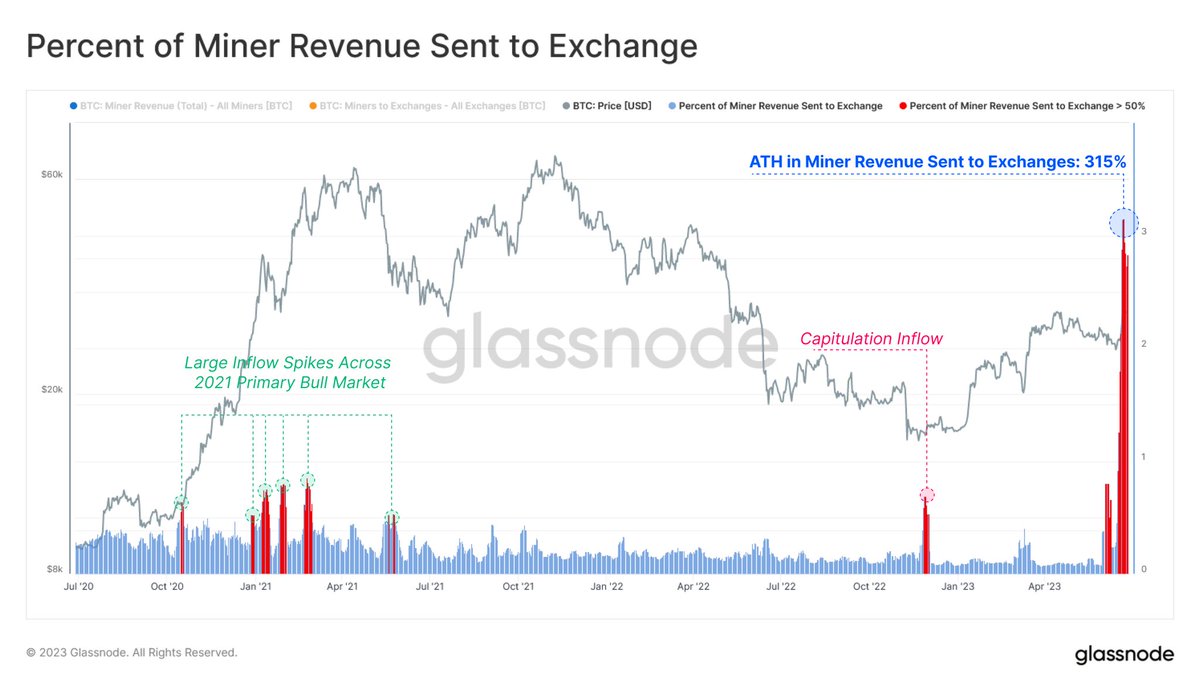 Such statistics beckon inquiries. Deutscher's analysis points toward several factors that could be prompting this sell-off converging to produce this scenario. According to Deutscher, Bitcoin's all-time high hash rates, peak mining difficulty levels, and escalating operational costs have squeezed miners.
One of #Bitcoin's biggest supply headwinds right now (that no one is taking about) is the increasing miner sell pressure.

ATH hash rates, peak difficulty + rapidly rising energy prices have combined to heavily affect mining profitability.

With rewards set to be cut in half via… pic.twitter.com/HlL2nuendj

— Miles Deutscher (@milesdeutscher) September 28, 2023
With the profitability of mining endeavors getting pinched and the next halving event looming on the horizon, it's plausible that miners seek to liquidate their BTC holdings. Deutscher explained such sales are essential for these miners to maintain operational fluidity and ensure their ventures remain viable.
Implications For The Broader Bitcoin Market
With Bitcoin being decentralized, every actor, from individual hodlers to large-scale miners, plays a part in its market dynamics. As miners dispatch more BTC holdings to exchanges, they inadvertently ramp the selling pressure. If it persists, such a trend can exert a downward force on Bitcoin's price.
However, it's worth noting that this is just one piece of a vast jigsaw. While miners' selling pressures are influential, other macro factors, such as approving a spot BTC Exchange Traded Fund (ETF), regulatory landscape, and market sentiment, will influence Bitcoin's journey ahead.
Meanwhile, Bitcoin has seen a slight bullish trajectory of 2.2% over the past day. The asset currently trades for $26,828 at the time of writing, with a 24-hour trading volume of $11.2 billion and a market cap of $523.9 billion.
Featured image from Unsplash, Chart from TradingView