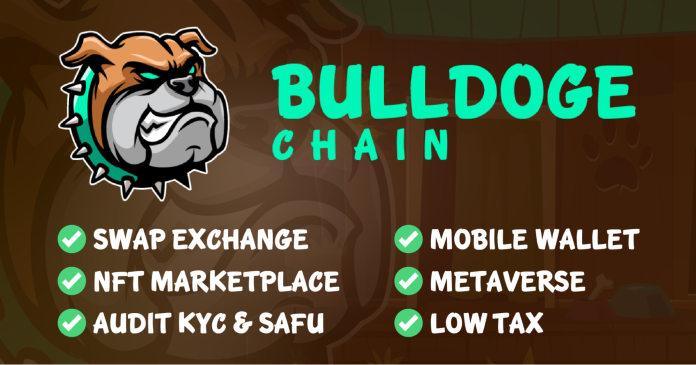 BullDogeChain overview and mission
Do block Chains are better for end users and we strongly believe that the gap between the real world and the crypto world must be closed. Introducing a more "reasonable" application to the community is critical. Apart from the amount transferred, neither the sender nor the receiver knows the details of the transactions in the first-generation blockchains dedicated to transferring cryptocurrencies. Surprisingly, neither side knew the other's wallet address. This is why so many blockchains are used to conduct activities on the dark web.
Our guiding principle is simple: we intend to leverage all the previous generations of blockchains that are powerful, futuristic and practical concepts, unify them, and then launch a native chain.
BullDogeChain – Integrated Ecosystem
$wBDC is the packaged token of BullDogeChain – a decentralized blockchain Project that supports EVM-based smart contracts and is secured by Proof of Stake (POS) consensus.
BullDogeChain provides a unique platform for users and potential future cryptocurrency groups. It provides a unique ecosystem for a variety of projects, including Launchpad, decentralized exchanges, wallets, future social networks, blockchain-based Metaverse infrastructure, non-fungible token (NFT) projects, next-generation P2E
BullDoge Decentralized Exchange is an Automated Market Maker (AMM), and the exchange is the core of BullDoge Dex. BullDoge Dex is the leading AMM on MultiChain and according to statistics it is the most popular Decentralized Exchange (DEX) of all time!
BullDoge Wallet is a non-custodial cryptocurrency wallet that gives users control over their private keys, addresses and funds. The BullDoge Wallet provides users with additional ways to interact with the entire BullDoge ecosystem.
Marketplace is an important part of BullDoge and is a massive launch. This is an important step forward for the innovative space of global DEXs and earning cryptocurrencies through NFTs, which are home to the next generation of digital creators.
Bulldog World is the main hall in Metaverse, connecting all BullDoge cities. It is used as a portal and public open world, allowing users to navigate to cities where they want to kill time, visit and acquire land.
Conclusion
BullDogeChain provides an obvious solution for improving the security, scalability and efficiency of existing blockchain protocols A powerful solution with a futuristic feel. We don't offer "brand new" stuff. In fact, we believe in taking the best components from existing solutions, enhancing them, and then providing users with a viable solution.
Throughout the development process, one of our main goals was to make this blockchain a more logical platform for end users by reducing the amount of "unnecessary abstractions".
Due to its decentralization and scalability, BullDogeChain is well suited to serve many industries, including IoT, government, healthcare, and education.
Contact
Twitter : https:/ /twitter.com/bulldoge_chain/
Telegram Channel: https://t.me/BullDogeChain_Channel
Telegram Group: https://t. me/BullDogeChain_Group
Facebook: https://www.facebook.com/bulldogechain/
Contact: Company Name/Brand Name: BullDogeChain, Contact Person: Bull, Company Address: Bishan St. 15, Singapore, Email: [email protected]
Disclosure: This is not a transaction or investment advice. Always do your research before buying any cryptocurrency or investing in any service.