On-chain data shows the profit-taking among Cardano investors has spiked to high levels, a sign that the asset may register a decline in the coming days.
Cardano Has Observed High Profit-Taking After The Rally
According to data from the on-chain analytics firm Santiment, AAVE, ADA, and CRV are among the altcoins that have recently observed the most extreme profit-taking.
The relevant indicator here is the "ratio of daily on-chain transaction volume in profit to loss," which, as its name suggests, tells us about how the profit-taking volume of any cryptocurrency compares with its loss-taking volume.
This indicator works by going through the on-chain history of each sold coin to see what price it was last moved at. If the previous selling price for any coin was more than the current value it's being moved at, then its sale contributes to the loss volume. Similarly, the sale would count under the profit volume if it were otherwise.
When the value of this metric is positive, it means that the profit-taking volume is more than the loss-taking volume right now. On the other hand, negative values suggest the dominance of the loss-taking volume.
Now, here is a chart that shows the trend in this indicator for Cardano, Aave, and Curve over the past month or so: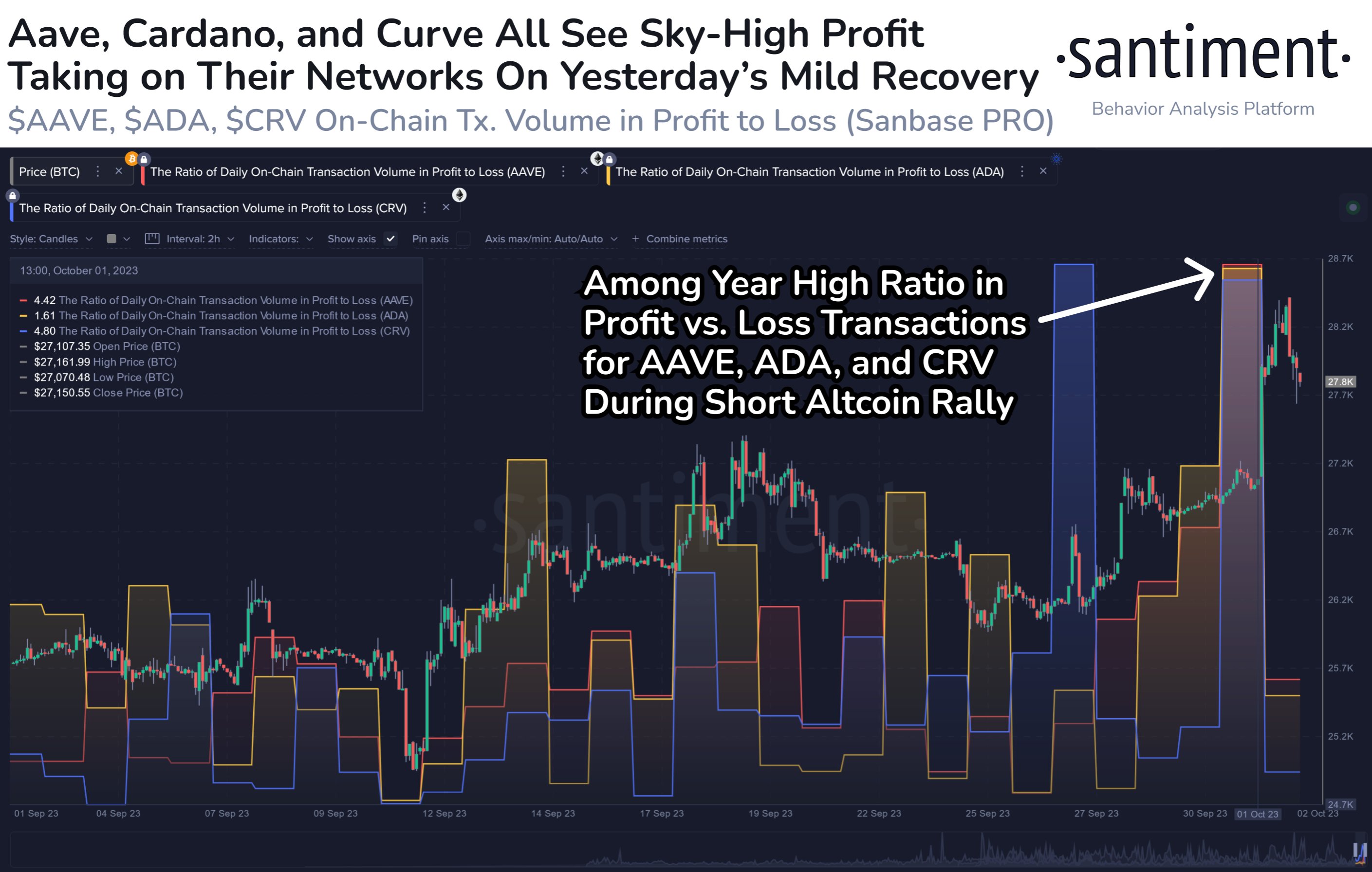 Looks like the value of the metric has been quite high for all three of these coins in recent days | Source: Santiment on X
As displayed in the above graph, the indicator appears to have observed a large spike recently for all three of these altcoins. During the peak of this surge, the metric's value had been among the highest levels observed in the year so far.
This interest in profit-taking occurred after these cryptocurrencies had observed their respective rallies, following Bitcoin's surge beyond the $28,000 mark.
This extreme profit-taking spree has hit Curve the hardest, as the cryptocurrency has plunged almost 7% during the past day. Cardano has held onto some of its recoveries, as the decline has only been about 2%.
Aave has not felt any negative effects from this profit-taking, as the cryptocurrency price has mostly continued to move sideways in the past day.
While ADA has shown some strength against the profit-taking, it's still a concerning sign for the asset that its modest recovery rally has instigated such an extreme reaction from the market.
It would seem possible that some of the investors had been waiting for an exit opportunity, however small, and once they got it in the form of this surge, they swiftly sold their coins. If the profit-taking continues in the coming days, Cardano may retrace more of its recovery.
ADA Price
Cardano had approached the $0.27 level at the peak of this rally, but since then, the asset has slumped back toward the $0.26 mark.
ADA has observed some surge in the last few days | Source: ADAUSD on TradingView
Featured image from Shutterstock.com, charts from inew.news, Santiment.net