CARL NASSIB, FORMER outside linebacker for the Tampa Bay Buccaneers and first NFL active player to come out as gay, has announced his retirement from football this morning.
"It really feels like just yesterday starting out as a walk-on at Penn State," the 30-year-old wrote on Instagram. "I can truly hang up my helmet for the last time knowing that I gave it everything I had."
His retirement comes after seven seasons in the NFL. In 2021, Nassib made history by becoming the first openly gay man actively playing in the NFL while playing for the Las Vegas Raiders.
"I felt really lucky that I could be on a big stage and, like, make a good play while representing the community," he told Men's Health in 2021. "To be the first out player in a game and then to win. That's sick, that's fucking cool. But I go out with the same mentality every game, just trying to beat the shit out of the team across from me."
Nassib began his football career as a walk-on linebacker at Penn State in 2011, where he set the school's season sack record with 15.5 sacks during his senior season in 2015. He was also named an All American by unanimous decision that same season. In 2016, he was drafted to the Cleveland Browns in the third round, where he spent two seasons before being traded to the Tampa Bay Buccaneers, and then to the Las Vegas Raiders in 2020. He returned to Tampa Bay in 2022 for what was his final season.
He says he is stepping away from football to work more on his company, Rayze. Rayze is an app that is designed to connect social media to nonprofit organizations to better their reach and fundraising opportunities.
Fans and former teammates began showing their support to Nassib after his announcement.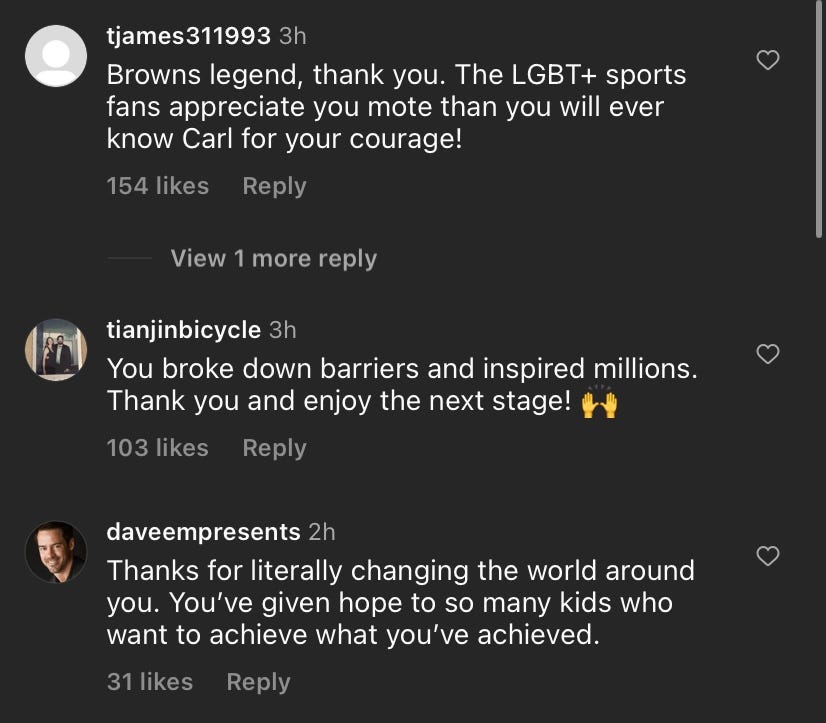 @carlnassib

@carlnassib
Congrats to Nassib on his retirement!

Cori Ritchey
Cori Ritchey, NASM-CPT is an Associate Health & Fitness Editor at Men's Health and a certified personal trainer and group fitness instructor. You can find more of her work in HealthCentral, Livestrong, Self, and others.