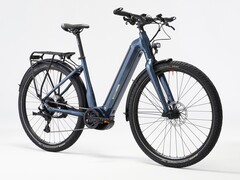 The Decathlon Stilus E-Touring e-bike has arrived in EU countries, including the Netherlands, France and Germany. The model has an 85Nm motor with a torque sensor and up to 130 km (~81 miles) range from a Bosch PowerTube battery. Plus, the bike has a Bosch Kiox display and is compatible with the eBike Flow app.
Decathlon has launched the Stilus E-Touring e-bike in the EU. The new model has a mid-mounted Bosch Performance Line CX motor, assisting you at speeds up to 25 kph (~16 mph) and delivering up to 85Nm of torque. A torque sensor helps to ensure pedalling feels natural despite the additional power, and a 750Wh Bosch PowerTube battery allows you to travel for up to 130 km (~81 miles) on a single charge.
The electric bicycle also has Schwalbe AL Grounder 29×2.35-in tires, a 10-speed Microshift Advent X rear derailleur and 180mm Clarks M2 hydraulic disc brakes. Other features include Spanninga Axendo 40 front and rear lights and a Bosch Kiox display to show directions and journey information. You can view further details in the accompanying eBike Flow app, where you can also trigger the eBike Lock. You can choose from three sizes, S, M and L, suiting riders who are 1.05 to 1.89m (~4 ft 11-in to 6ft 2-in) tall. The Stilus E-Touring has an Aluminum 6061 frame, with the medium model weighing 26.2 kg (~57.8 lbs)
The bicycle can support loads up to 145 kg (~99 lbs), has a rear luggage rack and is compatible with the Riverside front rack. You can now buy the Decathlon Stilus E-Touring e-bike in EU countries like the Netherlands, France and Germany for €3,499 (~US$3,870). Customers in the Netherlands and Germany can currently get a 14% discount on the RRP, reducing the price to €3.019.99 (~US$3,340); it is unclear how long this deal will last.

Polly Allcock – Tech Writer – 1557 articles published on Notebookcheck since 2021
I've been interested in technology for as long as I can remember. From a young age, I have loved gadgets and understanding how things work. Since graduating, I have worked for several technology companies across FinTech, AdTech and Robotics.
Polly Allcock, 2023-07-26 (Update: 2023-07-26)