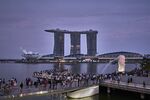 The wealthy in Singapore face more taxes. Chinese households cut spending. Global economic risks are rising. Here's what you need to know today.
Singapore's next prime minister said,
The wealthy could face more taxes as governments look for ways to protect the most vulnerable from high inflation. Deputy Prime Minister Lawrence Wong told Bloomberg that the government may need to "lean more towards more inclusive growth," adding that those on higher incomes will have to pay more in taxes. Given a projected budget shortfall of $3 billion this fiscal year, the city-state earlier raised taxes and levied other taxes on its richest 1 percent of its population, and needs more cash to sustain its inflation fight. Huang also warned that the United States and China may "If they don't de-escalate tensions in Taiwan, they will sleepwalk into conflict".
read more