One of the many things Netflix does very well is action movies and Heart of Stone is the newest entry into their extensive original film stable. The movie follows Rachel Stone, or Nine of Hearts, (Gal Gadot) as she's tasked with keeping the artificial intelligence system known as "The Heart" from getting stolen by those who want to use its power for evil.
The cast also includes standouts like Sophie Okonedo, Jamie Dornan, and Alia Bhatt, but it's one appearance that still has fans talking. Glenn Close also made a cameo in the film, and while her screen time was limited, her character had a big impact on Heart of Stone's plot. Here's what you need to know.
Who Is Glenn Close in Heart of Stone?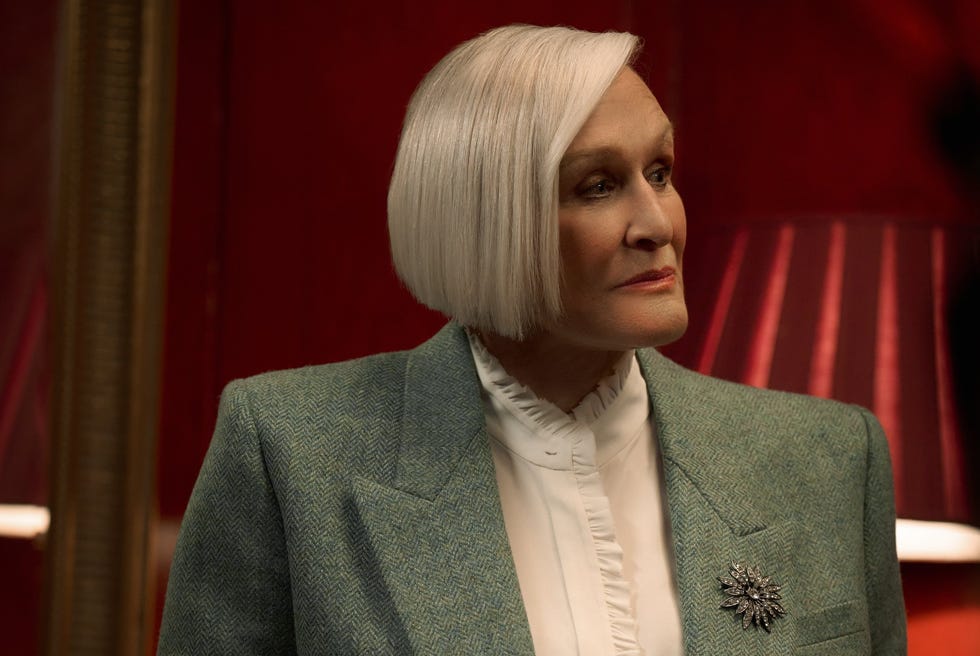 Netflix
Close plays the King of Diamonds, one of the leaders of the international peacekeeping agency known as the Charter. Okonedo and Mark Ivanir play the King of Hearts and King of Spades, respectively, while the King of Clubs is played by BD Wong in another cameo.
"That group of characters who run the Charter was quite a nice opportunity for cameo casting," director Tom Harper told Netflix. "They're quite juicy little roles that people could have fun with. Glenn and BD relished the chance to come in and have some fun, and we were lucky to have them."
Unfortunately, Close and Wong end up being killed by Dornan's character Parker, who is revealed to be a double agent that wants to infiltrate Charter and steal The Heart. He kills these members of the Charter for revenge, as they had previously ordered a drone strike on his black ops team, leaving Parker as the only survivor.
But if you're sad that the two actors likely won't appear in any further Heart of Stone movies, Harper further explained that their ending was necessary. "We wanted to show the threat of our villain and of the Heart. You need to see what the consequences and danger posed by this weapon are. Killing them off provided an opportunity for that," he explained.
Right now, it's unclear if there will be a Heart of Stone sequel, but it's likely the next film could include more exciting cameos.

Temi Adebowale
Temi Adebowale was previously an Editorial Assistant at Men's Health, covering shows like Survivor, Peaky Blinders, and Tiger King. Prior to her entertainment work at MH, she was Newsroom Fellow, writing news stories across Hearst Digital Media's brands. Temi likes Rihanna, the StairMaster, and tacos.