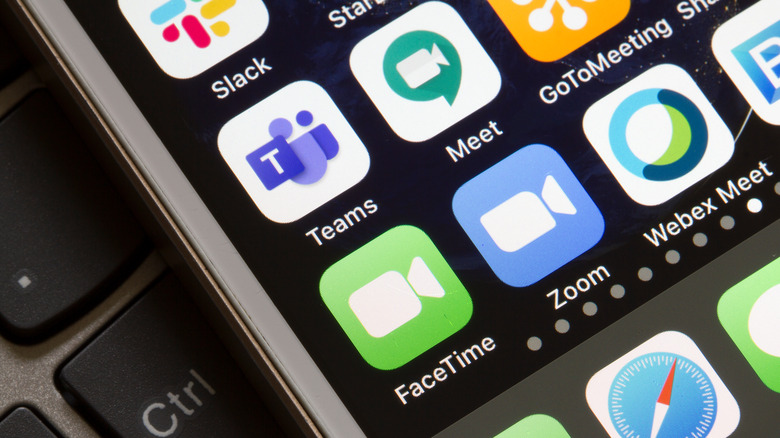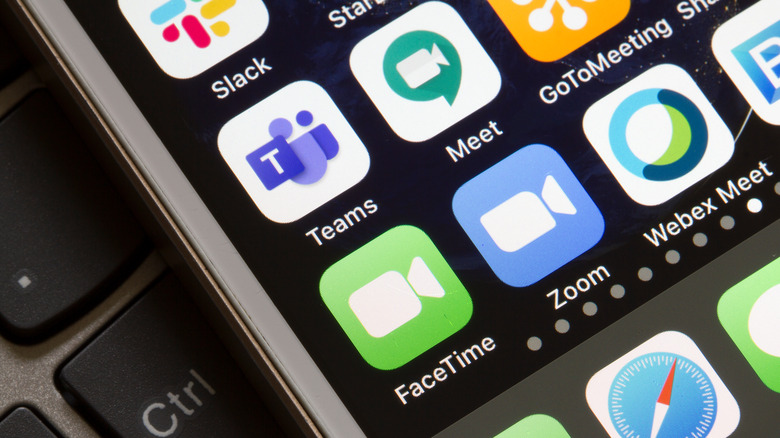 Tada Image/Shutterstock
FaceTime can help you and your friends or family feel together even when you are far away. Now, one of the features available on FaceTime to help you spend time together is SharePlay. This feature allows you to watch shows, movies, videos or listen to music with other people via FaceTime. It works in a FaceTime call, but you can also start a FaceTime call directly from the media you want to watch and start watching right away.
Please note that you can only use SharePlay with applications that support this feature. Apple lists these apps as Disney+, TikTok, Twitch, Paramount+, and more. There are also apps that allow you to stream music through SharePlay, including Apple Music. It's easy to get started with SharePlay, whether you're already on a call or want to start a call from a video you find. Here's how to do it.
How to use SharePlay in a call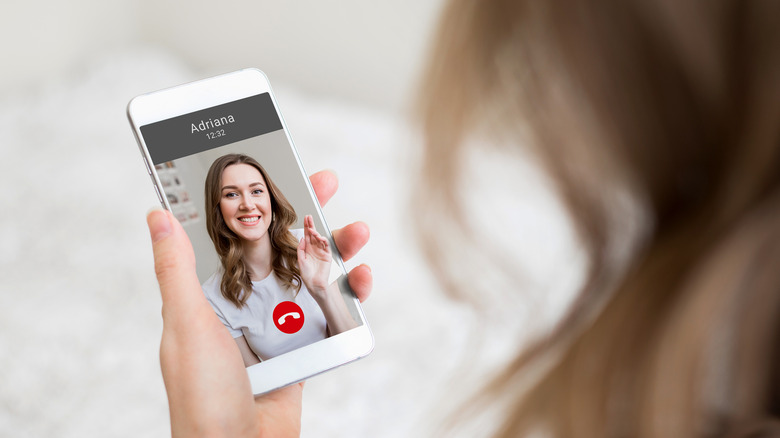 E.Va/Shutterstock

Before you start, you need to make sure your iPhone is updated to the latest version of iOS in order to You can use SharePlay. The person you're calling also needs to be running the latest version of iOS and, if necessary, subscribed to the service you're streaming video or music to. Once you're sure of that, you can get into the FaceTime call and follow these steps (via Apple).

1. Swipe up from the bottom of a FaceTime call to view your home screen.

2. Open one of the applications that support SharePlay. 3. Find the video you want to watch or the song you want to play, then tap to start playing. 4. When the SharePlay prompt appears, click it to start sharing media. Remember that anyone watching the video can rewind it to control it— – Forward, pause and similar controls. Settings like closed captioning or volume are only controlled by you and only affect your device.

How to start a FaceTime call using SharePlay

Tero Vesalainen/Shutterstock

Another option to use SharePlay is to initiate a FaceTime call with video. This is a great option if you find something you really want to show your friends right away. Here's how to do it.

1. In an app that supports SharePlay, tap the video you want to start the call with. 2. Click the ellipsis or the share icon.

SlashGear

3. Click on "SharePlay" and find the people.

SlashGear

4. Click "FaceTime" to start the call. From there, you can start playing the video just like you did during a call Same. Likewise, anyone can control the video while it's playing. To do this, make sure the person you're calling is also using an iPhone or iPad with the latest iOS update, otherwise it may not work properly.

How to join a SharePlay call on FaceTime

)

Ground Image/Shutterstock

When a SharePlay session starts, other people in the FaceTime call need to join in order to start watching SharePlay video. This is easily done in seconds, so you can watch it with friends.

1. In a FaceTime call, next to Join SharePlay, tap the On button. 2. The application for streaming will open. Click to join SharePlay.

3. To go back to the FaceTime call, click the video image at the top. In the streaming app you will be able to control the video as well as whoever starts playing it. If you don't have access to a streaming app, make sure the app is downloaded and you're subscribed to use the service when you need it. If a free trial is available on the service, you can also join a free trial so you can use SharePlay temporarily.

Which apps support SharePlay on FaceTime?

Tada Images/Shutterstock

When using SharePlay, you can stream video from apps that support the feature. In addition to video, you can stream music and use other services such as apps for meditation, exercise, shopping, and more. For video streaming, you can use Twitch, Disney+, TikTok, NBA, MasterClass, STARZ, Pantaya, Shudder, UFC, Paramount+, SHOWTIME, Mubi and Apple TV.

For music streaming, Apple Music, Moon FM, BetterSleep, Digital Concert Hall, TuneIn Radio , Unplug: Both meditation and meditation moments are available. Other things you can do with SharePlay include yoga with Asana Rebel, shopping with Popshop Live, painting with Flow, quizzes with Kahoot, Reddit with Apollo for Reddit, workouts with Fitness and SmartGym, games with Heads Up, and more . There are some notable exceptions to content available through SharePlay, such as Netflix, YouTube, Amazon Prime, Hulu, Spotify, etc. However, the available apps are still a great way to spend time with friends.