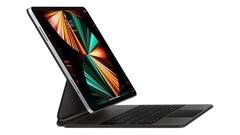 The next crop of iPad Pro-series devices is already slated to emerge with series-first OLED displays in 2024. Now, the slates are also projected to arrive alongside new Magic Keyboards that allegedly finally address the main drawbacks of their aging predecessors. However, such news might not all be good for owners of existing Apple flagship tablets.
The current Magic Keyboard from Apple was a markedly expensive optional add-on at its launch (and is still up to ~US$271 on Amazon), yet is touted as the best way to derive the most laptop-like experience from iPad Pro ownership.
Despite this, it has not been without its drawbacks throughout the years – although its upcoming successor might finally address some of its main issues, according to Bloomberg tech correspondent Mark Gurman, at least.
These include the apparently sub-par trackpad real estate – then again, it might also land without the usual reputation for backward compatibility, particularly in the case for the larger variant.
Its real-world counterpart is rated to fit top-end Apple tablets from 2018 as well as 2020, 2021 and 2022; however, Gurman now asserts that the 2024 model will actually switch to a screen of an even 13 inches in diagonal length as opposed to the classic 12.9-inch spec of the top-end iPad Pro.
Accordingly, those hoping to upgrade from the current 2022 model may have to buy a replacement first-party keyboard dock in addition to shelling out for their new OLED display.

Deirdre O Donnell – Senior Tech Writer – 6646 articles published on Notebookcheck since 2018
I became a professional writer and editor shortly after graduation. My degrees are in biomedical sciences; however, they led to some experience in the biotech area, which convinced me of its potential to revolutionize our health, environment and lives in general. This developed into an all-consuming interest in more aspects of tech over time: I can never write enough on the latest electronics, gadgets and innovations. My other interests include imaging, astronomy, and streaming all the things. Oh, and coffee.
Deirdre O'Donnell, 2023-08-27 (Update: 2023-08-27)