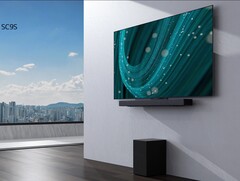 LG has now launched two new soundbars, the SC9S and SE6S, in the US, UK and EU. These devices feature triple sound technology with triple upward-firing speakers. The higher-end SC9S has 3.1.3-channel audio with a subwoofer, while the less expensive SE6S offers 3.0-channel audio.
LG has announced the SC9S and SE6S soundbars designed exclusively for the brand's TVs. Also known as the models USC9S or DSC9S and DSE6S or USE6S, these devices feature the company's triple-tone technology, featuring the world's first triple upward-firing speakers. The new Triple Level Spatial Sound provides a cinematic experience, and the Smart Up Mixer converts binaural audio to surround sound.
WOW Orchestra feature balances TV speakers and bars sound between speakers, while WOWCAST enables you to wirelessly pair your device with other gadgets. Both soundbars support Dolby Atmos and DTS:X technologies, and the SC9S is also compatible with IMAX Enhanced for enhanced surround sound. Plus, AI Sound Pro technology optimizes game, music, movie or sports audio. The 3.1.3-channel SC9S soundbar with 400W output measures 975 x 63 x 125 mm (~38.4 x 2.5 x 4.9 inches). The less expensive 3.0-channel 100 W SE6S speakers measure 800 x 63 x 131 mm (~31.5 x 2.5 x 5.2 inches). In the US, you can buy the SC9S soundbar for $999.99 ; SE6S release date and MSRP unknown. Customers in the UK can pick up the SC9S for £999.98 (~$1,200) and the SE6S for £499.98 (~$600). In Germany, the DSC9S retails for 1,099 euros (about $1,169), while the DSE6S will be available in March for 499 euros (about $531). It's unclear which other European countries these devices will be available in.

Polly Allcock – Technical Writer– Featured on Notebookcheck since 2021
published 1172 articles For as long as I can remember, I've been interested in technology. From a very young age, I loved gadgets and understanding how things work. After graduating, I worked in various tech companies covering fintech, adtech and robotics.
Polly Allcock, 2023-03-6 (updated: 2023-03-6)