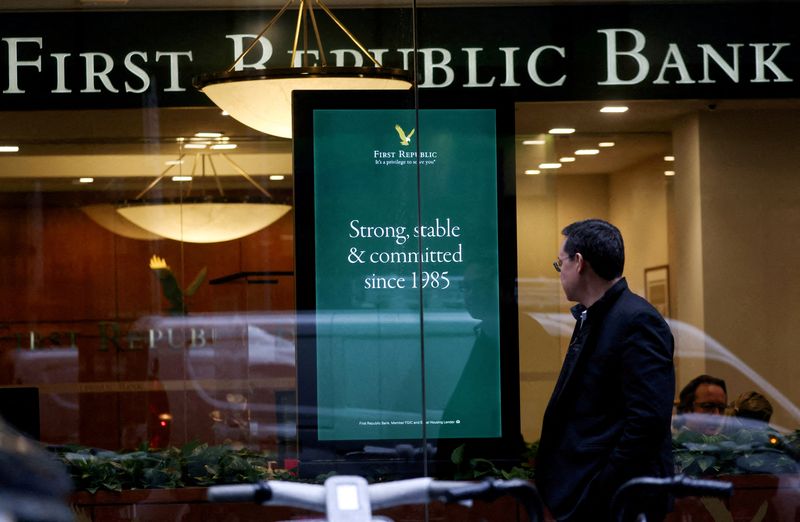 © Reuters. FILE PHOTO: A person walks past a First Republic Bank branch in midtown Manhattan, New York City, U.S., March 13, 2023. REUTERS/Mike Segar/File Photo
By Jamie McGeever
(Reuters) – Jamie McGeever looks to the Asian markets for the day ahead.
The trifecta of US developments on Tuesday – poor corporate earnings, rising bank values, and falling consumer confidence – could set an extremely bearish tone for Asian markets on Wednesday .
This will be trade data from Thailand and New Zealand, inflation data from Singapore and Australia.
Wall Street's three major indexes close down 1% to 2% – Nasdaq's 2% drop is biggest drop in six weeks – amid fears of recession and bank industry concerns have intensified.
(Graphic: First Republic Bank
(NYSE:) Shares plunge – https://fingfx.thomsonreuters.com/gfx/mkt/gkvlwabagpb/FRC.png)
First Republic's throes should be a wake-up call to anyone who thinks the US banking storm has died down in a matter of weeks.
The bank's shares tumbled 50% on Tuesday after reporting on Monday that deposits plunged by more than $100 billion in the first quarter – ranking 15th in the country at the start of the year. The bank has lost 93% of its value this year.
The U.S. regional banking index fell 4% – the fourth straight decline – to end the year-to-date decline to 25%.
(Graph: U.S. Regional Bank Index – https://fingfx.thomsonreuters.com/gfx/mkt/zdvxdkqkrvx/RegionalBanks.png)
It is worth noting that the collapse in US bond yields and the Fed's expectations for this did not weaken the dollar – safe-haven buying pushed the dollar up 0.5%, the best since the banking shock One of the showings mid March.
Safe-haven flows dominated trading on Tuesday, with the yen, Swiss franc, government bonds and gold all gaining strongly.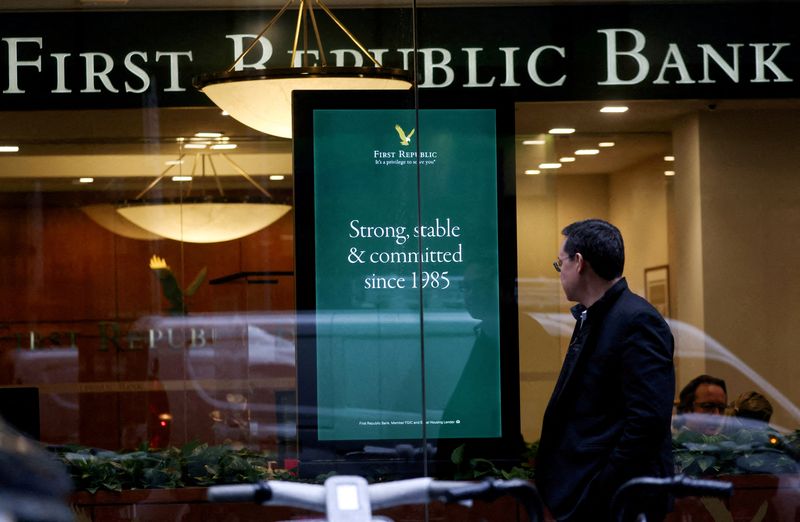 If there is a tailwind among the headwinds in Asian markets on Wednesday, it will be Google parent Alphabet (NASDAQ: ) and Microsoft (NASDAQ: ). after performance. Profits for both tech giants topped Wall Street expectations, sending shares up 4 percent in after-hours trading.
On the economic data front on Wednesday, Australia's weighted annual CPI inflation is expected to finally slow to 6.9% in the first quarter from a 33-year high of 7.8%.
(Graph: Australia Weighted CPI Inflation – https://fingfx.thomsonreuters.com/gfx/mkt/movakdwdkva/AUSinflation.png)
Here are three key developments that could provide more direction for markets on Wednesday:
– Australia CPI Inflation (Q1)
– Made in Singapore (March)
– Thailand Trade (March)
(Author: Jamie McGeever; Editor: Josie Kao)