MHI and ITB Advance R&D Collaboration to Explore Zero Carbon Technologies in Indonesia
– Second phase of research between MHI and ITB aims to investigate the promising potential of zero carbon power generation
– Target set on integrating proven technologies in gas turbines and supporting cleaner power generation in Indonesia
TOKYO, Nov 20, 2023 – (JCN Newswire) – Mitsubishi Heavy Industries, Ltd. (MHI) and Indonesia's Institut Teknologi Bandung (ITB) today announced an extension of their joint R&D partnership to support the development of cleaner fuel firing, building on research conducted last year on ammonia-fired power generation using gas turbines with further analyses and trials.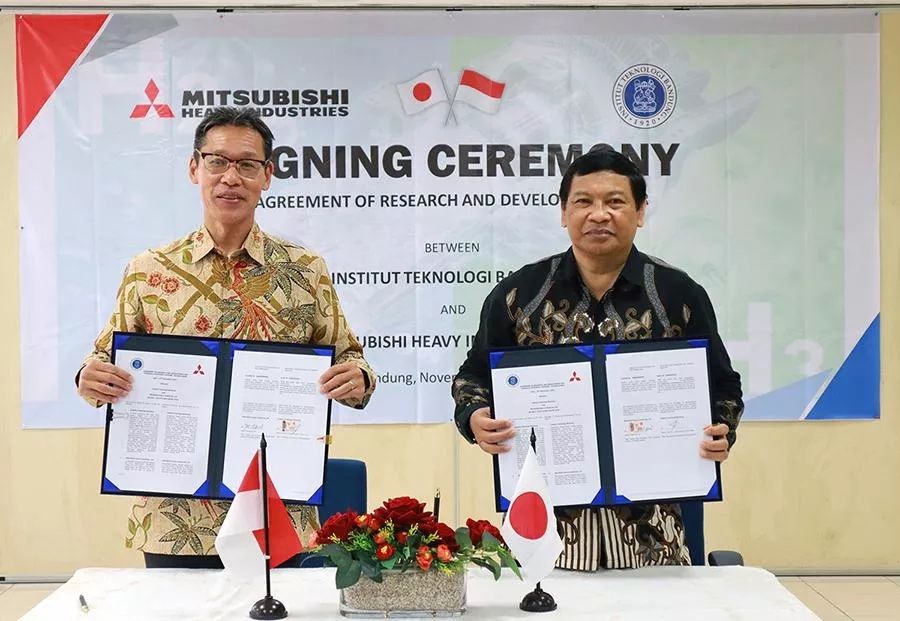 The collaboration seeks to propel MHI and its power solutions brand, Mitsubishi Power, toward the integration of the proven technologies in its H-25 gas turbine and to facilitate the realization of ammonia co-firing in Indonesia. It will include developing equipment and testing the combustion of these fuels for the purpose of power generation.
Masanori Yuri, Senior Manager, GTCC Business Division of Energy Systems, MHI, expressed his anticipation for the project: "There has been growing interest in ammonia, not just as an energy carrier but as a carbon-free fuel. Our proven track record with hydrogen and ammonia, and promising collaboration with ITB has already demonstrated the potential feasibility of utilization of cleaner fuels in Indonesia. I am excited at our continued partnership to produce innovative research in firing technologies. Our combined technical and research expertise is sure to spark new ideas and deliver dependable results, accelerating Indonesia's energy transition."
ITB Vice Rector, Prof. I Gede Wenten, shared his thoughts on the collaboration: The shift towards cleaner energy sources plays a pivotal role in reducing carbon emissions, contributing to the mitigation of global warming and climate change. Our joint research initiative with MHI is centered on advancing cleaner fuel firing technologies in power generation, a broader embrace of which will decrease our dependence on fossil fuels. I am optimistic that our combined efforts will formulate successful solutions for ammonia in power generation, ultimately catalyzing long-term decarbonization in Indonesia."
A signing ceremony for this new agreement took place in Bandung, Indonesia, on November 16, coinciding with Enlit Asia, a premier energy transition event in Southeast Asia. Representatives from Mitsubishi Power and ITB also presented technical insights on combustion technologies for gas turbines as part of Enlit Asia's Knowledge Hub.
In 2020, MHI and ITB concluded a memorandum of understanding (MoU) for joint research on next-generation clean energy solutions and analysis of big data relating to power plants. Building on the success of this collaboration, in February 2022, both partners mutually agreed to a five-year extension of the MOU. Last year, the R&D partners entered a new agreement focusing on ammonia-fired power generation at the 2nd Asia Green Growth Partnership Ministerial Meeting (AGGPM). The present agreement is an evolution of the results achieved under the previous agreement, serving as a second-year study and an integral component of the 2022 agreement.
Under the 2020 MoU targeting decarbonization of Indonesia's energy sector, joint feasibility studies have been conducted on emerging energy sources, including hydrogen and ammonia, as well as air quality control systems (AQCS) and microgrid solutions. MHI and ITB have also delivered joint lectures to train engineers for Indonesia's future, covering topics such as big data analysis, biomass energy, hydrogen usage, and AQCS development.
MHI, with support from its power solutions brand, Mitsubishi Power, is committed to making a lasting impact on Indonesia's scientific and technological development in the energy sector. This serves to support the country's target to reach net-zero emissions by 2060, which includes the potential utilization of green hydrogen and ammonia.
About MHI Group
Mitsubishi Heavy Industries (MHI) Group is one of the world's leading industrial groups, spanning energy, smart infrastructure, industrial machinery, aerospace and defense. MHI Group combines cutting-edge technology with deep experience to deliver innovative, integrated solutions that help to realize a carbon neutral world, improve the quality of life and ensure a safer world. For more information, please visit www.mhi.com or follow our insights and stories on spectra.mhi.com.
Copyright ©2023 JCN Newswire. All rights reserved. A division of Japan Corporate News Network.