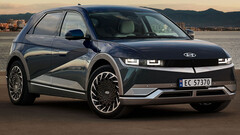 The new US fuel economy rules proposed by the Biden administration would likely see EVs occupy 66% market share — an almost tenfold increase — by 2032, if passed. What's more, the new rules impose stricter regulations on pickup truck fuel economy, which have thus far been given more lenient rules under CAFE requirements thanks to "light truck" classifications.
While electric vehicle adoption has been steadily increasing over the last few years, the Biden administration appears adamant to increase that adoption rate even further over the next decade, according to The New York Times. The federal government hopes to do this by tightening of the Corporate Average Fuel Economy (CAFE) rules, which mandate manufacturers meet certain fuel economy requirements or face financial penalties.
The new US fuel economy regulations proposed by the Biden administration, via the NHTSA, would require automotive manufacturers to improve average fuel economy by 2% per year between 2027 and 2032 for passenger vehicles. Light trucks, which often includes SUVs and pickup trucks, would need to improve by 4% per year.
According to analysts, the new changes to the CAFE standards would mean that automakers may have to convert up to 66% of their annual sales to electric vehicles if they want to keep up. If implemented — which is by no means a sure thing — the average new-car fuel economy would have to reach 58 mpg (25.6 km/l) by 2032.
The side-effect of these new rules may also include a return to smaller, more efficient vehicles in the US market, which has steadily been overrun by behemoth SUVs and pickup trucks since the late 1970s.
Consider also the proposed EV weight levies that have been popping up, and suddenly it doesn't seem unreasonable to imagine that the US might eventually get access to vehicles like the upcoming Renault 5 EV, Volkswagen ID.2, or the compact Fiat 500e and 600e.
Buy a Cable Shield Electric Vehicle Charging Cable Protector on Amazon.

Julian van der Merwe – Magazine Writer – 293 articles published on Notebookcheck since 2022
My interest in tech started in high school, rooting and flashing my Motorola Defy, but I really fell down the rabbit hole when I realised I could overclock the i7 930 in my Gigabyte pre-built PC. This tinkering addiction eventually lead me to study product design in university. I think tech should improve the lives of the people using it, no matter the field. I like to read and write about laptops, smartphones, software and trends in technology.
Julian van der Merwe, 2023-07-29 (Update: 2023-07-29)