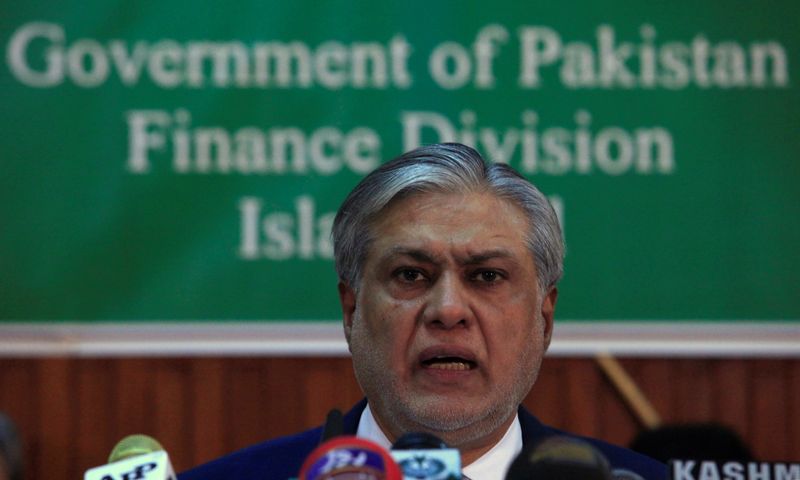 © Reuters. FILE PHOTO: Pakistani Finance Minister Ishaq Dar speaks at a news conference announcing the economic survey for the fiscal year 2016-2017, in Islamabad, Pakistan, May 25, 2017. Reuters/Faisal Mahmood
Author: A Sif Shahzad
ISLAMABAD (Reuters) – Pakistan's finance minister said on Friday that the South Asian country is awaiting funding from the International Monetary Fund, which Pakistan expects to receive. Receive $3 billion in external financing from a friendly country within two weeks.
A review by the International Monetary Fund (IMF) of its next disbursement has been pending since September, leaving Pakistan in dire need of external financing.
Pakistan's Finance Minister Ishaq Dar told Geo News TV that all the targets of the IMF's Ninth Review had been met, saying that there was nothing wrong with refusing to pay despite this meaningful.
Pakistan received a $6 billion bailout under the Extended Fund Facility (EFF) in 2019h which was increased by another $1 billion earlier this year.
"We continue to discuss with the government policies to address humanitarian and recovery needs from the floods, while promoting macroeconomic and fiscal sustainability," said the IMF Resident Representative for Pakistan. Esther Perez Ruiz said in a statement.
Dar said Pakistan's foreign exchange reserves have fallen to $7.5 billion and will be backed up by $3 billion in financing from a friendly country in the next two weeks.
One month's worth of imports is not enough for Pakistan, which has a widening current account deficit and a widening balance of payments crisis.
"All the requirements of the ninth (IMF) review have been completed," Dar said, adding that the international bank's failure to complete the review was an "abnormal behaviour".
Asked about the postponement of the IMF mission's visit, Dar said he "didn't care" and he didn't want to plead for the visit.
He said he had told the IMF that the Ninth Review target was in order and that under standard practice lenders should complete the review and release the funds.
"If the money doesn't come, we'll manage it, no problem," he added.