This page describes a way to deal with one of the missing features of fully remote teams: popups.
Pop-ups
Back to the pre-open floor plan pop-ups were when you physically walked into someone's office to ask them a question or spit out an idea. In the open floor plan, you can swivel the chair or walk up to their desk. Popups are valuable because they're as informal as email, but as high-bandwidth and low-latency as meetings. Popping in is a distraction, but the power of that distraction is self-limiting: the physical effort to get somewhere is high, the tools available to the goal like doors, signs, and social cues are plentiful and don't require much thought to implement. Slack DMs can pretty much replace pop-ins, but they reduce too much work. This leads to more outages (slightly less intense, but more numerous) and even causes trackers, emails and wikis to be replaced by DMs. Popups have many problems, but like any tool, it has its uses. Many great products – companies and even – are built on the shoulders of pop-in .
The remote popup
does not have a remote equivalent to the popup. There are products that help you "hang out", like Facebook Portal, but none that implement popups. At YourBase, we decided we needed one. Instead of building another tool, we tried Discord. I'm happy to say we've found something that works and even solves the worst problem of open office pop-ups: not being able to close your damn door.
set up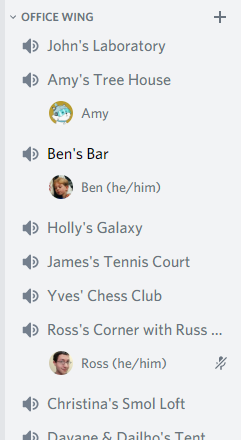 We've started having meetings in people's offices, just because it's easier.
We have A "canteen" where you can have lunch if nothing happens in real life. We also have lunch and study here.
We have A "rooftop" and a few other communal spaces where people relax, which shows their willingness to chat. The weirdest thing is that you can tell when the speed around the office is slow. You can almost hear how quiet it is when you're the first in or the last out. Popups are valuable because they are informal, high bandwidth, and low latency. Enabling it with Discord has worked great for us for the past six months, we didn't even have to build anything. Thanks to Discord for making such a flexible platform. Thank you YourBase for being so open to crazy ideas. (If your CI is slow, check us out.) "Popup"