A research firm has revealed an altcoin trading playbook that could serve as a guide for navigating the next cryptocurrency bull run.
K33 Research Shares Its Altcoin Trading Playbook
In a new post on X, K33 Research (formerly Arcane Research) explained that new altcoins make better trades than old ones. The firm has given a few reasons for why this is so.
"In lack of price-driving fundamentals, the narratives and liquidity matter," explains the research organization. "And new coins generally outperform old coins."
K33 Research has used the example of some "Ethereum killers" during the last bull market to show how the newer coins outperform the older ones. The below chart shows how the performance of these coins has been compared (note that the Y-axis, the price, is normalized concerning September 22, 2020, here).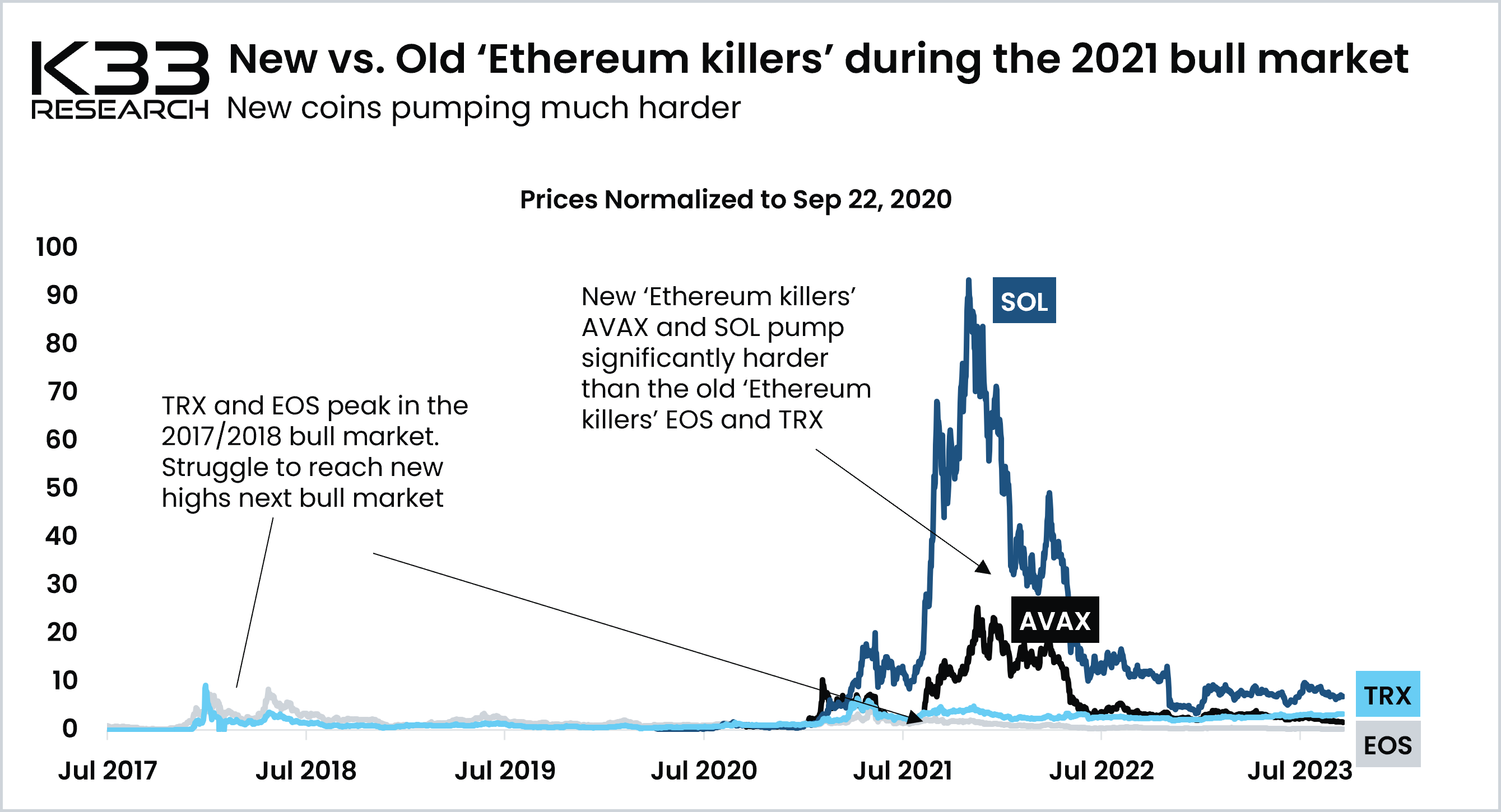 How the new vs old Ethereum killers performed during the 2021 bull mark | Source: K33 Research on X
From the chart, it's apparent that Tron (TRX) and EOS (EOS), which were vouched as the Ethereum killers during the 2017/18 bull market, failed to set new all-time highs (ATHs) during the 2021 bull run.
However, the new kids on the block, like Solana (SOL) and Avalanche (AVAX), observed much better returns than the old, established altcoins during the latest bull market.
Why do old altcoins have difficulty returning to their former glory? According to K33 Research, there are a few factors behind this. First, the coins that have gone through a cycle have many holders at a loss, waiting to come into the green to exit.
These underwater investors provide additional selling pressure during rallies that new coins, where everyone is in the green during the initial rally, don't have to face.
The old coins also have to deal with the rising circulating supply because of the token unlocks, which, due to supply-demand dynamics, can hurt the price if the demand side doesn't catch up.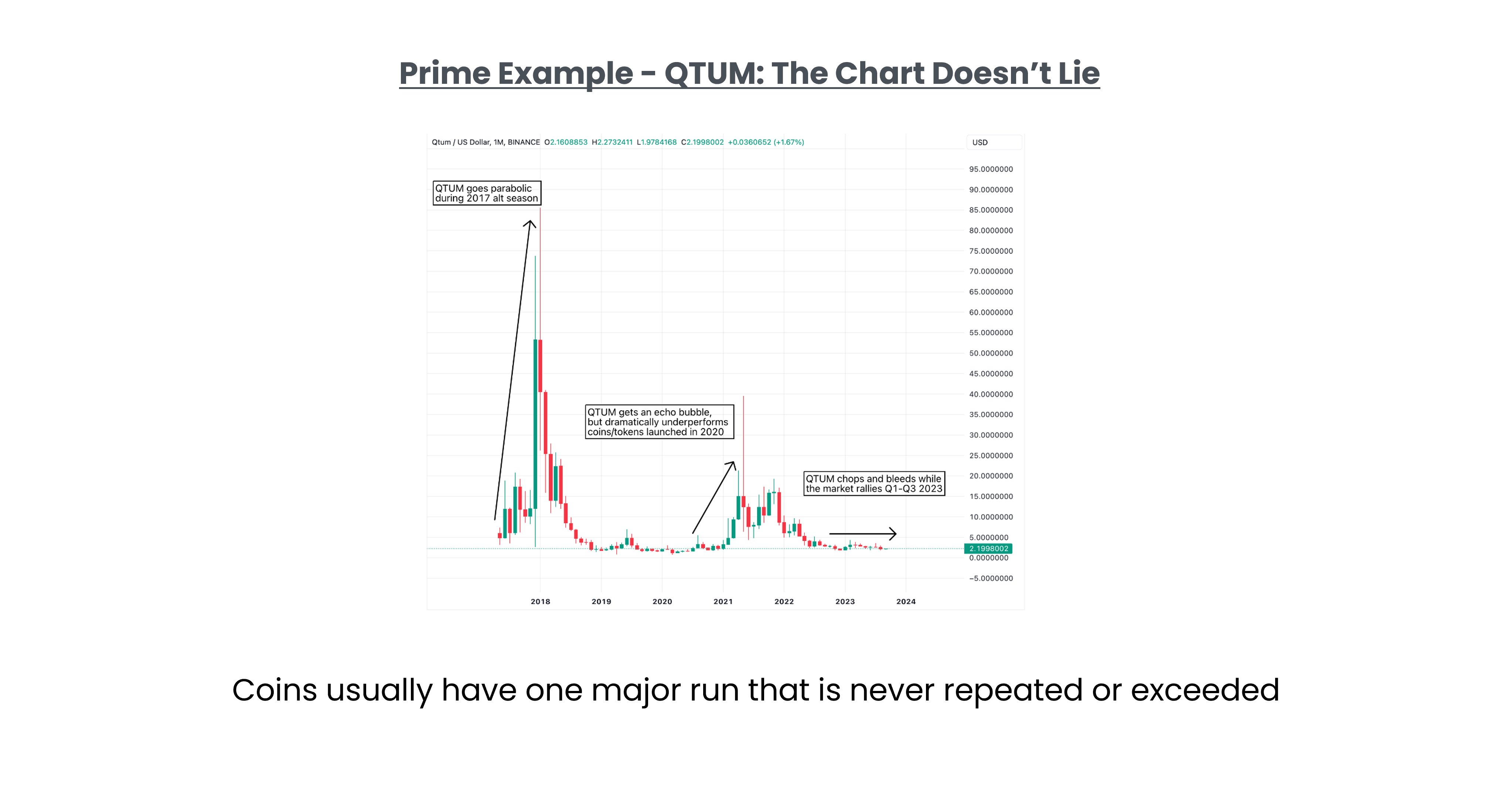 How QTUM's returns waned over time | Source: K33 Research on X
Finally, the research firm notes that old coins are also tied to narratives that have gone out of fashion. On the other hand, new coins are the narratives when they launch and, thus, appear interesting to investors.
While new altcoins certainly have a leg up to old coins regarding these factors, K33 Research notes that not all such coins make for a good investment. The firm advises investors to look for a few things to know whether a project may be worth investing in.
The first thing could be whether or not the total number of holders is rising rapidly for the altcoin. A high amount of adoption means the asset has more steam behind it for building sustainable moves. The firm also says that a low float and high fully dilated value (FDV) should be avoided.
ETH Price
At the time of writing, Ethereum is trading at around $1,600, up 3% during the past week.
ETH has continued to move sideways recently | Source: ETHUSD on TradingView
Featured image from Kanchanara on Unsplash.com, charts from inew.news, K33Research.com