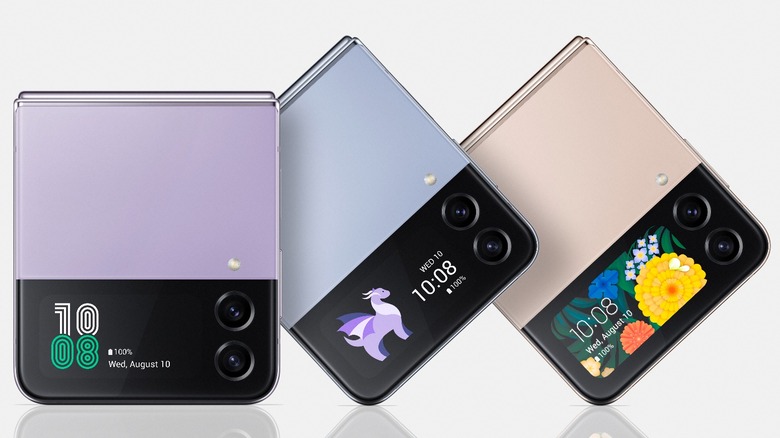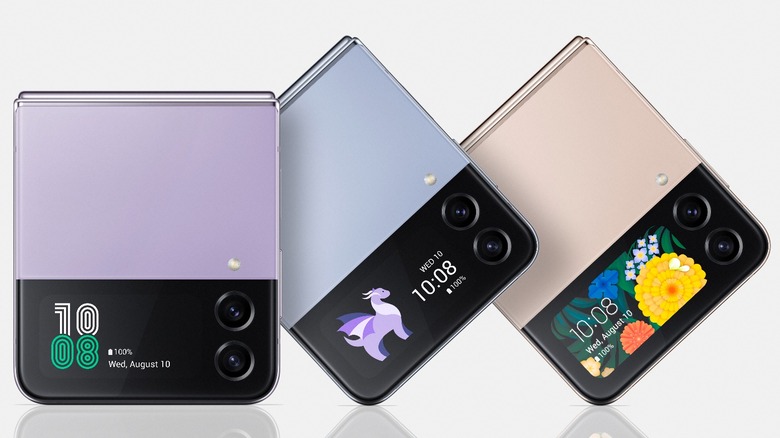 Samsung
Samsung's latest clamshell foldable phone, the Galaxy Z Flip 4, is officially out of the box. The model looks a lot like its successful phone, but the internals have been upgraded and there are a few extra tricks to make the most of its foldable form factor. Let's start with the key changes. The Galaxy Z Flip 4 gets Qualcomm's latest Snapdragon 8+ Gen 1 SoC, the same as its pricier Galaxy Z Fold 4 sibling. Compared to its predecessor's 3,300mAh battery that struggled to last a full day with moderate usage, Samsung has upgraded the battery capacity of its latest clamshell foldable phone to 3,700mAh.
Samsung
The Galaxy Z Flip 4 also charges faster thanks to a peak output of 25 watts, which is expected to Halfway up the battery in 30 minutes — the Galaxy Z Flip 3 is limited to 15 watts, just in case you're curious. Unfortunately, you have to pay extra to get a 25-watt charging block. Wireless charging support is here, and you can also use the Galaxy Z Flip 4 to wirelessly charge other phones and accessories like earbuds and the Galaxy Watch 5. Android 12-based One UI 4.1.1 handles things on the software side, with guaranteed updates for the next five years.
Better camera and new folding trick

Samsung

Samsung has also upgraded the main camera of the Galaxy Z Flip 4. While the resolution remains at 12 megapixels, the pixels are now larger (1.8 microns vs 1.4 microns), and the lens array captures a wider field of view (83 degrees vs 78 degrees). As a result, Samsung claims it allows 65% more light, which means images will carry more detail and provide better color reproduction.

Samsung

It's paired with another 12-megapixel ultra-wide-angle camera, and the selfie task has been handed over to the 10 megapixel front camera. The main foldable OLED panel measures 6.7 inches and offers a refresh rate of 120Hz and a resolution of 2,640 x 1080 pixels. The cover display measures 1.9 inches, which is also an OLED screen. On the software side, some foldable phones can enable FlexCam mode for taking photos and videos, and the trick also works with apps like Instagram and WhatsApp. Meanwhile, QuickShot mode allows video shooting with the tiny cover display and continues uninterrupted when the phone is unfolded.

Flip 4 comes with incredible customization options

Samsung

The Galaxy Z Flip 4 will be available in three storage variants: 128GB, 256GB and 512GB. You can choose from four colors including Bora Purple, Graphite, Pink Gold and Blue. However, if you're looking for more flexibility in design and color, head over to Samsung's website or one of its Experience Stores to choose from 75 possible color combinations for the glass and surrounding frame. This is a low-key benefit, as allowing users to design their phones in multiple combinations is a flexibility no other brand can offer.

Samsung

Surprisingly, there hasn't been a generation-by-generation price increase this year. The Galaxy Z Flip 4 starts at $999 and will be available from August 26, 2022. As usual, there are a ton of Samsung deals to bring the price down even further. For example, people who pre-order the phone starting today will get a free memory upgrade that doubles the storage capacity. In short, if you pay for the 128GB storage version, Samsung will give you the 256GB version. Trade-ins take up to $900 off the final price of your device, and you'll also get Samsung's first-party silicone case for free.