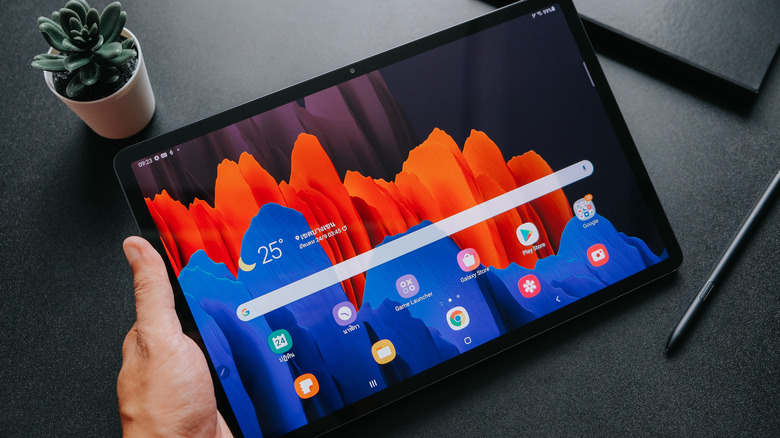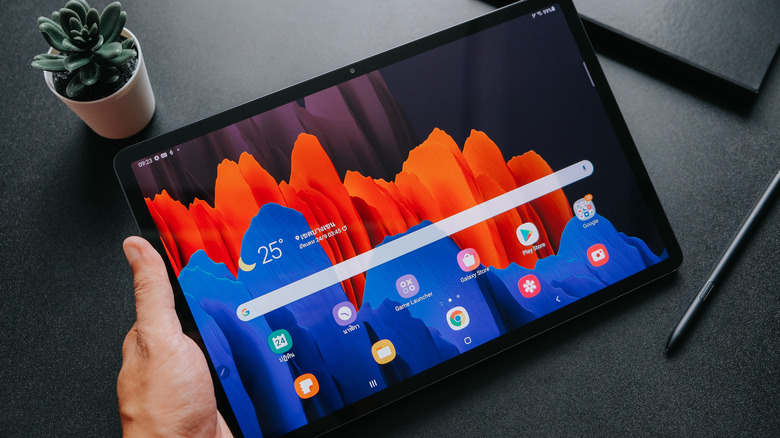 Framesira/Shutterstock
In a few days, Samsung will unveil its latest generation of foldable devices. Thanks to the plethora of leaks, it feels like we already know everything about the Galaxy Z Fold 4 and Galaxy Z Flip 4, at least unofficially. To be sure, Samsung wants to go all-in on these two models, allocating a lot of production capacity to them in hopes of compensating for losses in other smartphone segments. That said, these aren't the be-all and end-all of Samsung's foldable plans, and it looks like we might only be five to six months away from seeing the company's third foldable device, the large foldable tablet.
Foldable and rollable screens have always been a solution to size problems. Many people want a large monitor for their phone, computer or TV, but don't want to pay for space. Foldable phones strike a balance by using a flexible screen to fold into something smaller for easy storage.
As one of the largest monitor manufacturers in the world, Samsung has naturally toyed with various possibilities Screen that changes shape. From the curved but rigid screen on the old Galaxy Round to the flexible folding panel on the Galaxy Z device, Samsung showed off a number of futuristic form factors and concepts. Few of these prototypes actually hit the market, but we probably won't have to wait long for one of them to finally make its debut.

Galaxy Z Tab may arrive in early 2023

Framesira/Shutterstock

According to a post on Naver, Samsung Will launch its first foldable tablet on the same day as the Galaxy Tab S9 (via SamMobile). If the company sticks to its current schedule, this could happen in as little as half a year, around January or February 2023. Unsurprisingly, details are still scarce, but the idea that we're so close to seeing a foldable tablet could spark rumors

Of course, Samsung has shown multiple prototypes that fold into a large, smaller form in a different way – it even named at least two of them, suggesting they could be these technologies business name. When imagining a large table that has to be folded into a more portable form, most people probably think of the Flex S — in this case, folded in the opposite direction to form an S or Z shape. In contrast, the Flex G has two flaps that fold together, similar to a squished G.

Rumors don't mention which direction Samsung will go, but the Flex S style is certainly more impressive , and possibly more practical, since the tablet can be used even when folded. The tablet could be called the Galaxy Z Tab or the Tab Z, depending on whether Samsung is considering dropping the Z brand. Either way, this tablet is sure to be a hit next year, assuming it does launch as rumored.