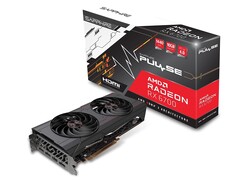 A well-performing variant of Sapphire's popular AMD Radeon RX 6700 desktop GPU Prices were well over $1,000 at the height of the cryptocurrency mining boom, but thanks to an interesting deal from Newegg, patient gamers can now order this mid-range graphics card for under $300.
While GPU market leader Nvidia is desperately trying to bring Its retail prices remain unsustainably high, but most gamers can probably hope that the era of extremely expensive video cards is finally over. Fortunately, patient AMD fans and mid-range gamers can now pick up a well-performing Radeon RX 6700 for one of the lowest sale prices in recent memory. More specifically, a Sapphire Pulse Radeon RX 6700 GPU with 10GB of GDDR6 VRAM , a maximum boost clock of 2,495 MHz, and a 160-bit memory interface are available now for $299 from well-known hardware retailer Newegg. To get this great deal, use the $30 off coupon code "VGAEXCAA338" after adding a desktop graphics card to your shopping card. Most gamers probably know that this desktop graphics card has a TDP of 220 watts, which means potential buyers are advised to have a 650 watt PSU and a spare 8-pin connector in order to upgrade to the Radeon RX 6700. In addition to the Radeon RX 6700 technical specifications above, this GPU features an HDMI 2.1 ports and three DisplayPorts 1.4 for a total of four external displays. As usual, the card is based on AMD's proven RDNA 2 architecture, which is manufactured on a 7nm process. All in all, the AMD Radeon RX 6700 is a decent GPU for 1080 and 1440p gaming, and thanks to its relatively affordable price at just under $300 at Newegg, it's arguably better than rivals from AMD and, of course, Nvidia. Alternatively, the Sapphire Pulse Radeon RX 6700 is also available on Amazon US for $329
DISCLAIMER: Notebookcheck is not responsible for price changes made by retailers. Discounted prices or deals mentioned on this item were available at the time of writing and may be subject to time constraints and/or limited unit availability.