Silver prices are poised to end the week down 0.64%.
Federal Reserve Chairman Powell reiterates the U.S. central bank's goal of lowering inflation, even if it "would have a negative impact on households and businesses" come in pain".
Upbeat US economic data weighed on white metal prices, plunging more than $0.30.
After Fed hawkish comments finally weigh on silver prices , silver prices retreated from weekly highs around $19.42, back below $19.00. The market's misconception of the Fed's pivot. This, coupled with positive U.S. economic data, supported the U.S. dollar and created headwinds for the white metal. Therefore, at the time of writing, XAG/USD is trading at $18.86 per troy ounce.
U.S. stocks tumble after Jerome Powell says Fed's main goal is 2% inflation target, even if it spurs slower economic growth and "inflicts pain on households and businesses." "Without price stability, the economy doesn't work for anyone," he added.
U.S. dollar index, a measure of the dollar's exchange rate Against a basket of six currencies, it rose more than 0.30% to close the week above 108.800, while Treasury yields climbed, led by the short end of the curve, up two and a half basis points to 3.398% in 2s. Meanwhile, the U.S. benchmark 10-year note rate was almost flat at 3.039%.
The Fed's favorite inflation gauge edged lower, with U.S. inflation expectations
At the same time, the US Bureau of Economic Analysis reported that US inflation as measured by PCE slipped to 6.3% year-on-year , lower than the expected 7.4%. Excluding more volatile items such as food and energy, the so-called core PCE slowed to 4.6% year over year, below expectations of 4.7%.
Subsequently, the final reading of consumer confidence in August released by the University of Michigan was 58.2, revised upwards from 55.1 in the preliminary report and higher than expected of 55.2. While this is a decent reading, inflation expectations remain the main focus. Americans expect inflation to hit around 4.8% in a year, compared with an initial forecast of 5%. Inflation is expected to peak in five years at around 2.9 percent, compared with an initial 3 percent.
What to watch
Next week's US economic calendar will be based on the US CB Consumer Confidence Index, ISM Manufacturing Purchasing Managers Index, ADP Employment Report and Nonfarm Payrolls number of people.
Silver (XAG/USD) Daily Chart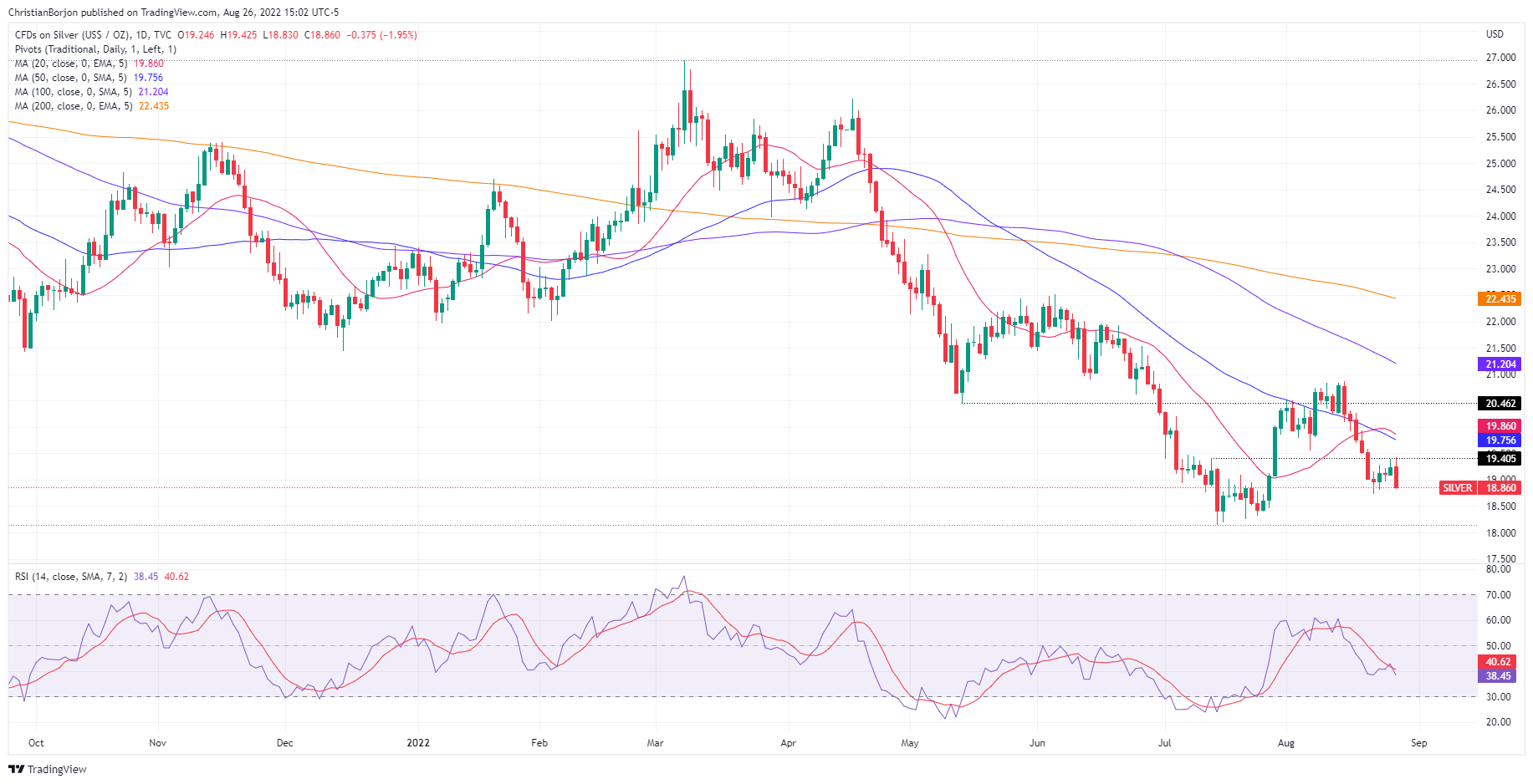 on these pages Information contains forward-looking statements that involve risks and uncertainties. The markets and instruments described on this page are for informational purposes only and should not be taken as a recommendation to buy or sell these assets in any way. You should conduct your own thorough research before making any investment decision. FXStreet does not warrant in any way that this information is free of errors, errors or material misstatements. It also does not guarantee that the information is timely. Investing in public markets involves a number of risks, including loss of all or part of your investment, and emotional distress. All risks, losses and costs associated with investing, including the entire loss of principal, are borne by you. The views and opinions expressed in this article are those of the author and do not necessarily reflect the official policy or position of FXStreet or its advertisers. The author is not responsible for the information at the end of links published on this page.
Unless otherwise expressly mentioned in the text of the article, at the time of writing, the author is in any stock mentioned No positions are in this article and have no business relationship with any of the companies mentioned. Other than from FXStreet, the author did not receive any compensation for writing this article.
FXStreet and the author do not provide personalized recommendations. The author makes no representations as to the accuracy, completeness or suitability of this information. FXStreet and the author shall not be liable for any errors, omissions or any loss, injury or damage arising out of this information and its display or use. Errors and omissions excluded.
The author and FXStreet are not registered investment advisors and nothing in this article is investment advice.