Acer
Chromebooks have come a long way in recent years. They are no longer used to just run Google apps or access the internet. Chromebooks can do just about every productivity task a Windows or MacOS laptop can do, and they often come at a more affordable price. They are also renowned for having long battery life and solid designs. Google has developed Chrome OS to be perfect for everyday tasks such as working on documents and spreadsheets, browsing the web, and checking email. So if affordability and ease of use are what you're after, a Chromebook is likely to be the answer.
Chromebooks come in all sorts of varieties, so the PCWorld team has put together a list of the best Chromebook options on the market today, whatever your needs may be. Below our picks you can find helpful buying advice as well.
If you're still not sure whether a Chromebook is the right choice for you, take a look at our in-depth comparison of Chromebooks vs. Windows laptops to help you decide. And before you pull the trigger on a new computer, be sure to double-check our best laptop deals, which are updated daily. Finally, check out our complete guide to the best laptops to see our top picks across all operating systems.
If you're looking to stretch your college budget even further, be sure to check out our back-to-school deals page where we curate the best sales on Chromebooks, MacBooks, iPads, and more.
Acer Chromebook Spin 713 – Best overall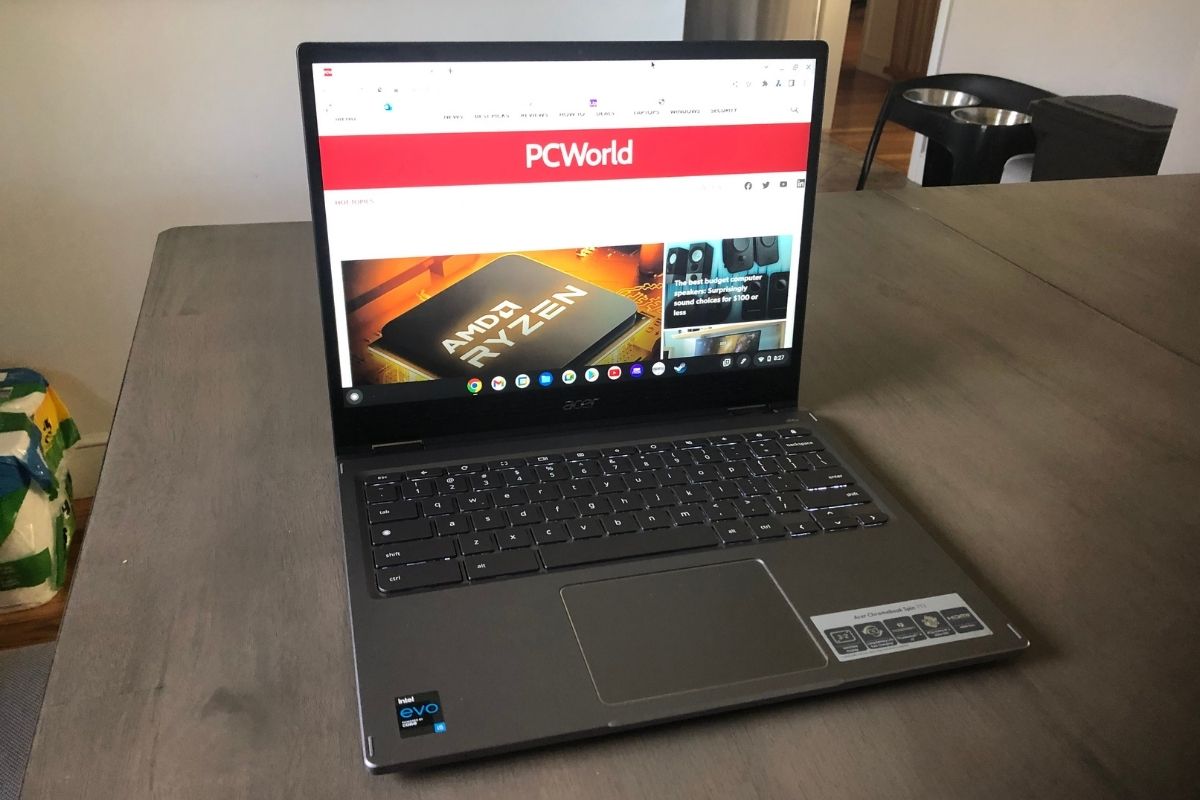 Pros
Strong performance
Good build quality
Nice selection of ports
Beautiful display
Solid battery life
Cons
No privacy shutter on the webcam
Boring design
Fan noise is a bit loud
If you're looking for a great convertible laptop, the Acer Chromebook Spin 713 will surely fit the bill. You can either prop it up like a tent or fold the screen all the way back and use it like a tablet. We were also impressed with its vibrant display, all-day battery life, and diverse selection of ports. The design is a little utilitarian, but this is the kind of machine that favors function over aesthetics. The build is robust and there was hardly any flex in the keyboard tray. There are a couple of downsides like the loud fan noise and the lack of a physical privacy shutter on the webcam, but these issues are relatively minor. Overall, the Spin 713 is a solid convertible laptop that performs well.
HP Chromebook x2 11 da0023dx – Best folio-style option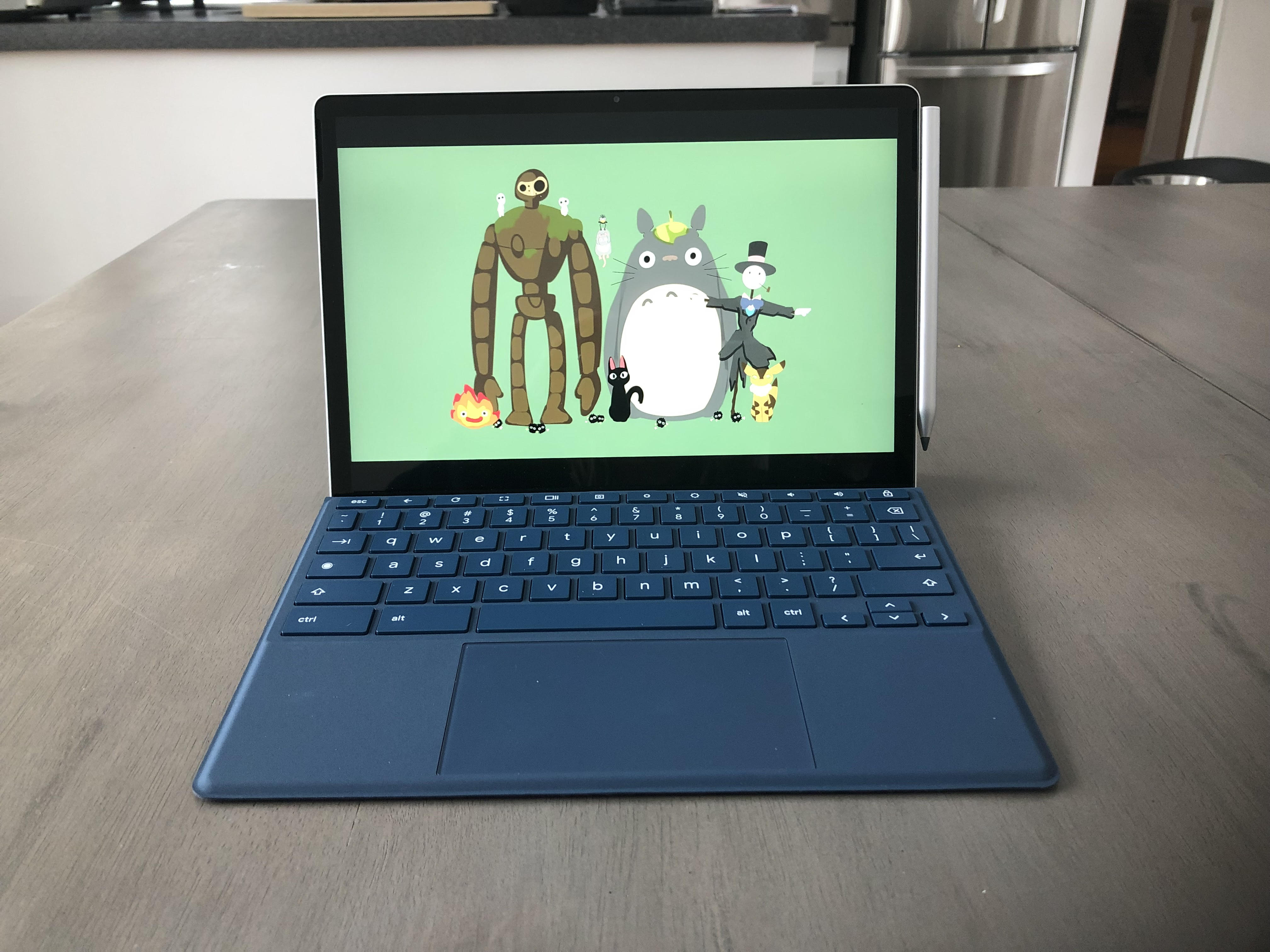 Pros
Gorgeous 2K touchscreen
Solid performance
Excellent battery life
Robust design
Cons
Trackpad is too sensitive at times
Light on ports
The HP Chromebook x2 11 is a solid folio-style laptop, meaning the keyboard and kickstand detach, leaving you with a sub 1-pound tablet. Besides being lightweight, the battery life is impressive. The keyboard is suitable for long typing sessions and the kickstand keeps the tablet nice and stable. The 1440p touchscreen display is beautiful, too. Colors looked vibrant and smaller details were sharp and easy to see. The Snapdragon 7c processor is fast enough for general use as well. The only real drawback is the over-sized touchpad, which tends to fire off a few false clicks here and there. If you can live with an occasionally temperamental touchpad, then the x2 11 is a fantastic option, especially if you travel a lot for work.
Read our full
HP Chromebook x2 11 review
Lenovo IdeaPad Chromebook Duet 5 – Best for OLED fans
Pros
Gorgeous screen 
Amazing battery life 
Good price
Cons
Awkward aspect ratio
No fingerprint or face scanning
When it comes to the Lenovo IdeaPad Chromebook Duet 5, a Chrome OS tablet that doubles as a laptop, the biggest highlights are the keyboard and its drop-dead gorgeous OLED display. The 1080p full HD display produces colorful images, although the 16:9 aspect ratio might feel awkward for some users. On the other hand, it could be a boon for watching movies. The keys have a decent travel distance of 1.3mm and the detachable keyboard as a whole doesn't feel too cramped. There's also a kickstand that can be adjusted up to 135 degrees. The one tradeoff is that the USI-compatible pen costs extra.
Read our full
Lenovo IdeaPad Chromebook Duet 5 review
Lenovo Chromebook Flex 5 – Best keyboard
Pros
Attractive design
Affordable
Punchy audio
Excellent keyboard
Cons
Mediocre performance
Subpar battery life
The Lenovo Chromebook Flex 5 is a good laptop for productivity. It's fast enough for web browsing, editing documents, and so on. That said, it can "feel taxed by demanding tasks." When our tester opened up multiple tabs, he noticed a sag in performance. The port selection, however, is nice combination of old and new. It has two USB-C ports, a single USB-A port, a 3.5mm combo audio jack, and a microSD card reader. Although the Flex 5 has a lot to offer, the standout feature is the keyboard. Our tester liked the "crisp and taut" feel of the keys. There's also a good amount of space on the palm rests. If you're looking for a Chromebook with a tactile keyboard, the Flex 5 will fit the bill.
Read our full
Lenovo Chromebook Flex 5 review
How we tested
The PCWorld team puts each and every laptop through a series of benchmarks that test GPU and CPU performance, battery life, and so on. The idea is to push the laptop to its limits and then compare it against others we've tested. Due to the cloud-based nature of Chromebooks, they go through a series of web-based tests. It wouldn't be fair or possible to run the same kinds of tests on a Chromebook as we use on laptops because they exclusively run a completely different operating system. Below, you'll find a breakdown of each test and the reasons why we run them.
Chromebooks
CrXPRT 2: The CrXPRT 2 benchmark tests a Chromebook's battery life.
Speedometer 2.0: This test determines a Chromebook's web browser performance. It simulates this by adding, completing, and removing a to-do list.
Basemark Web 3.0: This benchmark gauges how well a Chromebook can handle web-based applications.
Kraken 1.1: Kraken 1.1 is a JavaScript performance benchmark that measures browser speed.
Jetstream 2: Jetstream 2 is a combination of WebAssembly and JavaScript benchmarks. This is a way to gauge how well a Chromebook runs advanced workloads.
What should I look for in a Chromebook?
If you're looking for a Windows or MacBook alternative, you may want to consider a Chromebook. Equipped with low-power processors, they typically have good battery life and are usually silent in operation. They make great productivity machines, as they're specifically designed for lightweight tasks like browsing the web, watching Netflix, and so on. Plus, they're largely virus free. That said, most Chromebooks have minimal RAM and storage. If you're a hardcore gamer or a video editor, you're going to want something with a lot more power than a Chromebook is capable of providing.
Our guide to Chromebooks vs. Windows laptops can help you determine which operating system is best for your needs. For more options, you'll want to check out our best laptops roundup.
Operating system: Although every operating system has its pros and cons, I'd argue that Chrome OS is one of the most user-friendly ones out there. That said, with Chromebooks, you don't have the option of picking another operating system, as they exclusively run Chrome OS. You're stuck with it, bud.
Processor: Shoot for a mid-range Chromebook if you can. They cost anywhere in the $400 to $600 range and many of them come equipped with Intel Pentium processors. These Chromebooks have better browser performance and are capable of running more intense gaming apps. It's the best bang for your buck.
RAM: Many Chromebooks have 4GB of RAM, which isn't a lot. Chromebooks are web-based machines, so you need a fair amount of RAM to keep those tabs open and running smoothly. If you can spend a couple of hundred extra, you'll be able to find a mid-range Chromebook with 8GB of RAM.
Storage: I recommend at least 64GB of storage. Since you'll mostly be storing things in the cloud, you don't a ton of local storage.
Durability: Chromebooks are popular in the education market because they're pretty darn robust. I'm not saying you should smack one around with a baseball bat or anything, but they're durable enough to handle the daily abuses of life.
FAQ
---
1.
What is the difference between a regular laptop and a Chromebook?
When people talk about regular laptops they usually mean a PC or Mac. A Chromebook is still a laptop, but it differentiates itself from either of those two by using a unique operating system called Chrome OS, which was created by Google. Think of it like this: All Chromebooks are laptops, but not all laptops are Chromebooks.
Unlike other operating systems such as Windows or macOS, Chrome OS is optimized to run Google apps such as Google Drive, Google Docs, YouTube, and other Google services. Because most Google apps are online, Chromebooks generally require an internet connection to use most of their important features.
Finally, Chromebooks have historically been designed with portability, ease of use, and affordability in mind rather than top performance. They typically forego the faster, high-end hardware that PCs or Macs can use for a more minimalist, lightweight approach to computing.
2.
Can I use integrated graphics for gaming?
Yes, some of the latest processors with integrated graphics can run modern PC games at decent enough settings. For example, we found that in our tests, Intel's latest Iris Xe line of processors with integrated graphics can run some of the latest games at 1080p and 30 frames per second. Unfortunately, this is not the case for all integrated graphics and your mileage may vary drastically with older tech.
Intel and AMD's integrated graphics have made huge leaps in recent years with regard to gaming performance. If you're on a budget or looking for an ultra-thin laptop with integrated graphics you need not worry, you can still game on. We recommend checking out Intel's Core 12th-gen Iris Xe or AMD's brand new Ryzen 6000 RDNA 2.
3.
What is the difference between a budget laptop and a tablet?
More and more, the line between what is a laptop and what is a tablet blurs as companies integrate the features of both into their latest devices. But there are still a few key distinctions between the two. Laptops generally are larger, come with more storage, and have better performance and productivity features. Tablets on the other hand are smaller and more portable, have longer battery life, and are usually a bit more affordable.
When choosing between a budget laptop and a tablet you should first ask yourself what the primary use of the device will be. Do you need something for productivity with lots of storage? Then a laptop—even a budget model—will probably be the way to go. Or do you need something that is small, travels well, and has a long battery life? Then you might consider a tablet.
4.
Do Chromebooks make good gaming laptops?
As of right now, not really. But it depends on the type of gaming you intend to do. Chromebooks can handle web games and Android games just fine. However, if you're looking to play the latest high-powered 3D games, a Chromebook won't cut it. This is due to the fact that Chromebooks don't run Windows and they probably have insufficient GPU power.
Recently though, Google has been working hard to bring cloud gaming to Chromebooks. This service uses a remote PC or console to play games streamed through the cloud onto the Chromebook. But until this service becomes more widespread, Chromebooks will not be able to handle the best AAA titles.
Author: Ashley Biancuzzo, Associate Editor
Ashley is a professional writer and editor with a strong background in tech and pop culture. She has written for high traffic websites such as Polygon, Kotaku, StarWars.com, and Nerdist. In her off time, she enjoys playing video games, reading science fiction novels, and hanging out with her rescue greyhound.