Organic LED (OLED) screens deliver outstanding image quality, brightness, and contrast by using organic compounds to emit visible light. These displays are light and thin and allow for extremely wide and accurate colors, incredible brightness, and the contrast ratios available. OLED technology has been around for a few years and has rapidly taken over the TV market.
You can find these screens on laptops, too, making for an interesting choice if you want stunning visuals on the go. Here, we selected some of the best OLED laptops with outstanding displays now on the market. The Dell XPS 13 tops the list because of its display of bright, bold colors, but it's not the only great option. If display quality is indeed important, one of these laptops should be ideal.
Dell XPS 13 Plus (OLED)
The best OLED laptop
Pros
Streamlined design
Tiny bezels all around
16:10 display adds to productivity
Keyboard and touchpad are larger and excellent
Solid productivity performance
Cons
Connectivity is limited
Battery life has been downgraded
Why you should buy this: It's the best laptop you can buy, and the OLED display just makes it even better.
Who's it for: Anyone who's looking for a premium mainstream laptop and wants the absolute best.
Why we picked the Dell XPS 13 Plus:
The Dell XPS 13 is the best OLED laptop you can buy. It's incredibly well built, with quality materials like aluminum in the lid and bottom chassis, plus new design features to improve airflow and reduce noise. Its transition to a 16:10 display made it even more productivity-friendly, and the tiny bezels mean it's still one of the most portable 13-inch laptops around. Toss in 12th-gen Intel Core processors from the i5 to the i7, up to 32GB of RAM, and up to 2TB of PCIe solid-state drive (SSD) storage and you have a recipe for greatness.
Recently, Dell added a 3.5K (3456 x 2160) OLED display option that's not only incredibly sharp but promises wide and accurate colors and incredible contrast. That makes for a dynamic display with inky blacks, perfect for both productivity and creative users. You can get IPS displays as well, but given that the 4K IPS display is priced the same as the OLED option, why would you?
You'll also get solid battery life and a great keyboard and touchpad, as well as Thunderbolt 4/USB-C support. The Dell XPS 13 Plus is an incredible laptop, and the OLED display just makes it that much better.
Dell XPS 13 Plus (OLED)
The best OLED laptop
Dell XPS 15 OLED
The best 15-inch OLED laptop
Pros
Superior build quality
Beautiful aesthetic
Excellent creative and productivity performance
Good keyboard and awesome touchpad
Gorgeous OLED display
Why you should buy this: The XPS 15 is already an awesome laptop, but the OLED display takes it to a whole new level.
Who's it for: Video editors, photographers, and content creators.
Why we picked the Dell XPS 15:
The Dell XPS 15 has been our favorite 15-inch laptop for quite some time, and it might be our favorite laptop of all if it wasn't eclipsed by its slightly more portable and attractive cousin, the XPS 13. The latest version of this laptop upgrades everything, 16:10 screen included. You have options now for up to an Intel 14-core, 12h-generation Core-i9, up to 32GB of memory, and up to 2TB of PCIe NVMe solid-state storage. There's also an optional Nvidia GeForce RTX 3050 Ti graphics chip for impressive midrange gaming capabilities.
But the screen is why we're here. The 3.5K OLED panel is simply stunning. Made by Samsung, it's a gorgeous display with fantastic contrast and bright, popping colors. Most importantly, the Dell XPS 15 features excellent color accuracy, which some of the other options on this list lack. That makes it a great option for photographers and video editors.
The 3.5K OLED screen is no more expensive than the LED 4K option offered by Dell. However, the battery life on the Dell XPS 15 may be worse with the OLED option.
Dell XPS 15 OLED
The best 15-inch OLED laptop
HP Spectre x360 14
The best OLED 2-in-1
Pros
Spectactular 3:2 OLED display
Quite speedy in Performance mode
Surprisingly decent battery life given the display
Awesome keyboard and touchpad
Elegant and modern good looks
Cons
Requires some management to balance performance and fan noise
Why you should buy this: It offers everything you want in an OLED laptop but with a fully functioning tablet mode, too.
Who's it for: Those who want OLED brilliance in a laptop and tablet — in one device.
Why we picked the HP Spectre x360 14:
If you want a more compact laptop without sacrificing the best screen quality possible, the HP Spectre x360 14 is the laptop for you. It equips an 11th-gen Intel Core processor starting with the four-core i5-1135G7, 8GB of memory, and 256GB of SSD storage. It can be configured with up to a Core i7-1165G7, 16GB of RAM, and a 2TB SSD.
The 13.5-inch OLED screen is in the taller productivity-friendly 3:2 aspect ratio, offering a 3000 x 2000 resolution and the typical OLED infinite contrast. The excellent keyboard is backlit, and (as HP does often) there's an included fingerprint reader and infrared camera for easy biometric security.
This 2-in-1 ships with its own stylus for sketching, though the touchscreen is easy to use however you prefer. The HP Spectre x360 14 ports include two updated Thunderbolt 4/USB-C with USB 4 connections, DisplayPort 1.4, USB-A, and more. It's also Wi-Fi 6 ready! Just make sure you get the AMOLED version of the laptop when you purchase.
HP Spectre x360 14
The best OLED 2-in-1
MSI Creator 15
The best gaming OLED laptop
Pros
Excellent gaming performance
Stunning UHD OLED display
Thunderbolt 4
Portable design
Cons
May be too expensive for some
Why you should buy this: Not only is it a stunning laptop, but the highly-fluid graphics are even more breathtaking.
Who's it for: Gamers and creators who like to game.
Why we picked the MSI Creator 15: 
It may seem strange to recommend a "Creator" laptop for gamers, but MSI has used its gaming design experience to craft a laptop that can handle professional tasks as easily as serious gaming, a move where everyone wins. In addition to the 15.6-inch OLED screen (with incredible 100% DPI-P3 color coverage), the laptop offers an 11th-gen Intel Core i7 eight-core processor and an Nvidia GeForce RTX 3080 GPU that's ready for all kinds of graphics challenges.
The Creator 15 also has what MSI calls Cooler Boost Trinity+, aka it's designed for optimal thermal dissipation so the laptop won't overheat at a crucial moment. That pairs well with the incredible portability of this model, which remains impressively compact despite the 15-inch display.
MSI's laptop also includes 16GB of RAM and a 1TB NVMe SSD. Ports include Thunderbolt 4/USB-C as well as HDMI. If you don't mind skipping add-ons like RGB lighting, the Creator 15 is equally ready for your gaming life and professional creative workflows.
MSI Creator 15
The best gaming OLED laptop
Gigabyte Aero 15 OLED
The best work and gaming laptop
Pros
Solid build quality
Solid entry-level gaming performance
Excellent UHD OLED display
Good port selection
Why you should buy this: This sturdy computer combines virtues from several laptop genres.
Who's it for: Busy professionals who need a bit of both worlds for laptop performance.
Why we picked the Gigabyte Aero 15 OLED:
For this laptop, Gigabyte treads carefully between a highly portable design and a powerhouse for visual professionals. The result is something in between, a versatile 15-inch laptop with a durable design under 5 pounds and Samsung's UHD AMOLED display (with 100% coverage of the DCI-P3) for top-notch quality when working on projects — or playing games during the off hours.
Inside, you'll find a 9th-gen Intel Core i7-9750H processor, not quite the newest chip available but enough to get the job done, along with a dedicated GeForce GTX 1660 Ti GPU, which is helpful when it comes to video editing and playback. There's also 16GB of RAM for better multitasking, and a 512GB NVMe PCIe SSD for storage.
The Aero 15 OLED also includes HDMI, Mini-DisplayPort, and Thunderbolt 3/USB-C ports for a variety of connections or video output if necessary, along with an SD card reader. Wi-Fi 6 is also supported, helping buyers get the most out of their wireless internet connection. And if multitasking gets intense, the dual cooling systems will help keep things cool.
Gigabyte Aero 15 OLED
The best work and gaming laptop
Asus ZenBook Flip S OLED
Best thin and light OLED 2-in-1
Pros
Thin and light chassis
Excellent UHD OLED display
Solid productivity performance
Long battery life
Good port selection
Cons
Build quality slightly subpar
Why you should buy this: This 2-in-1 comes with impressive power and storage for its size.
Who's it for: Professionals who work a lot on their feet and need a laptop that can keep up.
Why we picked the Asus ZenBook Flip S OLED:
The ZenBook Flip S manages to combine 2-in-1 portability and tablet functions with a truly excellent touchscreen display, both 4K and OLED for maximum visual or color detail when you need it the most. That makes this laptop a quick recommendation for artists, designers, and others who do a lot of their jobs on their feet or like to make quick sketches and edits in tablet mode as they work.
Internal specs also impress with this updated model, which includes a potent 11th-gen quad-core Intel i7-1165G7 processor and 16GB of RAM. The spacious 1TB PCIe NVMe SSD is useful for internal storage, while the battery handles all this and is still rated for up to 15 hours, enough for a good workday.
We also were pleased to see the flexible ZenBook Flip S comes with all the latest port options, including Thunderbolt 4/UBS-C, USB-A 3.2, and HDMI 2. Wi-Fi 6 and Bluetooth 5.0 are also supported. Oh, and you don't need to worry about a stylus — the laptop comes with the Asus Pen and Windows Ink to help you get started.
Asus ZenBook Flip S OLED
Best thin and light OLED 2-in-1
Asus ZenBook 13 OLED
Best budget OLED laptop
Pros
Brilliant OLED screen
Excellent touchpad and keyboard
Battery life is spectacular
Supremely thin and light
Why you should buy this: It's a power-packed 13-inch laptop with an OLED display for much less money.
Who's it for: Anyone who wants an OLED display and tons of power for a reasonable price.
Why we picked the Asus ZenBook 13 OLED:
The Asus ZenBook 13 OLED UM382 packs an AMD Ryzen 7 5800U inside, meaning it provides class-leading CPU performance and can churn through demanding productivity and creative tasks. With 16GB of RAM and a 1TB SSD, the ZenBook 13 OLED is an incredibly fast 13-inch laptop.
But that's not all. It also sports a Full HD OLED display that, while not as sharp as the others on this list, offers the same wide and accurate colors and inky black contrast. It can meet the needs of creative professionals on the go, something that can't be said for every laptop on this list.
It's a well-built machine with excellent battery life even given the power-hungry display. You really can't go wrong with the Asus ZenBook 13 OLED, particularly given its relatively low price.
Asus ZenBook 13 OLED
Best budget OLED laptop
Asus ZenBook Pro Duo 15
Best OLED laptop for creators
Pros
Useful dual-screen design
Excellent build quality
Beautiful OLED displays
Strong performance in creative apps
Keyboard action is comfortable
Active pen is precise and responsive
Cons
Awkward keyboard and touchpad
Battery life is atrocious
Expensive
Why you should buy this: The secondary display on this laptop is great for multitasking, and the OLED display is used to great effect.
Who's it for: Artists, designers, and multitaskers.
Why we picked the Asus ZenBook Pro Duo UX582:
It's hard to miss the large second screen on the base of the 15-inch Pro Duo, called ScreenPad Plus. Yes, it does take away some space for the compact keyboard, but it adds a second screen that you can drag apps into, essentially turning into a second display that you can use to multitask, refer back to information, or compare things like color and contrast. It's not quite Apple's iPad Sidecar technology, but it's still very designer-friendly and opens up plenty of new possibilities for this ZenBook.
In addition to the top-shelf UHD OLED display, the laptop offers a 10th-gen Intel Core i9-10980HK processor that pairs well with the discrete GeForce RTX 3070 GPU. It also includes 32GB of RAM and a 1TB PCIe NVMe SSD for your storage needs. The laptop is bundled with a detachable palm rest for longer sessions and an Asus stylus for the touchscreen, so you're ready to get to work right out of the box!
While the Asus ZenBook Pro Duo UX582 may fill a niche need, it does it very well with a portable model that allows for more complex work that you couldn't have otherwise tackled on a laptop — and a display that's as good for design as it is for entertainment.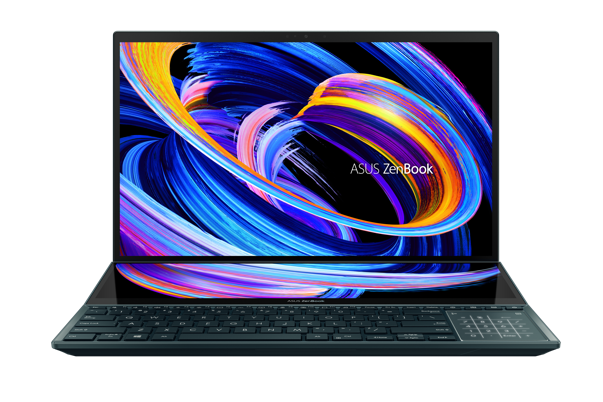 Asus ZenBook Pro Duo 15
Best OLED laptop for creators
Frequently Asked Questions
Do OLED screens use more power?
No, primarily because they don't require the LCD backlighting that LED screens require. They often save power compared to other screen options.
Are OLED laptops more expensive than alternatives?
Yes. OLED panels have become a lot less expensive, but they're still pricier to make than other panel types and will raise the cost of a laptop. You are paying more for extra color and contrast features.
Is an OLED laptop better for your eyes?
Brands like LG certainly claim that OLED panels are better for your eyes. They say this because OLED has low blue light and less flickering compared to other options. However, you can often find filters to help remove blue light and flickering no matter what panel you are using.
Do OLED laptops experience burn-in?
OLED panels may be susceptible to burn-in if left on the same image for too long. Today's OLED panels are more resistant to the effect, but it can still be a danger. However, as long as you are in the habit of closing your laptop screen when you aren't using it, you shouldn't be at any risk.
How do I protect an OLED screen?
Set the laptop to sleep or screensaver within a short period of time, and close it when not in use. Try to avoid using your laptop as much in bright areas, as maximum screen brightness is not healthy for the display for long periods of time.
Is OLED better than 4K for a laptop?
They are different panel technologies. 4K refers to resolution — how many pixels are being displayed. OLED refers to how light and color are being produced in the panel. Typically, 4K is better for image detail and OLED is better for color, contrast, and refresh rates, but many laptops offer both. If you have to make a choice, we'd give slight preference to OLED, since 4K's benefits aren't quite as noticeable on smaller laptop screens compared to monitors or TVs.
Do OLED laptop displays have problems with glare?
They can. OLED isn't quite as bright as some alternative panel technologies, which may exacerbate glare problems. Look for laptops that include anti-glare coatings to help deal with this, especially if you use your laptop in brighter areas.
Editors' Recommendations
Best Newegg deals for September 2022

Best gaming monitor deals for September 2022

The best 17-inch laptops

The best Razer keyboards to buy in 2022

The best Samsung Galaxy Tab S8 Ultra keyboard cases for 2022