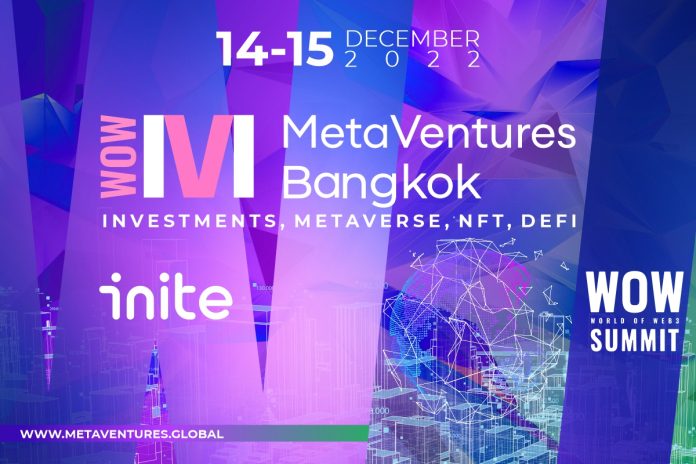 One-of-a-kind event "WOW MetaVentures Bangkok" will be held on 14th December – 15 in Bangkok. The organizers are the venture capital fund "MetaVentures" and the WOW Summit.
"WOW MetaVentures" brand restructured as a venture capital fund, focusing on collaboration with Metaverse, NFT, Digital Digital projects related to art and other promising areas of the cryptocurrency industry.
"WOW MetaVentures Bangkok" will be a lively event due to the organizer's global experience activities and unify industry leaders in NFT, DeFi, Metaverse, regulation, investment, development and more!
The exclusivity and uniqueness of the event opens up business and investment opportunities to a broad international audience door.
Investment, Blockchain, Metaverse & NFT, Biotech, DeFi, DAO, Digital art, mining, payment systems and digital asset regulation are just a partial list of topics that will be discussed at the conference
Business and investment are the main focus of this event. The world's most interesting investment opportunities and innovations will be discussed, and how the development of Metaverse/WEB3 is changing the world. The impact of DAOs on economic mergers with the DeFi sector will be highlighted, with a focus on how fintechs can help make investment more accessible.
The organized NFT exhibition will allow guests to experience the best of digital art and popular collections. There will be a start-up competition where contestants will present their projects on the main stage and fashion designers will present their collections in Metaverse.
"WOW MetaVentures Bangkok" is a way for all participants to meet and build a productive network And get to know the experiences of leading loyal leaders, entrepreneurs and investors.
AfterPaty throws unforgettable parties in a unique location, the relaxed atmosphere will not let any People are indifferent. There will be a VIP dinner for VIP guests, speakers and influencers.
The last summit was attended by high-level technical leaders such as Nick Spanos and Alevtina Yakovenko, Leonardo da Vinci Jeremy, Monsac Socha Rontum, Felix Margo and Ratanon Paranon. The event was opened by Deputy Governor Pithet Panapong.
A strong commercial network coupled with a rich programme will allow us to continue to bring people from all over the world of crypto and blockchain enthusiasts and professionals gathered in the warm environment of beautiful Thailand.
Book your tickets and attend "WOW MetaVentures Bangkok", Thailand's premier cryptocurrency event.
*If you want to showcase your project, become a partner, or share on stage Register your experience on the official website of the event.
https://metaventures.global
Telegram:
https://t.me/wow_metaventures
Twitter: https:// twitter.com/MetaVentures11
Facebook:
https://www.facebook.com/wowmetaventures
Instagram: https://www.instagram.com/meta.ventures/
Linkedin – https:/ /www.linkedin.com/company/mv-summit WOW MetaVentures Bangkok Organiser
Venture Capital Fund MetaVentures
Mikhail Savchenko, CEO of Inite, blockchain enthusiast, has more than Serial entrepreneur with 20 years of experience
GuyWay Business Concierge
Disclosure: This is a sponsored press release. NullTX is the official media sponsor of WOW MetaVentures Bangkok.