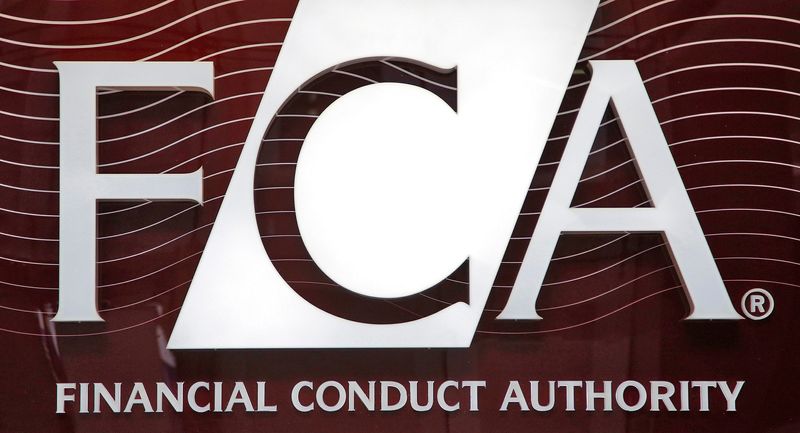 © Reuters. FILE PHOTO: The logo of the new Financial Conduct Authority (FCA) is seen at the agency's headquarters in London's Canary Wharf business district, April 1, 2013. REUTERS/Chris Helgren/File photo
Hugh Jones
LONDON (Reuters) – Britain's Financial Conduct Authority (FCA) said on Thursday some asset managers were facing sanctions for failing to properly manage liquidity , posing risks to market stability and investors' ability to withdraw funds.
The suspension of UK property funds and difficulties faced by debt-driven investment funds in September last year have brought attention to asset managers' ability to raise enough cash to meet investor redemption or collateral demands.
The watchdog said a review of asset managers found that while some showed high standards, most fell short in some aspect of liquidity management , a small number of firms do not have an adequate framework to manage liquidity risk.
"As things stand, the observed gaps in liquidity management could lead to investor harm risks," the FCA said in a statement.
The FCA said regulators had asked firms to review their liquidity arrangements as early as 2019 and that asset managers' boards should study the findings.
"It is critical that outliers act quickly. If they do not seize this opportunity to address weaknesses, they risk regulatory intervention," it added.
Asset management firms should also carefully conduct liquidity stress tests and use liquidity management tools as appropriate, it said.
Global regulators on Wednesday proposed a new system to classify open-end funds as terminated Unfulfilled daily redemption promises.
"Fund redemptions must operate in accordance with the terms of the fund and how it is marketed," FCA
"In addition, investment Investors should be able to redeem at an accurate price reflecting the value of their investment, ensuring fairness to both remaining investors in the fund and redeeming investors," the FCA added.