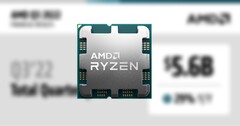 According to AMD's Q3 2022 financials, the company's data center, gaming and embedded systems segments performed well. But the client segment, including consumer CPUs such as the Ryzen 6000 series, took a major hit due to a softening PC market. Additionally, the company also expects a less-than-ideal fourth quarter of 2022, likely due to poor Zen 4 sales.
AMD released financial results for the third quarter of 2022 While overall, the company performed well, with revenue up 29% year over year, currently at $5.6 billion , but this figure was much lower than previously expected. AMD CEO Dr. Lisa Su said, "Q3 results were lower than our expectations due to a softening PC market and substantial inventory reduction actions across the PC supply chain."
The company noted that the increase in revenue was mainly due to the significant increase in data center Growth, Gaming and Embedded Systems sections. For example, Team Red's EPYC series of server processors continued to sell well, driving a 45% year-over-year increase in data center revenue. AMD says this is the company's "10th
time a quarter of record server processor sales in Q3'22". Similarly, the game revenue of the red team also increased year-on-year 14% to $1.6 billion. The main contributor to gaming revenue was strong sales of the PS5 and Xbox Series S/X consoles, both of which use AMD-developed SoCs. However, AMD's gaming segment actually recorded a drop in operating income from $231 million to $142 million due to weakness in "graphics card revenue and inventory, pricing and related expenses." From this, we can reasonably infer that the GPU flooding caused by the crypto mining crash may still hit the company hard due to excess RX 6000 inventory and falling prices. Moving on, AMD explained that customer segment revenue A sharp drop of 40% year over year to $1.022 billion was due to a sharp decrease in CPU sales. AMD blamed the weaker processor shipments on "a weak PC market and a significant inventory adjustment across the PC supply chain."
AMD Year 2022 Fourth-quarter forecast AMD's third-quarter earnings report Probably the most interesting information on the call is the outlook for the fourth quarter of 2022. The company doesn't expect a big jump in revenue in the fourth quarter, as it expects a 14% year-over-year increase. This potential slowdown could be a combination of a slowing PC market and poor Zen 4 sales. Semiconductor industry analyst Ian Cutress released a handy chart that breaks down AMD's forecast and actual reported figures. Based on AMD's Q2 2022 financial forecast , the company expects third-quarter revenue to reach $6.7 billion, compared with the final figure of $5.6 billion. Likewise, the company expects fourth-quarter revenue of $7.2 billion, compared to the current forecast of just $5.5 billion, a 24% decline, due to a likely strong Zen 4 launch. Recent reports from several different outlets said that the Ryzen 7000 series processing Appliance sales are declining. Earlier, we reported that the Ryzen 7 5800X3D was the best-selling CPU at Mindfactory, well ahead of the Ryzen 7000 CPU. On the other hand, Intel Raptor Lake chips like the Core i5-13600K are selling relatively well. Likewise, popular tech YouTube channel Hardware Unboxed recently looked at CPU sales data on Amazon and found no Zen 4 section in the top 10.
In short, it's safe to assume that the Ryzen 7000 processors are not as AMD expected Move like that. We can speculate that the poor sales are due to the overpriced Raptor Lake processors and the high entry cost of Zen 4 CPUs, as the premium AM5 motherboards and DDR5 memory required for Zen 4 are still relatively expensive. AMD will launch RDNA 3 architecture today Radeon RX 7000 series GPUs. If the new GPUs are indeed able to compete with Nvidia on price and performance, the company's fourth-quarter results could be a little better than expected.
Buy Gigabyte Radeon RX 6600 Eagle on Amazon