Because of the 2023 WSL season, Griffin Colapinto is now a household name. This season, the American surfing superstar donned the yellow jersey until it was taken from him by Brazilian surfer Filipe Toledo. Colapinto also won the Surf Ranch Pro, a very contentious event on the WSL circuit. It caused a scoring debate between fans, and the WSL has yet to address their concerns. The American surfer is well-known for both his professional and recreational surfing, during which he often experiments with a wide variety of new moves.
America's Favorite Video Today
Red Bull Surfing recently shared a social media post highlighting the American surfer's penchant for a variety of techniques. Still, Griffin Colapinto divulged the specifics of his go-to move and explained why it ranks so high on his list of favorites.
Out of all the surfing techniques
ADVERTISEMENT
Article continues below this ad
There is a wide variety of techniques in surfing, from aerials to stunning barrels. For the American surfer Griffin Colapinto, though, it's cutback. Colapinto comments, "I think it's one of my favorite," in reference to the Red Bull Surfing Instagram video. Cutbacks are his favorite kind of movement to do. The cutbacks are challenging, but the 24-year-old seemed to enjoy a good challenge. However, he always looks forward to combining it with a "roundhouse" as well, so that's not his sole move. The American surfer prefers the double move, but he also emphasizes its difficulty.
The previous owner of the yellow jersey acknowledged how difficult cutbacks might be. He describes how the surfer must be heading in a straight line before performing the move. After gaining speed on the "long rail," the surfer must then arrest the momentum with delicate balance as they drift their surfboard down the whitewater. Even though this move is hard, it will still be the American surfer's best move.
Colapinto has pulled off a number of impressive moves during the 2023 WSL season, yet his Surf Ranch Pro finals performance stands out.
ADVERTISEMENT
Article continues below this ad
His iconic battle with the Brazilian surfer
The world saw Italo Ferreira and Griffin Colapinto's epic duel in the 2023 Surf Ranch Pro. There were four waves of attack, but the water battles were fierce throughout. In the first round, Ferreira had an 8.13 and Colapinto a 7.83. On the other hand, the second wave yielded identical 8.70 scores for both surfers.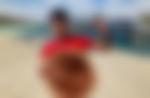 ADVERTISEMENT
Article continues below this ad
However, the winner of the Surf Ranch Pro was decided on the third wave. Colapinto got a 9.07, which was much higher than the Brazilian surfer's 8.43. The American surfer scored a total of 17.77 points, only 0.64 points more than his closest competitor. Colapinto has not won a competition since then, although he has still made it to the Rip Curl Finals.
WATCH THIS STORY – Surprise For Surfers And Gamers As Leaked Footage Reveals 'Surfing' In Video-Game Worth Over Millions Of Dollars